As a marketer, is there anything more heartbreaking than a low open-rate on your emails?
After all, if your subscribers aren't even opening your emails, they definitely aren't reading them and taking the action you're prompting them to take – whether that be reading your newsletter, watching your YouTube videos, or signing up for your webinar. 
If emails are suffering from low open rates, fear not! Your email open-rate largely boils down to just one crucial element: your email subject line.
33% of people will open an email based on a catchy subject line.
Good email subject lines are the key decider as to whether or not your email gets clicked on and read, or whether it doesn't. You have one line to grab someone's attention and get them to open an email. So you need to make sure that one line catches your reader's eye.
Ready to makeover your email subject lines? Here are over 100 quality email subject lines you can use to make your customers smile, laugh, or make their jaw drop — and, most importantly, make them click to open your email.
Best Email Subject Lines
Before we dive into specifics, let's take a look at what components make up the best email subject lines.
When you sit down to write a subject line, you need to know:
The type of email you're sending
The email's goal
The value you're offering
The target audience
This information will give you the context you need to build a strong subject line for the message.
The best email subject lines also follow a few key practices that apply to emails across the board, regardless of the email's goals or its target audience.
Email Subject Line Best Practices
The first best practice you want to consider is length. An ideal length for email subject lines is generally considered to be between 40-60 characters. You don't want your subject line to get cut off on mobile devices, so shorter is better.
It's a good idea to personalize subject lines wherever you can, especially for transactional emails such as abandoned cart emails or purchase confirmations. Personalization has been shown to increase open rates. You can personalize an email with the reader's first name or their location.
You'll also want to test any subject lines you write. A/B testing will help you get a feel for how different subject lines perform and what kind of effect they have on your open rate.
These email subject line best practices are relevant to any and every subject line you write. Now that you know the basic steps to craft a strong subject line, here's our best advice for writing different types of email subject lines, including 100 subject line examples to give you some inspiration.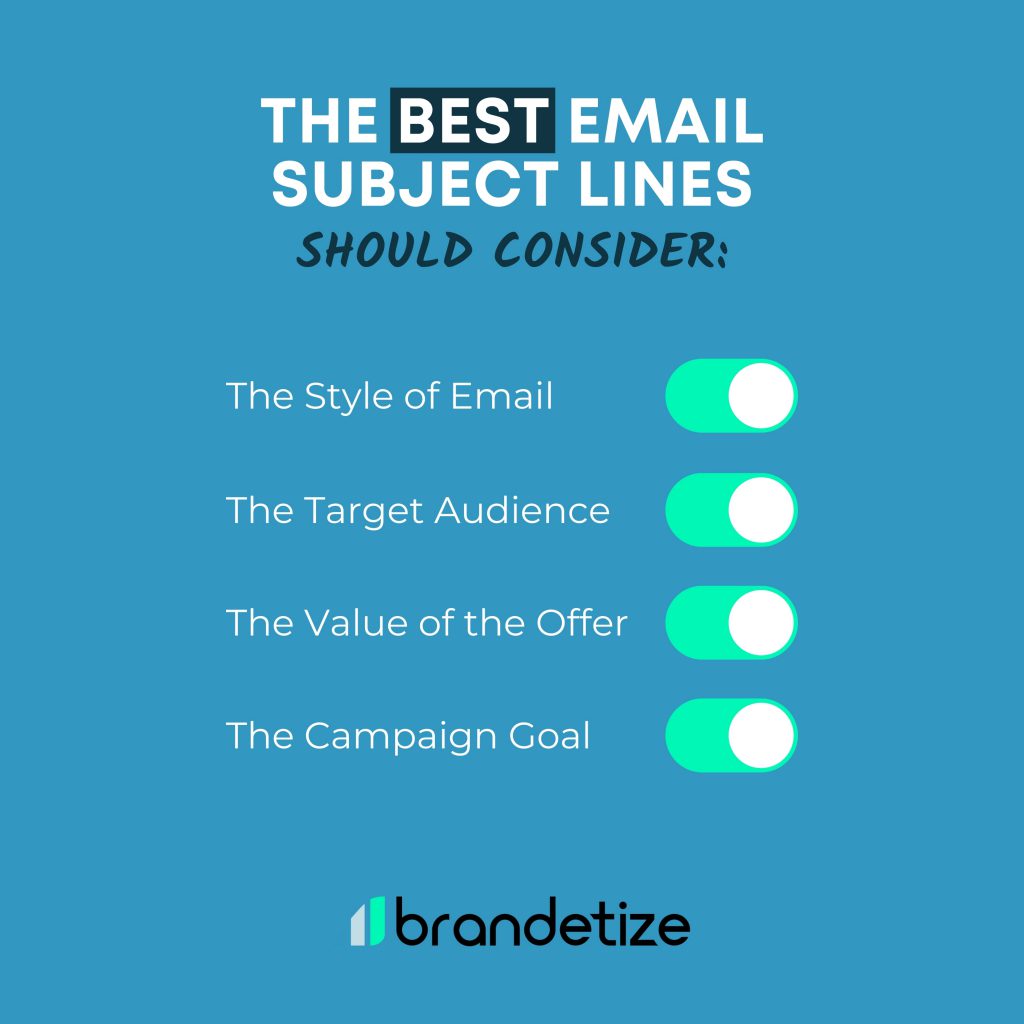 1. Piquing Your Recipient's Curiosity
Your audience's email inbox is a crowded and cluttered space. That's why one of the best email subject line strategies is to grab your reader's attention. How can you make them stop in their tracks and open your email simply because they're curious to know more?
Here's a good example: Last November, we used the subject line "My team isn't happy with me right now…" during the Cyber Monday email campaign to Brian Tracy's email list. We were promoting Brian's Cyber Monday sales page on the Tuesday immediately after Cyber Monday.
This subject line really focuses on piquing the interest of the reader through curiosity. Often, especially during a time like Black Friday and Cyber Monday, it's easy to lean on your offer, such as: 50% off everything!
Or companies will use urgency, like: Act now while supplies last!
However, we were able to separate Brian's email from the crowd of emails hitting everyone's inbox during the holiday season by taking a different tactic.
In the end, this email had an open rate of just under 50% and brought in the most revenue during our Cyber Monday campaign.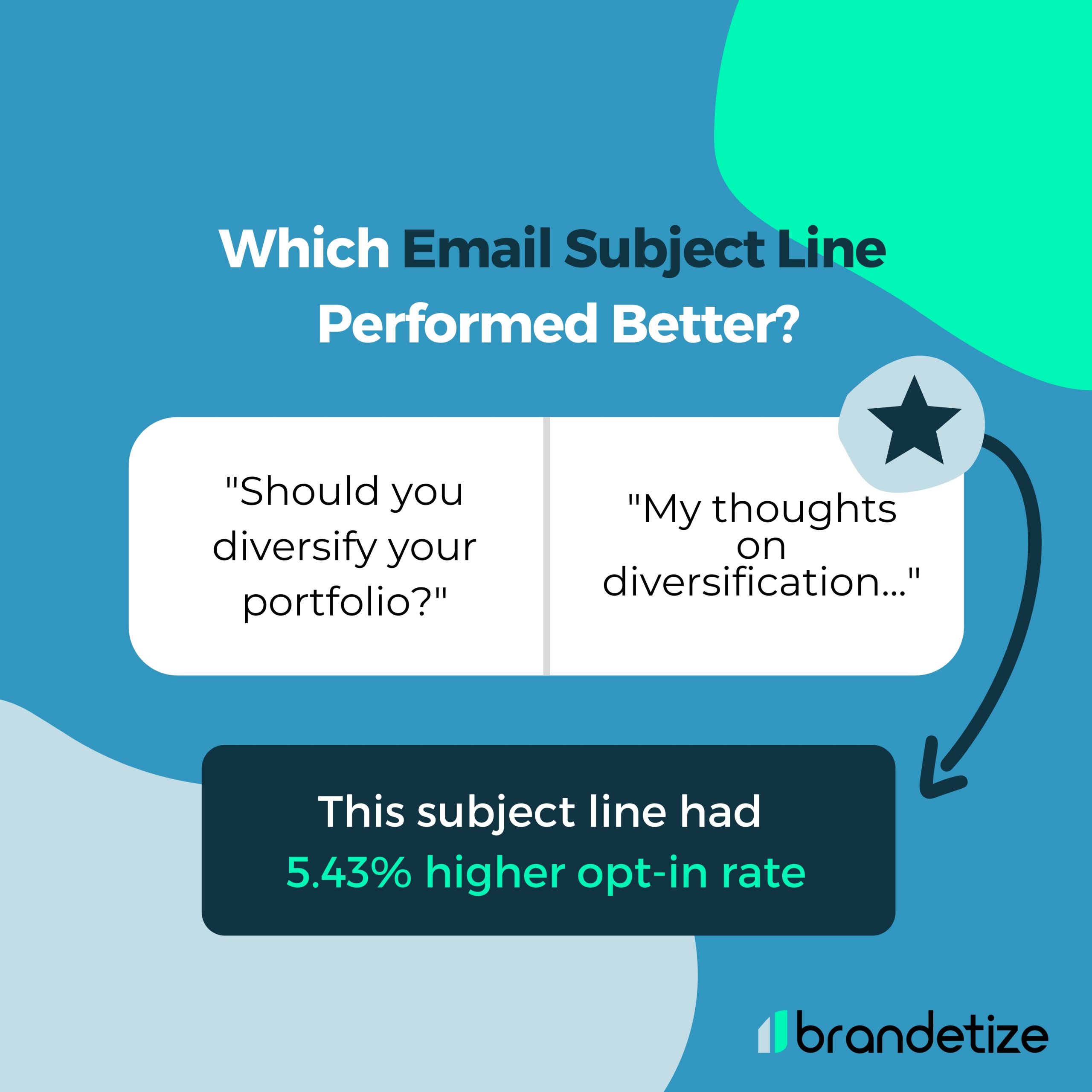 Taking the time to think about how you can pique your reader's curiosity might pay off big in your open rate and your revenue.
15 Curiosity Piquing Email Subject Lines
Want to know how we do it?
Have you spent your adult life doing this?
You've got questions about this…
Your clue to figure out the mystery
A surprise gift for you
How clean are your teeth, really?
See what's happening at our new store…
We're expanding! Get the deets
[First name], have you seen this?
You need this new concealer
Our new must-haves are here
Choosing your skincare faves just got easier
Re: That 50% off you ordered
See how to save 👀
About that 30% off…
2. Proving Your Credibility
Another good tactic when writing email subject lines is to use the subject of your email to prove your credibility.
We used the subject line "What 10,000 hours of eavesdropping on sales calls proved…" in one of Brian Tracy's evergreen sales funnels. As you might gather, this email promotes a sales training product.
This is the first "hard sell" email after a series of content-based emails. Basically, the sale has been set up and this email is meant to knock it out of the park.
As with the last subject line, this one is meant to pique curiosity. But it also utilizes social proof — 10,000 hours of other salespeople. And it tells a story: Someone was eavesdropping on people.
This subject line is still live and gets about a 47% open rate. Not bad for an ongoing funnel.
These subject lines can also work as networking email subject lines because you're immediately establishing expertise and experience in your field.
15 Credibility Building Email Subject Lines
# lessons we learned from ___
What 10k hours of eavesdropping on sales calls proved…
No, you don't have to get a college degree to be successful
We analyzed over three thousand marketing emails, and here's what we found
The food that registered dietitians eat every day to stay healthy
Fired Disney employees: It's not all magic at the happiest place on earth
"Etsy launched my small business!"
The people have spoken: Aldi is the best grocery store out there
Nine Martin Luther King Jr. quotes that will inspire you
How Lili Reinhart booked Riverdale
Work out like Freddie Freeman to dominate the field this spring
Victoria's Secret models swear by these fashion brands
The science of shopping: Why people spend at one store and not others
Personal trainers disagree over these weightlifting techniques
Dentists say to never suck on lemons. Here's why
3. Creating A Sense of Urgency
Creating a sense of urgency is one of the best ways to get your reader to open an email. Do your best to force your subscribers to make a decision fast and click on your email.
You can do this in a few different ways. Try giving subscribers a deadline, or using eye-catching buzzwords like "Act fast" or "Time sensitive" to spur people into action. Or ask your readers a question. This can help your message stand out on large retail holidays when your customers are flooded with "percent off" deals.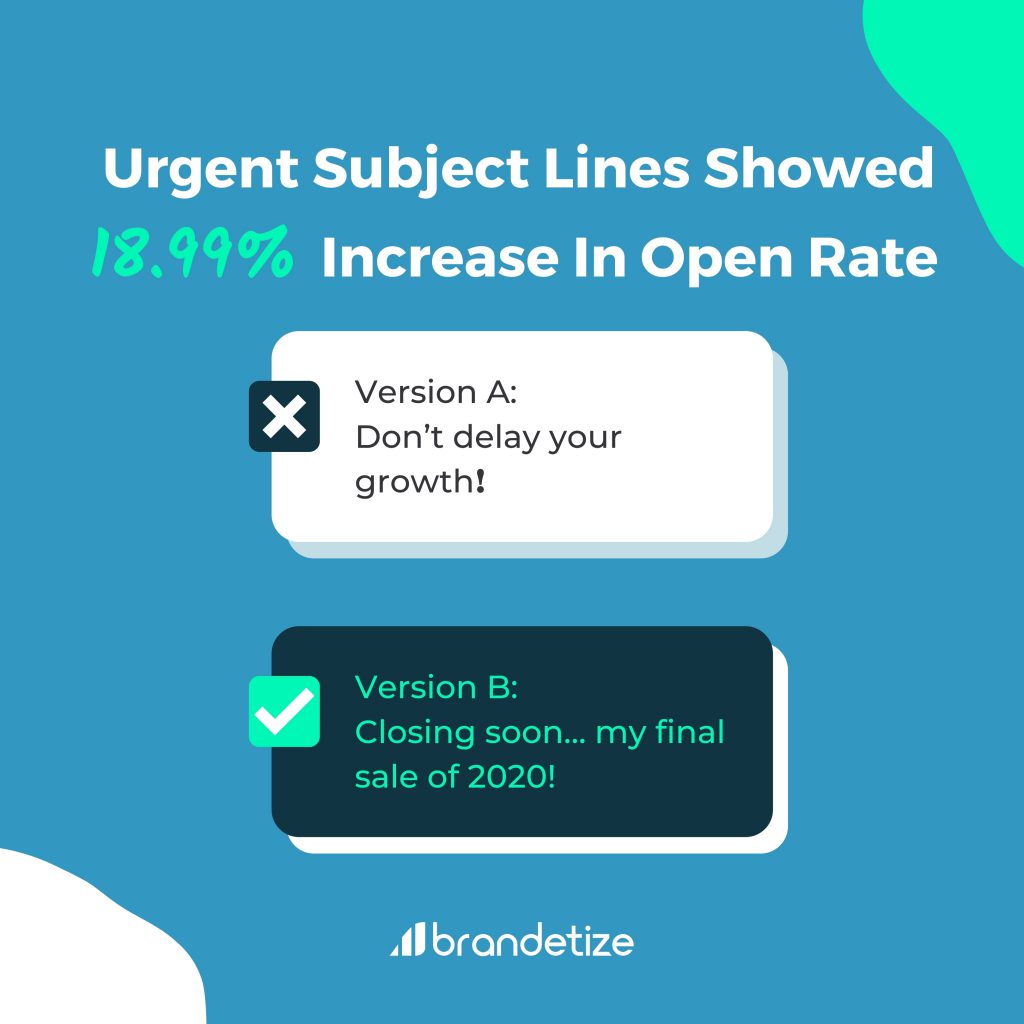 15 Urgency Building Email Subject Lines
Don't say I didn't warn you…
I'm sorry to see you pass this up
Cyber Monday ends in 10, 9, 8…
This is your final reminder!
Don't you love finding a bargain on Black Friday?
Get your tickets today before the price goes up
Limited edition headphones!
These won't last long
Act now to claim your free gift
Time-sensitive offer on our hottest jeans
Don't miss this
Quick! Reserve your seat
Discount expiring today
Save 25% by purchasing this weekend
Expires tonight! Our biggest deal ever
4. Using Strategic Emojis
Emojis in subject lines are a great way to grab your reader's attention and stand out in the inbox.
According to one report, 56% of brands that used emojis in their email subject lines had a higher unique open rate!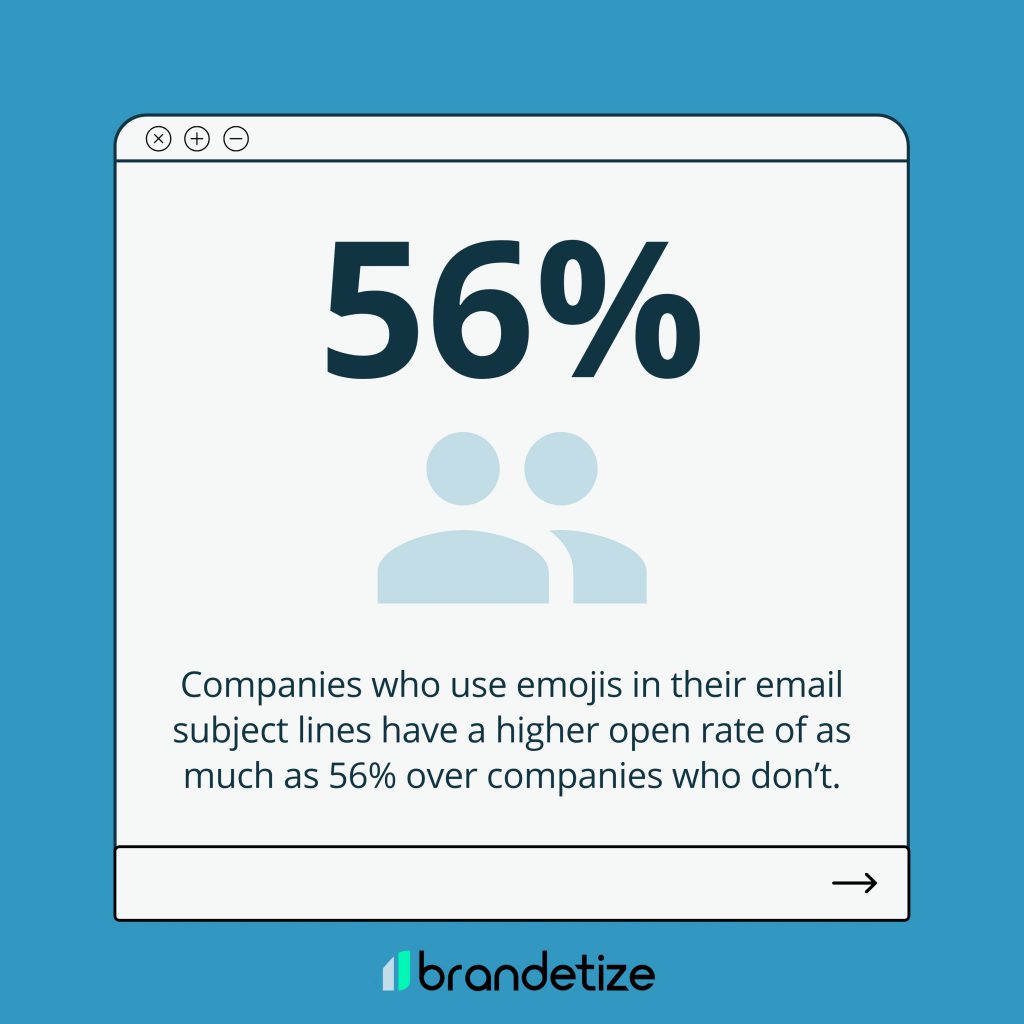 Another benefit of emojis is how they help conserve space. In an email subject line, you don't have much space — remember, 40-60 characters is the best length. Emojis can help you get your point across as quickly and efficiently as possible.
Just make sure any emojis you use in your email marketing are relevant to both your email and your target audience. For example, the peach emoji might not resonate with an older audience. Emojis will only be effective if your audience knows what they mean.
15 Email Subject Lines with Emojis
The power of investing 👊
The Market ⬇️ = Your Returns ⬆️ & Your Retirement ⬆️
My biggest sale of the year starts NOW! ⏰
New spring styles ready for you 🌼
Here's why we have hundreds of five-star reviews ⭐️⭐️⭐️⭐️⭐️
Sign up for texts to receive exclusive discounts! 📱
🏊‍ 30% off all swimwear through this weekend! 🏊‍
Our new collection will give you heart eyes 😍
Last chance to get a free gift 🎁
Last chance ⌛ Sale ends tonight
We 💙 these jeans
Your favorite tee is back in stock! 🎉
Just hours left on our Valentine's sale ⏰
Free shipping with every purchase 📦
New styles up to 40% off ✨
5. Adding A Little Fear
Don't be afraid to play with your subscribers' emotions. Adding a little fear can be a hugely effective way to boost your email open rate.
Messaging that says "don't do this" or "avoid this" triggers an emotional reaction for people. By strategically placing these keywords and phrases in your subject line, you can induce FOMO (fear of missing out) and get more people to click on your messages.
15 Fear-Based Email Subject Lines
There could be a market crash in 2021…
Avoid these ten fashion mistakes
Oh no, your coupon is expiring
You're missing out
Are you making these retirement savings mistakes?
[First name], act fast before your free trial is up
Don't take these travel risks
Things are getting dangerous fast
Beware of scams this spring
On the brink of catastrophe…
Don't miss your chance to save
You might be more gullible than you think
A meltdown waiting to happen
Are bad reviews hurting your business?
You don't have to guess on your marketing strategy
6. Include A Timely Hook
To perform well, your email subject lines need to be timely. What season is it? What holidays are coming up? What's happening in the news? Finding timely hooks for your subject lines will help your emails be more relevant to your subscribers.
Writing timely subject lines is important, and luckily, it isn't hard. If you need ideas, just take a look at your calendar. Or scroll through social media to see what's trending.
15 Timely Email Subject Lines
How the pandemic is reshaping education
Spotify introduces new subscription tier
Five movies hitting Netflix soon
Winter storms wreak havoc across the U.S.
Our takeaways from Inauguration Day
Happy National Love Your Pet Day 🐶🐱
Free gift for Valentine's Day weekend
All Christmas candles 30% off!
Easter gift ideas for babies and toddlers
Our 4th of July sale will get you fired up
Must-have spring styles
Seven recipes to try this winter
Summertime and the livin is easy ☀️
Spring is in the air 🌸
Fall into our new autumn styles
7. The Direct Offer
A direct offer subject line is typically used for a sales sequence. It doesn't use scarcity, curiosity, social proof, or any other tactic to get the reader to open. Instead, it focuses solely on the offer.
While those other strategies will get you a larger open rate, they don't always lead to more sales. A direct offer subject line, however, does the opposite: It gives you a modest open rate but a solid conversion rate. That's because the people who open these emails want one thing — the discount you're announcing on whatever you got.
We used the subject line "[HUGE ANNOUNCEMENT] 75% savings on nearly ALL my programs!" for Brian Tracy's email list. It had an open rate of just over 8%. But it brought in more revenue than any other message in the same email sequence.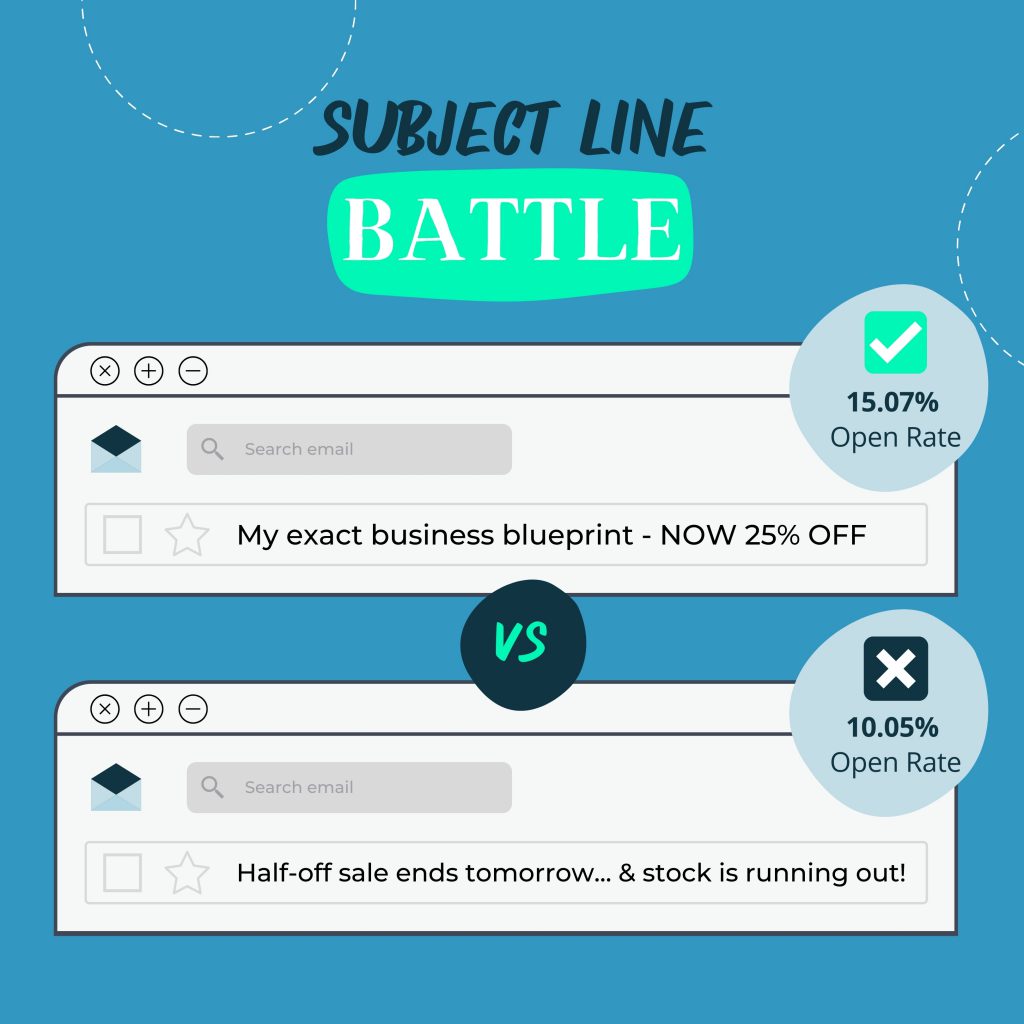 The direct offer subject line can also be used in your arsenal of follow up email subject lines. If recipients aren't responsive to other styles, add this subject to a follow-up email that's more straight to the point.
15 Direct Offer Email Subject Lines
[Black Friday] up to 85% off… and we're doing things different this year
Snag these styles with 15% off your order plus FREE shipping
Surprise (!) one more day at 50% off
$8 sleep and play baby clothes! Hooray!
Here's the deal: 25% off all shoes, today only
Extra 30% off to try our new drink
We've extended our $5 tees offer just for you
Final call for 50% off leggings
URGENT: 5 dresses under $100? Yes, please!
25% off EVERYTHING
New product: 10% off outdoor rug
Make it personal with 20% off custom stationery
50% off mascara for National Lash Day
Winter sale — 25% off sitewide
Cute onesies from $6
How to Write Better Email Subject Lines
Writing catchy email subject lines for your marketing emails is an important skill to learn. And with these tips, it doesn't have to be that hard. Use your subject lines to:
Pique your reader's curiosity
Prove your credibility
Create a sense of urgency
Use strategic emojis
Add a little fear
Include a timely hook
Make a direct offer
By incorporating these tactics, you're well on your way to writing subject lines that convert.
For more email marketing tips, subscribe to our monthly email newsletter sharing the best digital marketing tips and trends!