Facebook Ad Targeting is one of the most important ingredients to the Facebook success recipe. You could have the perfect ad with compelling copy and eye-catching imagery, but if you're not targeting the right people, you'll never succeed.
When you're just starting out, it can be difficult to figure out where to begin when it comes to audience targeting.
It's important to take the time to do your research before throwing up a campaign.
Here are a few simple tactics you can follow to find audiences to target in your Facebook ad campaigns.
1. Similar Web
If you already have a website, head over to SimilarWeb.com and put in your site. If you're just starting or if your site doesn't have enough data, you can put in the site of an established competitor, or a site that your demographic would use.
Scroll down to the Competitors section to find other sites that are similar to the one you entered. This data looks at the people who visit your website and looks at what other sites they tend to visit.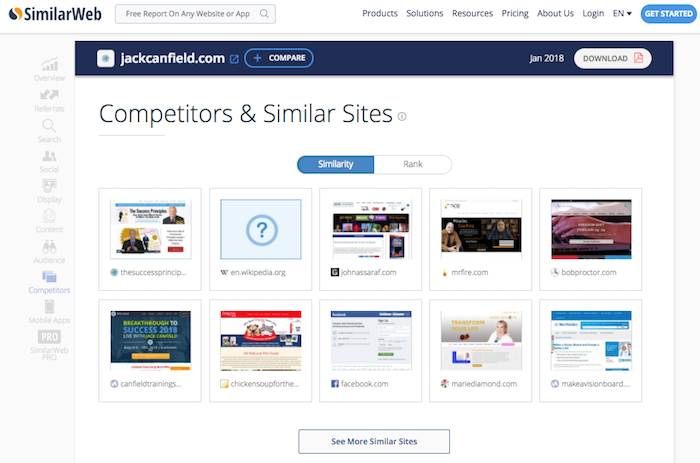 In this example for Jackcanfield.com, we see some potential targeting ideas like John Assaraf, Bob Proctor, Chicken Soup for the Soul, and Marie Diamond.
Start a list of these new ideas and continue to add ideas generated from the next 4 steps.
2. Pages Similar To…
The next strategy is to utilize Facebook's "Pages Similar to" data. The first step is to figure out what your Facebook Page's ID is. Again, if you're just starting, use a competitor/similar page. Enter your page URL here to find your ID number: https://findmyfbid.com/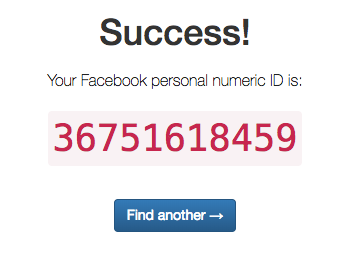 Now copy that ID number, and paste it at the end of this URL: https://www.facebook.com/pages/?frompageid=
For Brian Tracy, it will look like this: https://www.facebook.com/pages/?frompageid=36751618459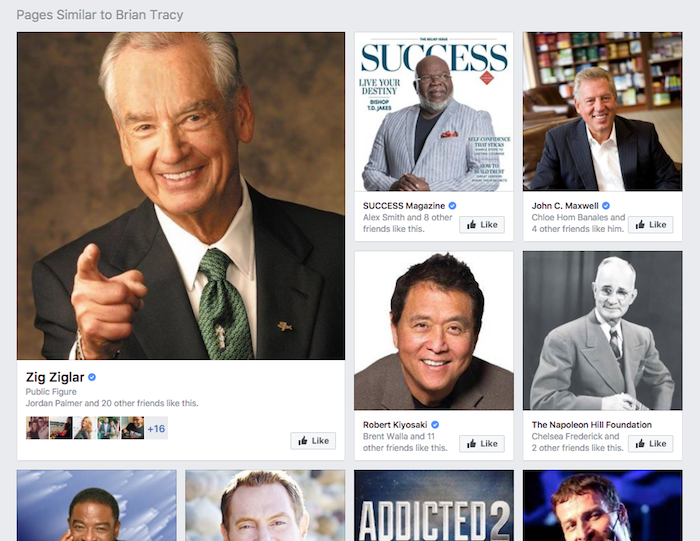 When you enter that URL into your browser, it will show you other Facebook pages that are similar to yours, based on your audience. Add these to your possible interests list.
3. Audience Insights
If you page has enough followers, you can use Facebook's Audience Insights tool to find out a lot of information about your followers.
Put in your page name under "People Connected to". Then go to the "Page Likes" tab to see a list of other Facebook pages that your audience also likes.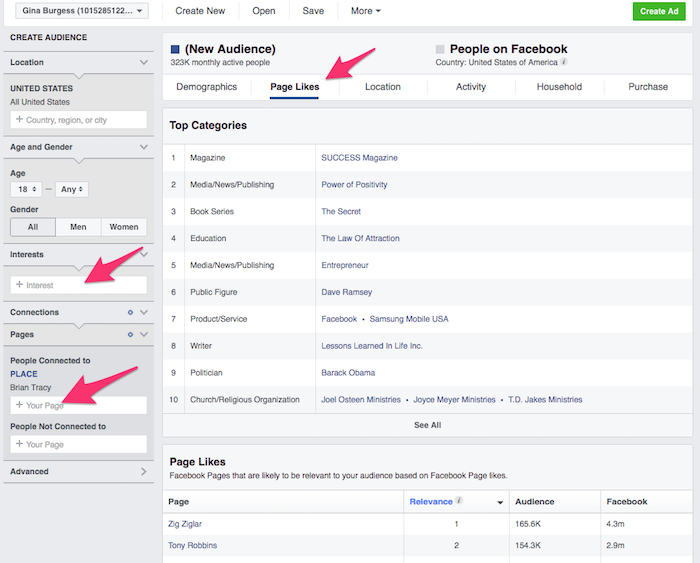 If your page isn't large enough, you can put in a competitor or similar page in the "Interests" section instead.
4. Pages Liked by this Page
By now, you have gathered a pretty good size list. You can now use that list to find even more potential audiences. Go to the Facebook page of one of your interests. In the example below, we went to Zig Ziglar's Facebook page. Most pages have a section for "Pages liked by this Page".
Pages have a tendency to like other pages that are similar to them or are in their industry. By browsing through here, you can find more options to add to your targeting list.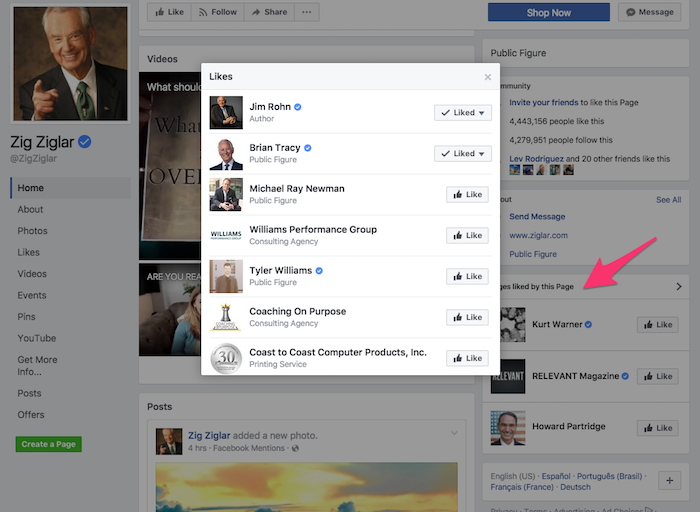 One thing to keep in mind is that smaller pages will almost never be an option for you to target. If a page has fewer than 10k likes, you can most likely leave those out of your list.
On the other end of the spectrum, if a page has too many likes you don't want to target those either as they are likely too broad. If you're trying to target cooking enthusiasts, it might not be the best idea to target the Food Network which has 27 million likes.
Instead, you could target the page "Cooking Chef – Delicious Recipes" that has 364k likes, and include people who might be more likely to be interested in your product or service.
5. Facebook Suggestions
The last strategy I have for you is to let Facebook suggest more options. While you're in the process of setting up your campaign and putting in your interests, Facebook will suggest even more options based on the interests you put in.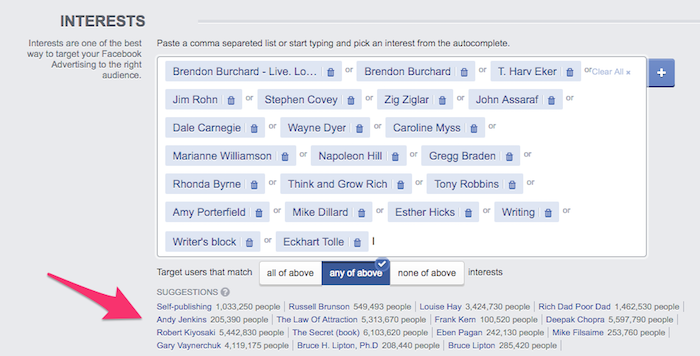 This screenshot is from AdEspresso but works the same way. After we've entered in a bunch of audiences, we get similar suggestions we can add that we may not have found or thought of in previous steps.
Next Steps
Now that you have a long list of audiences to test, refer to your list as you continue to test and create audiences. Don't test the entire list at once. Choose a few to start out with and test. Then you'll start to find ones that work better than others, and you can continue to test in new audiences from your list.
As you start entering in some of these audiences into Ads Manager, you'll notice some of them won't populate. Not all Facebook pages can be used as a target on Facebook. There's not necessarily a rhyme or reason to this, Facebook just decides what we can use and what we can't.
That's why it's important to gather a long list as many of them won't be an option.
What are your strategies for coming up with new audiences to test? Share with us in the comments below.