Facebook ad targeting is one of the most important ingredients to the Facebook success recipe. You can have the perfect ad with compelling copy and eye-catching imagery — but if you're not targeting the right people, you'll never succeed.
When you're just starting out, it can be difficult to figure out where to begin when it comes to targeting. It's important to take the time to do your research and read about Facebook targeting best practices before launching a campaign.
Here are a few simple Facebook ads targeting tips you can use to find the best audiences for your campaigns.
Identify Your Core Customers
Before you can create targeted Facebook ads, you need to have a broader understanding of who your general audience is and who's interested in what you have to sell. You can't create ads that cater to your ideal audience until you know who that audience is. And if you don't figure out your specific demographic, you're just wasting money on your Facebook targeted advertising.
So how can you find your ideal customer?
Start with doing the research to create a buyer persona. What's the age, gender, income level, and education level of your ideal customer? What are they interested in? Talk to your customers to find the answers to these questions, and consider the customers of your competitors, too.
When you know who your ideal customer is and you're ready to offer them what they need, it's time to start reaching out to those would-be customers through marketing efforts such as Facebook groups and Facebook ad targeting.
When it comes to Facebook targeting, there are dozens of ways you can narrow down who sees your ads.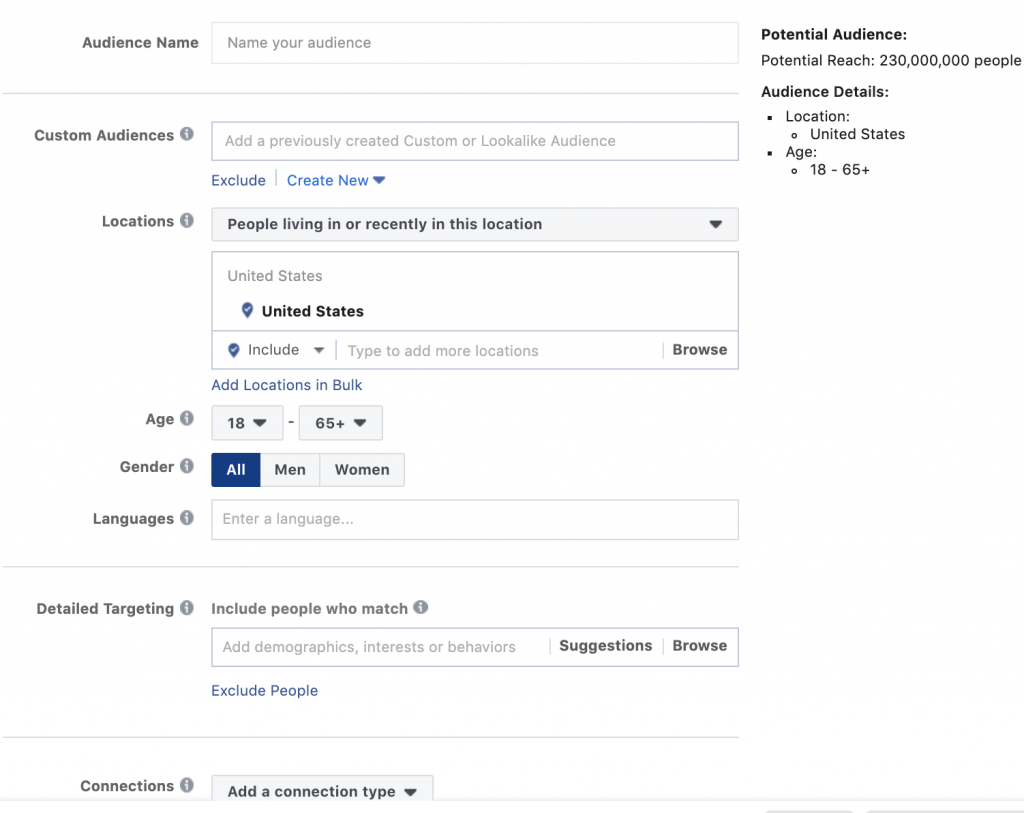 Those options fall into the below buckets:
Demographics.

Examples of demographics you can target include income level, age, race, gender, marital status, education level, ethnicity, job type, political views, and more. Facebook has several options you can choose from when it comes to targeting ads by demographics.

Location.

Do you want your ads to only be seen by users in a specific country, state, or even a certain zip code? Facebook location targeting options allow you to set parameters based on location. You can even get hyper-specific by choosing to target people who live in a certain location, people who were recently in that location, or anyone traveling to a location.

Interests.

Facebook interest targeting allows you to reach users with ads that line up with their hobbies and interests — the things they enjoy doing. Since many Facebook users "like" pages or use apps based around those interests, it's easy to hone in on people who would be interested in your brand. Facebook has hundreds of interests you can choose from as you create your target audience.

Website Behaviors.

What sort of behaviors does someone engage in online? What are they looking at, buying, and doing? By using the Facebook Pixel — an analytics tool that tracks user behavior across the web — you can show your ads to people who will find them relevant.

Engagement.

If people have interacted with your brand's social media accounts, it's smart to show them one of your ads.

Partner connections.

Finally, you can also target Facebook ads through partner connections. Connection targeting helps you find users based on how they're connected to your business. For example, a person who is a friend of someone who has engaged with your page would be considered connected to you.
As you set up your ideal audience, you can use any combination of the Facebook targeting options above.
Examples of Facebook Ads Targeting
What does this look like in practice? Let's break down how to find your ideal audience and how to better target Facebook ads.
How to Target Business Owners on Facebook
Let's say you're a B2B company providing marketers with a social media management tool. You might choose your target audience by using Facebook demographic targeting to hone in on people who have a college degree and work in marketing ("job title"). In this case, your audience could be located anywhere in the world. You could further hone in on your ideal customer by setting "interests" to show your ads to people who have liked HubSpot or similar Facebook pages.
How to Target Homeowners on Facebook
For B2C companies, the same general principle applies: Use Facebook targeting options to zoom in on your ideal audience. If you're a local pet shop, for example, you could take advantage of location settings (anyone who lives or works in your town, or is traveling there) and interest settings (people who have liked pet-related Facebook pages) to find pet owners who would be interested in your store.
Building Audiences in Business Manager
When you're ready to get started with Facebook ad targeting, use Facebook's Audience Manager page tool (found under Business Manager) to create your Facebook audiences. Facebook Ads audience targeting has three main categories.
1.
Facebook Saved Audiences
Your Facebook Saved Audiences are audiences that you create based on the criteria outlined in the previous section — demographics, location, interests, etc. By making a Saved Audience, you can ensure you're only targeting people who are truly interested in your brand.
2.
Facebook Custom Audiences
Custom Audiences are all about retargeting. When you create a Custom Audience, that audience is made up of people who have recently viewed or engaged with your content. You can create this kind of audience based on your customer files — your current customers, whose data you already have in hand.
You can also launch a retargeting campaign geared for people who have recently visited your website or interacted with your Facebook page. If targeting website visitors is your goal, Facebook Pixel can help you get the job done and create this campaign.
Finally, if you have an iOS or Android app, register your app with Facebook so you can add a Custom Audience of people who have engaged with that app.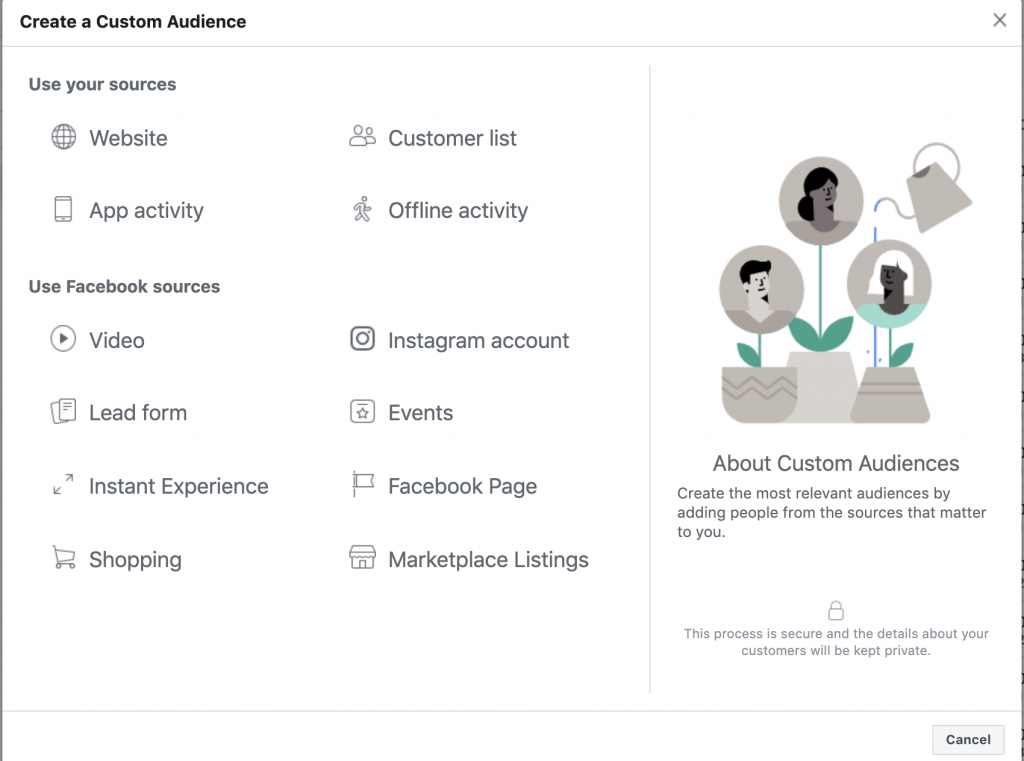 3.
Facebook Lookalike Audiences
When you create a Facebook Lookalike Audience, you're targeting people who are similar to your current group of customers. The idea is that since these people are so similar to your existing customers, they'll be highly interested in your brand and likely to convert, too.
Before you can create a Lookalike Audience, make sure you've already created at least one Custom Audience so Facebook has an idea of your ideal audience. Then you can make a Lookalike Audience, choosing the country you'd like to target and a certain percentage of that country's Facebook users.
Facebook Ad Targeting Tips and Tools
Now that you know how to target Facebook ads, it's time to put that knowledge into practice. Use these tips and tools to help you create the best Facebook ads.
Set Up Abandoned Cart Facebook Targeting
Use Facebook Pixel to target people who browsed your products, but didn't convert and make a purchase. You know these people are interested in what you're selling — so it only makes sense to retarget them, pushing them closer to converting and becoming a customer.
You can target these people with Facebook Pixel by creating an event that's linked to the URL of the product page on your website. Then exclude any other URL's so people who did make a purchase won't see these ads. Create your Custom Audience and they'll see the products they considered popping back up in their feed.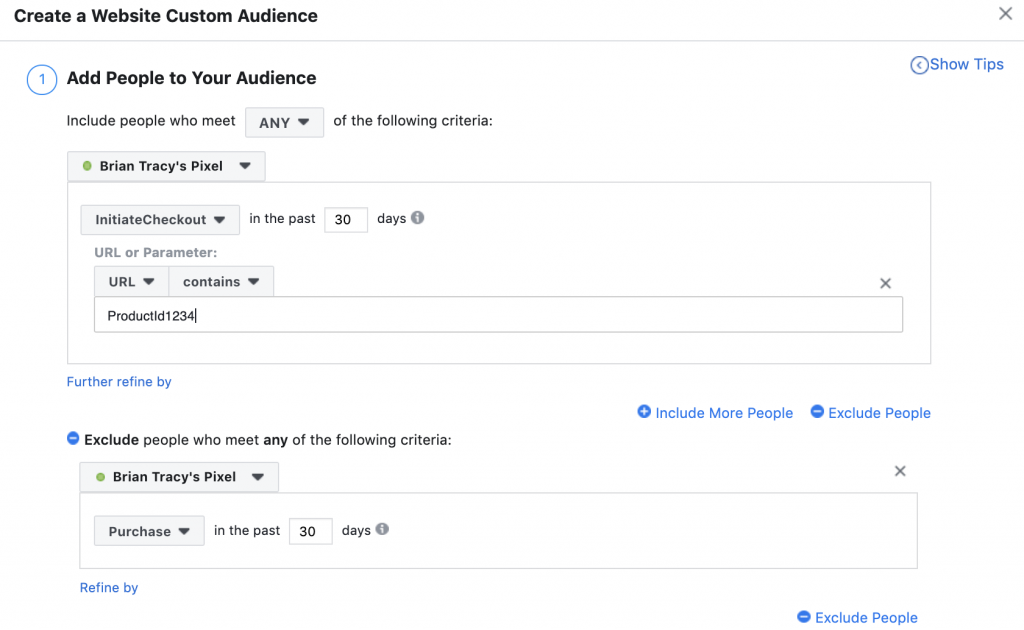 Retarget Your Blog Visitors
In addition to anyone who browsed your product pages, retarget your blog visitors, too. The same general concept of Facebook interest targeting applies: You know these people are interested in your company, so encourage them by creating Facebook ads.
How should these ads look? Try creating a product ad, or an ad that promotes one of your most recent blog posts. Anything that will get people off Facebook and onto your website is a go.
To make these retargeting ads, use Facebook Pixel to create another Custom Audience. This time, you want any URL with the word "blog" to be included. Anyone who views your blog will see the ad.
Utilize Similar Web
If you already have a website, head over to SimilarWeb.com and input the URL of your site. If you're just starting or your site doesn't have enough data, you can put in the site of an established competitor that your demographic would use.
Scroll down to the "Competitors" section to find other sites that are similar to the one you entered. This data looks at the people who visit your website and looks at what other sites they tend to visit.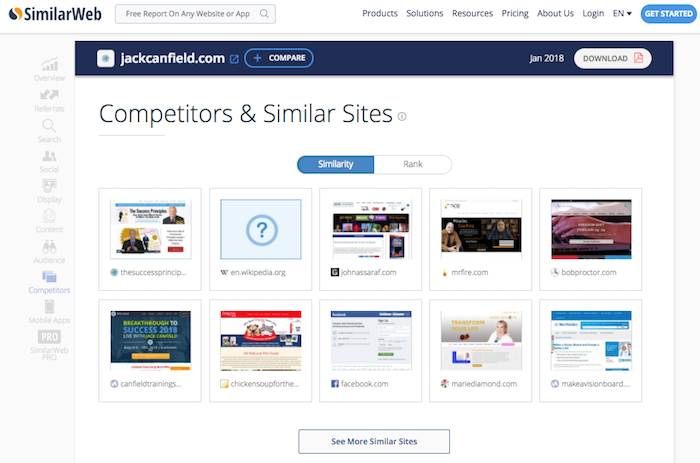 Here's an example for Jackcanfield.com. We see some potential targeting ideas like John Assaraf, Bob Proctor, Chicken Soup for the Soul and Marie Diamond.
Start a list of these new ideas and continue to add ideas generated from the next four steps.
Use the "Pages Similar To" Section
The next strategy is to utilize Facebook's "Pages Similar To" data. The first step is to figure out what your Facebook Page's ID is. Enter your page URL here to find your ID number. (Again, if you're just starting out, use a competitor or a similar page to yours.)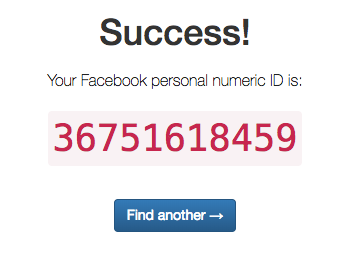 When you enter that URL into your browser, you'll see other Facebook pages that are similar to yours based on your audience. Add these to your possible interests list.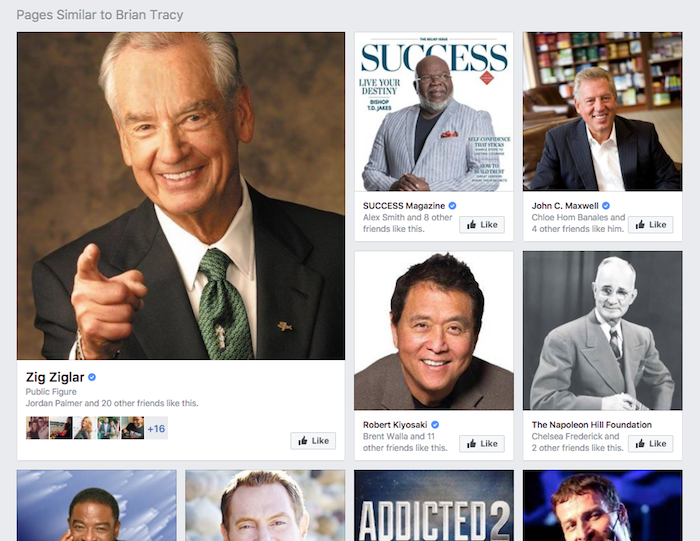 Review Your "Audience Insights"
If your page has enough followers, you can use Audience Insights as a Facebook ads targeting tool to find out a lot of valuable information about your followers and your Facebook target audience.
To view Audience Insights, put in your page name under "People Connected To." Then go to the "Page Likes" tab to see a list of other Facebook pages that your audience also likes.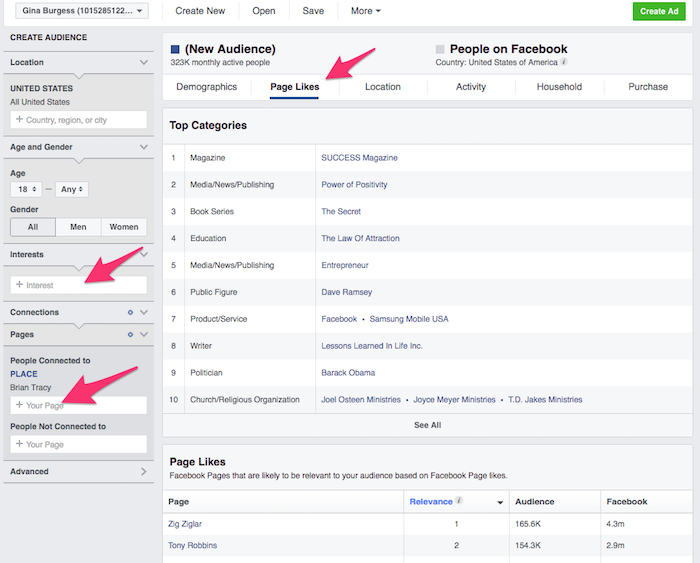 If your page isn't large enough, you can put a competitor or similar page in the "Interests" section instead.
Check Out "Pages Liked by this Page"
By now, you've gathered a good size list. Use that list to find even more potential audiences.
Go to the Facebook page of one of your interests. In the example below, we went to Zig Ziglar's Facebook page.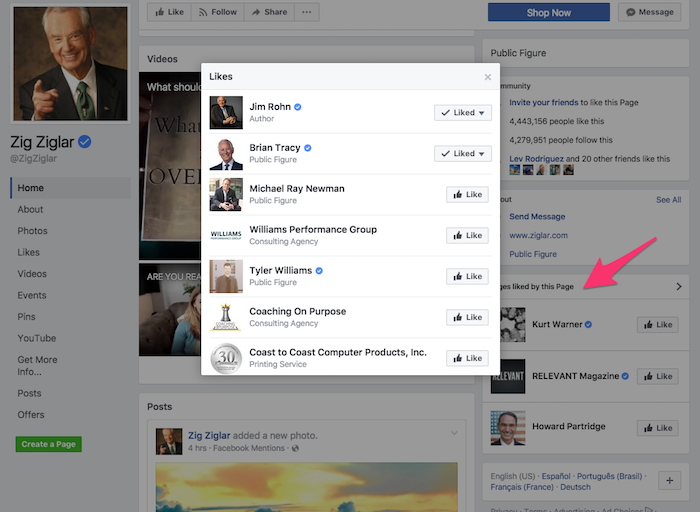 Most pages have a section for "Pages liked by this Page." Pages have a tendency to like other pages that are similar to them or are in their industry. By browsing, you can find more options to add to your targeting list.
One thing to keep in mind is that smaller pages will almost never be an option for you to target. If a page has fewer than 10k likes, you can most likely leave those out of your list.
On the other end of the spectrum, if a page has too many likes you don't want to target those, either, as they're probably too broad. If you're trying to target cooking enthusiasts, it might not be the best idea to target the Food Network — which has 27 million likes.
Instead, you could target the page "Cooking Chef – Delicious Recipes" that has 364k likes. This would help you include people who are more likely to be interested in your product or service.
Consider Facebook's Suggestions
The last strategy you can use for Facebook targeting is to let Facebook itself suggest more options. While you're in the process of setting up your campaign and putting in your interests, Facebook will suggest even more options based on the interests you put in.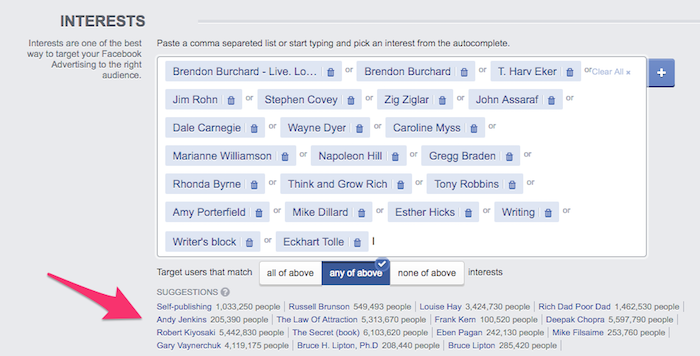 This screenshot is from AdEspresso, but works the same way. After we've entered in a bunch of audiences, we get similar suggestions we can add that we might not have found in previous steps.
How to Improve Your Facebook Campaigns
Now that you have a long list of audiences to test, refer to your list as you continue to test your ads and create audiences. Don't test the entire list at once — choose just a few to start out with.
You'll start to find ones that work better than others, and from there, you can continue to test in new audiences from your list. (Looking to create more advanced Facebook ads? Learn how to get started with programmatic advertising.)
Ready to set up your Facebook ad targeting options?

Click here to download our free PDF How to Set Up Successful Facebook Ads: A 7-Step Guide to help you start off on the right foot and succeed on Facebook.