The majority of people who login to Facebook do so from mobile. This means it's even more important that you provide a seamless experience in your ads and social posts. Sites should be mobile optimize and load quickly or else people will bounce off your page fast. One way to combat this problem is by using Facebook Canvas.
What is Facebook Canvas?
Facebook Canvas is essentially a landing page contained within the Facebook platform for mobile devices. Instead of linking a Facebook ad or social post to your website, you can link directly to a Canvas. This allows users to interact with your content without leaving Facebook. That means no slow load times for users, and more time spent on the platform for Facebook.
You can get very creative with Canvas. It is a great place for storytelling and showcasing products.
Canvas is easy for anyone to set up. This can be very helpful for marketers who struggle with:
Slow websites
Websites that aren't mobile friendly
Lack of coding knowledge or website permissions
Slow turnaround time on webpage development
Canvas is made up of different components added together. Components you can use are:
Buttons
Carousels
Photos
Text blocks
Videos
Product sets
Videos
You can use multiple videos on the same Canvas. The total length of all the videos on a Canvas, however, cannot exceed 2 minutes.
Videos autoplay on silent by default. Make sure to include captions.
There are no options for thumbnails. The thumbnail will be the first frame of the video, but this shouldn't matter as they autoplay anyway.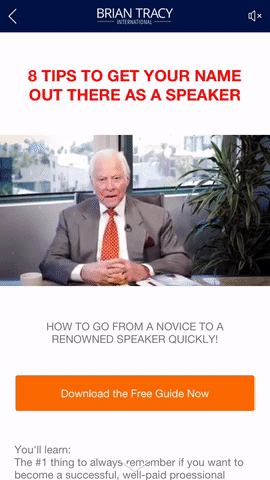 Photos and Carousels
Up to 20 total photos can be used in a Canvas. A photo can be displayed as a singular image or as part of a carousel. Carousels are limited to 10 photos.
A photo can be sized to fit to width, click to expand, or tilt to pan. Tilt to pan means by default it shows the middle of the image, and if the viewer tilts their phone from side to side, they can see more of the picture.
Both regular photos and carousel photos can be clickable to an outside URL.
Here is an example of a photo carousel: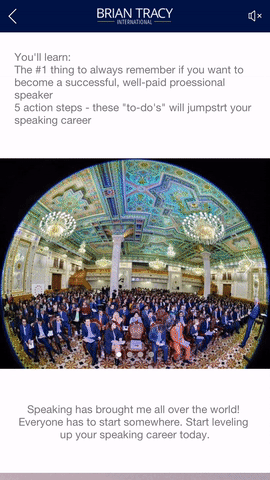 Here is an example of a canvas photo: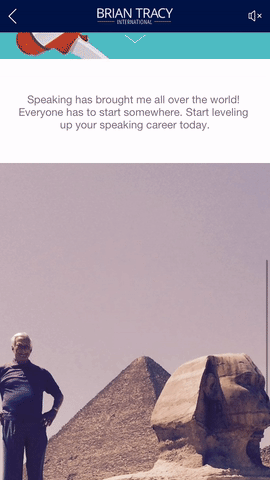 Buttons
Buttons, as with all components, can be inserted multiple times throughout the Canvas.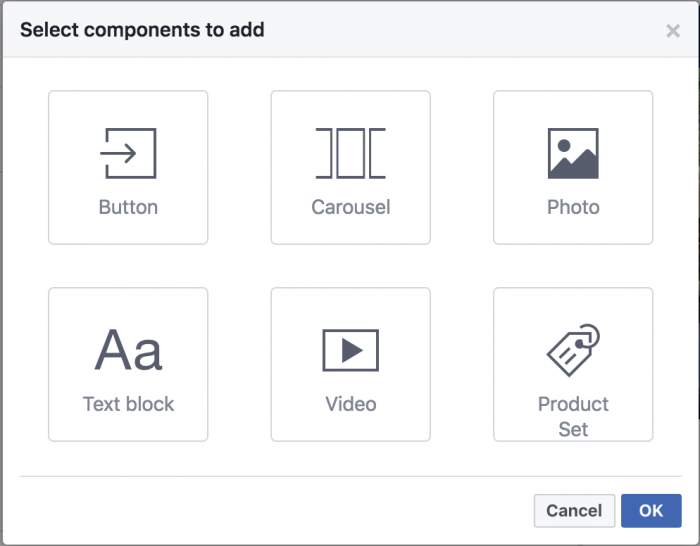 However, buttons have a unique option that the rest don't.
You can choose to have a button fixed to the bottom of the Canvas. This means as a user scrolls through your Canvas, they will always be able to see your call to action button.
Text Blocks
Style is limited, but you do have the option of changing alignment, line spacing, font color, font size, bold, italicized, and underlined.
You can change the font, although it's very limited.
I tried using bullet points which showed up in the text editor, but were stripped from the actual Canvas.
Each text block has a limit of 500 characters.
Product Sets
If you have any product sets uploaded to your ads account, you can import those.
You can choose the number of products to feature, up to 40. You can't set the order of the products, Facebook will do that for you.
Themes
You have the option of changing the color that appears behind text blocks and buttons through the Canvas. It has to be the same throughout, you can't choose different colors for different sections.
Your options are white, black, or any custom color.
Header
You can add one header section to your Canvas. It stays fixed at the top of the screen as users scroll. It consists of one logo image and a background color.
The recommended logo image size is 882×66.
The background color can be whatever you want and can be different than the theme color you selected. You can also choose an opacity percentage for the background color.
Preview and Save
When your Canvas is complete, make sure to preview it. You can get a notification sent to your Facebook app so you can view it on mobile.
Once you save, you can't make any edits, so make sure to double check everything!
Thank you for reading on how to use Facebook Canvas to improve your customer mobile experience. Have you had a change to use Facebook Canvas? Tell us about your experience in the comments. Get more digital marketing knowledge delivered right to your inbox by subscribing to our newsletter.