Google AdWords is a behemoth of an ad platform. The possibilities of what you can do with it seem endless. If you're not an AdWords wizard, it can be very overwhelming and difficult to figure out where to start. Here are four simple Google AdWords campaigns you might want to implement for your business.
1. Brand Search Google AdWords Campaigns
This is the easiest campaign type to set up. The purpose is to target people who are already familiar with your brand and searching specifically for you.
By showing them an ad, you are increasing your real estate on the search engine results page (assuming your website is already ranking for the search term they used) and increasing the chances of them clicking through to your website.
This also gives you the opportunity to tailor your ad based on what someone is searching. If someone searches "Brian Tracy audio programs" we can show them ad that is talking about Brian Tracy's audio programs to increase the likelihood of them clicking.
Here's an example of one of our general ads for someone searching "Brian Tracy":

To set up this campaign, come up with a list of keywords related to your brand name. This might include different variations or common misspellings.
Test at least 2 different ad creatives per ad group. This is something you should be doing with all your campaigns.
If your company is international, set up a different campaign for each country.
Budget for this type of campaign will be determined by search volume. If you're just starting out or still small, you won't spend much here if you don't have a lot of people searching for your brand yet. If you're well established and have a lot of traffic, you'll have the option to spend a lot more here.
2. Remarketing Banner Campaigns
Using Google's display network, you can retarget people who visited your site with banner ads around the web.
By using Google's remarketing tag on your website, you can capture audiences who have visited your site up to 540 days in the past. That doesn't necessarily mean you should target all those people though. If someone hasn't visited your site for a year and half the odds that they are still interested in what you have to offer is lower.
300×250 is the most popular banner size. Start with making a handful of different creatives at this size and test them first. Then once you find images that perform well, recreate them in other popular ad sizes like 160×600 and 728×90.
This way you don't waste time making tons of banners in different sizes for creatives that don't work.
To prevent ad fatigue and annoying people with the same ad over and over, it's a good idea to implement a frequency cap on your campaigns. This says don't show a user more than X amount of impressions from this campaign per day. We'll usually set this cap at 3-5 impressions per day.
When setting up the campaign, set the ad rotation to evenly. This ensures that all your different creatives will get enough impressions so that you have enough data to determine which ads are working and which aren't.
Budget for remarketing campaigns depends on how much website traffic you get. The more traffic you have, the more you can spend. If you're just starting out, you can set these campaigns up knowing that it won't spend much to start, but you'll be prepared and ready to go for when your traffic grows.
3. Regular Search Campaigns
These campaigns are similar to the brand search campaign, but instead of people searching for your brand, you're showing your ads to people who might be interested in what you have to offer based on their search.
It's important here to break up campaigns into different ad groups separated by categories of related keywords. For example if we have a campaign for a product called "How to Write a Book", we might break up ad sets to the following groups of keywords people might be searching for:
Book writing
Becoming an author
Publishing a book
Self-publishing
Author training
To find potential ad groups and keywords to include, you can use Google's Keyword Planner (found under Tools -> Keyword Planner in the AdWords dashboard). You can decide what to include based on:
Search volume: estimation of how many people search a particular keyword in a month
Competition: how many other advertisers are bidding on a keyword
Estimated bids: how much you might have to bid in order to have your ad show up in a search for that keyword
Like always, it's important that the ad shown is as close as possible to what a person searches for. The more relevant an ad is to what someone's looking for, the more likely they are to click it. As much as possible you want to make sure the keyword they search is shown in the ad.
Budget for these campaigns aren't as restrictive since they are not dependent on website traffic or how many people know about you. As long as people are searching for what you're bidding on, you can spend a lot of money here. It's important to keep an eye on ROAS (return on ad spend) to make sure your campaigns are working.
4.Google Shopping Campaigns
If you are selling digital or physical goods, Google shopping ads could be a great option. Here's an example of what sponsored products show up when I search "pink girls shoes":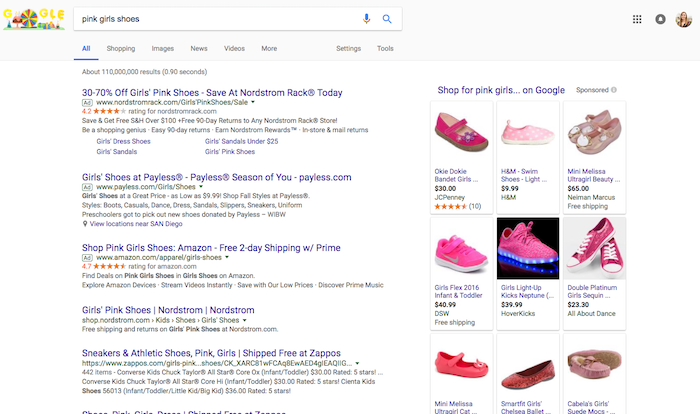 Here's another example when searching for Brian Tracy's book Eat That Frog: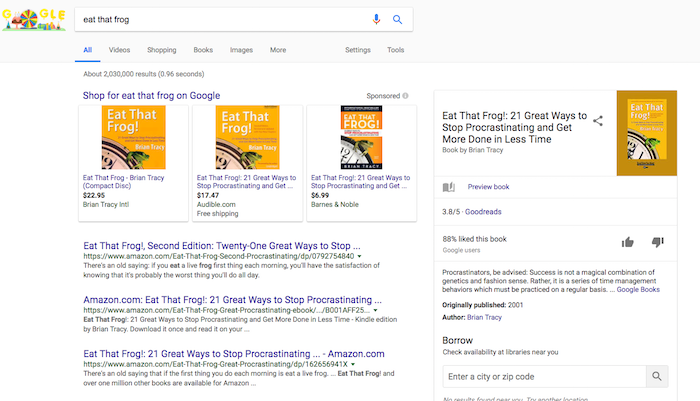 To set these up, you must create product feeds through Google Merchant Center.
If you don't have too many products, you can easily download a Google Spreadsheet template from them and fill it in with all the necessary product info.
Or if you have a lot of products you can have a developer create something that automatically pulls in the product data from your website and present it in the format Google wants it.
If you are selling internationally, you have to use different feeds for different countries.
The actual campaigns are a bit different than traditional search campaigns as you are not bidding on keywords.
Google decides what ads to show someone based on what they searched and on the product data you give Google. That's why it's very important to optimize product title, description, and image for this reason.
Something to keep in mind here is that Google Shopping Policies are different from the AdWords Advertising Policies. It's important to be familiar with both of these to stay compliant with Google.
Have you run any Google AdWords campaigns similar to these? How did they turn out? Leave a comment below and join the conversation. Feel free to sign up for our newsletter for the latest marketing news and tools in the industry from the button below.