YouTube is the second largest search engine behind Google which makes it a great place to get in front of your audience. One of the best ways to do that is by setting up a youtube channel and making a YouTube pre-roll ad, also known as a TrueView in-stream ad.
What is a YouTube pre-roll ad?
A YouTube pre-roll ad is the video that runs before the video you actually want to watch. They are skippable after the first 5 seconds.
And the best part is, you are only charged if someone clicks on the ad, watches at least 30 seconds, or watches the entire duration if the ad is shorter than 30 seconds.
Who will see my ads?
There are many different ways you can set up your targeting for pre-roll ads. You can create audiences based on website visitors, YouTube channel subscribers, YouTube channel watchers, watchers of specific videos, similar audiences (like Facebook's lookalike audiences), or using demographic and interest-based information.
The best results for this ad unit usually come from using retargeting. Someone is more likely to interact with a video or at least not press skip immediately if it is a brand they know and are interested in.
When you set up your first YouTube pre-roll ad campaign, begin by targeting your low-hanging fruit like website visitors. Or if you have a large following on YouTube, start with people who are subscribed to your channel or who have already watched your videos.
What video should I use?
Let me start with what you shouldn't use. You should not use a pre-existing video you have lying around that may or may not be relevant. You should create a new video that is deliberately made for where the ad will be shown. By the way, this is true of any ad. You should not use blanket creative for different ad units and placements.
If you have a personal brand or a spokesperson for your company, videos that use a person talking to the audience perform well. It's a more personal touch, especially for audiences that already know and trust you.
The most important task in creating your pre-roll ad is capturing attention within the first 5 seconds. If they hit skip, you lost them. Give them a reason to keep watching.
One way to accomplish this is by talking directly to your audience. If you're selling fishing bait, start out by asking, "Are you a fisherman?" or "Do you want to catch bigger fish?" You are qualifying them right away.
You can even add "If not, press skip now." This ensures you don't waste money on people who aren't potential customers. And the people who do answer yes to your initial question are more inclined to stick around to see what you have to say.
Now that you have the attention of the people most important to you, get to your call to action quickly. Once you identify a problem and offer the solution, tell the people what you want them to do. "I created a guide with the best bait solutions that will help you catch the biggest fish in any scenario. Click now to download the guide for free."
While presenting your CTA, include a large, clear button that makes it easy for the user to take action.
Finally, end your message around 25 seconds. Freeze the final frame and let that run for 5 seconds. This forces the viewer to take action. They will either click through to your website or they will click skip. You either get the action you wanted, or you don't get charged for a full ad impression if they click skip. It's a win-win!
How should I optimize my ad?
Captions
All videos should always, always, always have captions. In the age of mobile and auto-play, this is the easiest optimization that can instantly have a huge impact on video performance. This is less important on YouTube as it is on Facebook. Most people on YouTube are deliberately there to watch video whereas Facebook browsers might not be. Nevertheless, you should always have captions available for those who are not using sound.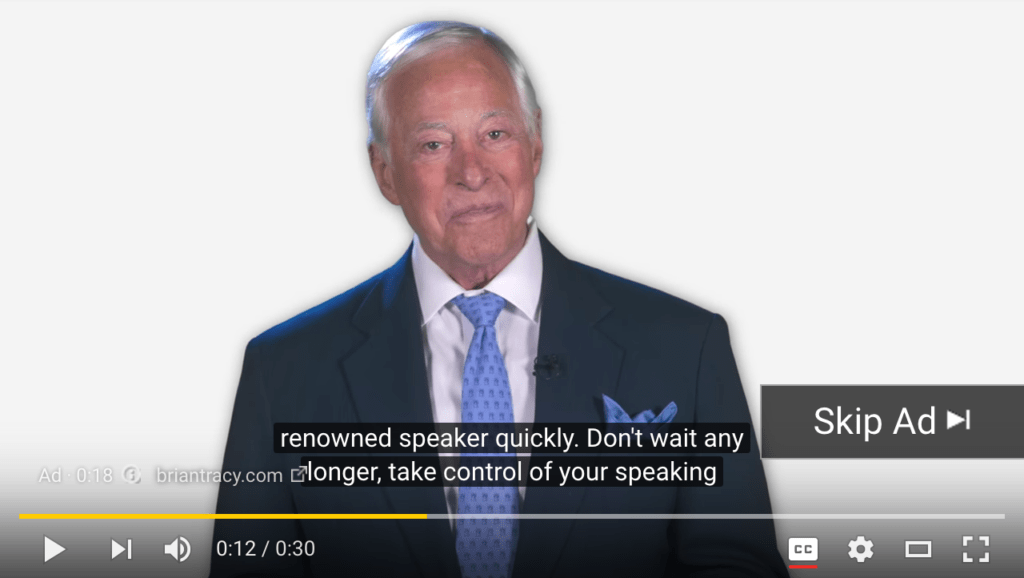 Cards
Include a YouTube card. A card is the link that shows up in the top right of the video with info symbol.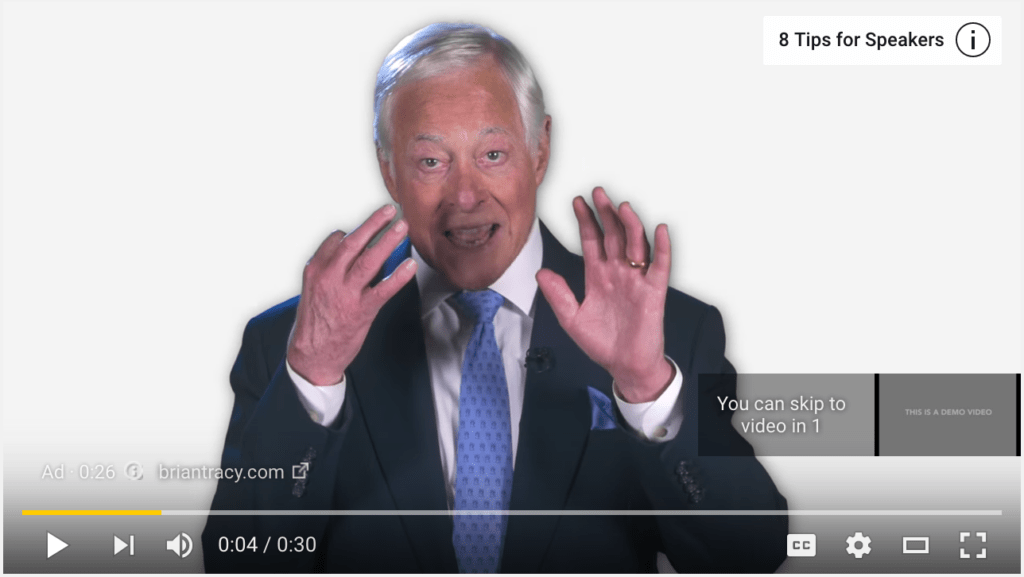 You can choose to have the ribbon show up with text towards the beginning of the video before your CTA button appears. Spacing those two out will create less noise and distraction by focusing on just one CTA at a time. Remember to keep all CTAs the same, don't let users get distracted!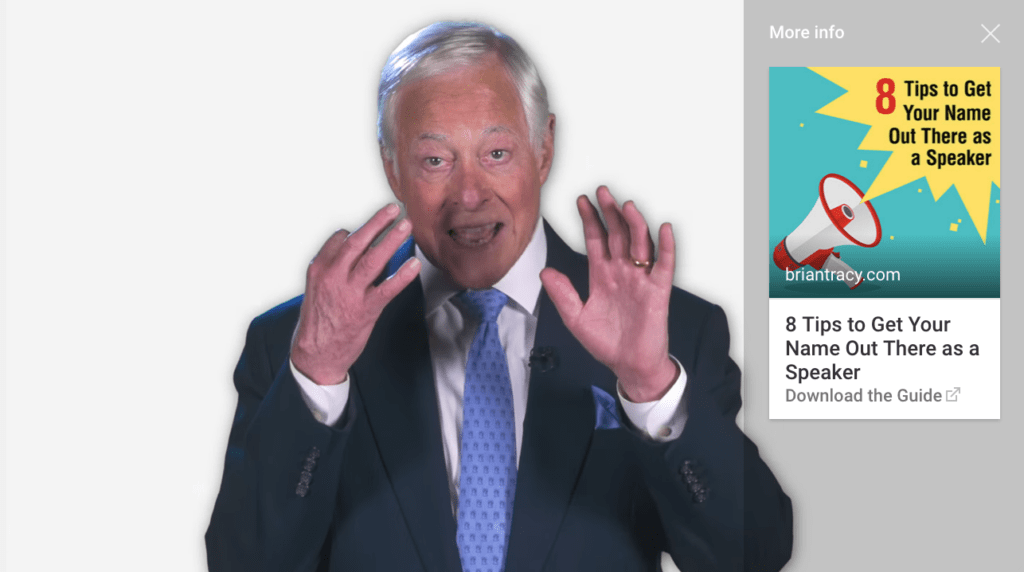 Annotations
Utilize annotations. An annotation is a linkable box you can add to a video with or without text. This is what you want to use for your CTA button in the video. You can use a transparent box if you added a button in the video, or if not you can color and stylize a box with text to look like a button.
Here is an example of a successful ad created for Brian Tracy.

Have you had success with YouTube pre-roll ads? Share your experience in the comments below. Get more YouTube marketing advice delivered right to your inbox by subscribing to our newsletter.