Featured Snippets have been growing in popularity for the last few years and have come to be an expected part of the search engine results for many people who are completing Google searches on a daily basis.
For the person searching, it's a matter of convenience. For the person writing, it's a huge opportunity.
So, what exactly is a Featured Snippet and how can you make sure you're optimizing your product pages, content blogs, and general landing page language to account for this feature?
Let's review…
What Is A Featured Snippet?
A piece of your written content that is pulled out into a 'feature' box on search engine results pages is considered to be a Featured Sippet. This generally appears if a user or potential consumer is searching for an answer to a question, or for a 'how-to' type result.
Here at Brandetize, we work on multiple client brands to promote their knowledge and message with useful features like this. Here is an example from Rule #1 Investing for "What is Market Capitalization":
Why Should You Be Using Featured Snippets?
These Featured Snippets help to dramatically increase click-through rates to pages that are targeted because users and potential consumers are more likely to click into a page they know has the information they're looking for.
The best part is that you don't even have to be the top result on page one of the search engine results. The Featured Snippets are generally pulled from pages ranking in the third and fourth spots. If you have valid, informative answers to offer but you're not the top result on Google, this could be a valuable tactic for you to use.
How Do You Set Featured Snippets Within Your Content?
When writing up a product page or content blog, make sure you're thinking seriously about the types of questions the average person may ask about your product or topic. This is incredibly important with Google rolling out new question-oriented search algorithms for mobile devices.
For example, if you're going to write a blog post explaining to people how they can use Facebook Canvas ads to market their business or product it would make sense to include a question like "What is Facebook Canvas?".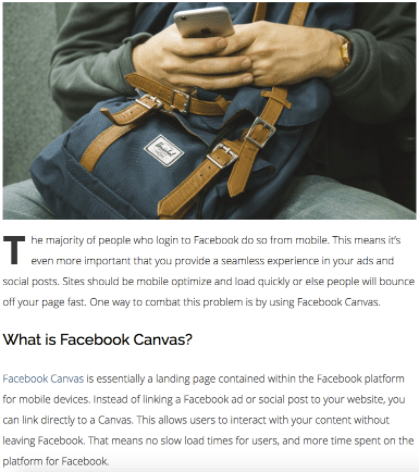 Once you have worked out which question or questions you want to answer within the body of the article, you should make sure that you set up your blog or page so the question or how-to phrase appears in a header (h2, h3, etc).
The content that will answer this question should be placed in a <p> tag directly below the header. The answer should be between 54-58 words long, ideally. If the answer goes much longer than the feature box may cut it off or add an ellipses.
Google prefers 'answers' that begin logically, as though they are genuinely answering the question – so keep that in mind when developing your copy.
To read the full article on Facebook Canvas ads, click here.
How Often Will Content Be Featured In A Snippet?
As discussed very briefly earlier, Featured Snippets actually appear more often when you are NOT the #1 ranked page result.
This means you have some true advantage if you're ranked third or fourth in the results for information that a consumer might find valuable. This has to do with the way Google is pulling in these answers.
Even if you take the time to write a Featured Snippet question-and-answer into your copy every time, Google may not pull your information if you're ranked first or second because the search engine assumes the consumer will see your page anyway.
Did you find this article helpful? If you have used Featured Snippets in the past, what has your experience been? Tell us in the comments — we'd love to hear from you! Get more SEO tips delivered right to your inbox by subscribing to our newsletter.