Do you recognize this picture?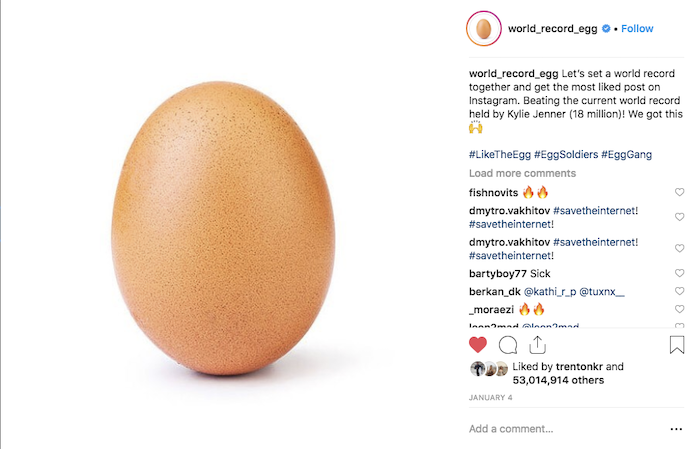 This egg is the most liked picture on Instagram.
The sole purpose of the egg was to beat previous world record holder Kylie Jenner who had 18 million likes on one of her posts.
Not only did this egg beat Kylie Jenner's likes… it dominated and generated over 50 million likes! But it didn't happen by coincidence. A ton of influencers gathered behind this marketing campaign and promoted the egg post. Essentially, this egg "Dethroned" Kylie Jenner and made a humorous remark about the power of influencer marketing.
The man, the myth, the legend behind the egg is 19yr old Ishan. He planned this viral marketing campaign.
According to Ishan, "It all involves a combination of timing, placement, and influence. People can [rally] around the thrill of outdoing a celebrity. It makes the world seem less intimidating, more light-hearted, and more accessible."
Ishan didn't do it on his own. He reached out to big-time influencers and celebrities to help bring his vision to life. Large influencers like Supreme Patty, Total Frat Move, Barstool Sports, and essentially all of the well-known millennial/college accounts.
This campaign showed the world that humor is a huge driver on social media and that influencer marketing actually works.
What is Influencer Marketing?
Influencer Marketing is our modern-day form of marketing. Instead of promoting via email, influencer marketing has social media influencers promoting to their audience on various social platforms.
Influencer marketing reaches millennials through visual channels.
According to Medium.com, 70% of Millenial Consumers are influenced by the recommendations of their peers in buying decisions. And 30% of consumers are more likely to buy a product recommended by a non-celebrity blogger.
Shane Barker says "This is because consumers can relate more to real people. They value their opinions more than celebrity influencers."
Some of the perks of influencer marketing include:
Trust through authenticity – more genuine posts, product reviews, real people = real thoughts
User-generated content – unique content created by influencers can be repurposed as posts for your social pages, websites, emails, etc.
Exposure – You are exposing your product/offer to new sets of eyes through influencer promotions.
Combats ad blocking – as the rate of ad blocking increases, this is a great alternative. Because their audiences don't feel targeted, they are more likely to engage with the sponsored content rather than exiting.
To top it all off, according to Tapinfluence, Influencer Marketing generate 11X higher ROI than traditional forms of advertising.
The aim of influencer marketing is to identify the influencers in your niche and make them work for you by promoting your brand – Influencer Marketing Hub
How to Use Influencer Marketing
The options for Influencer Marketing are vast. You could promote on any social platform, but the most popular platform is Instagram.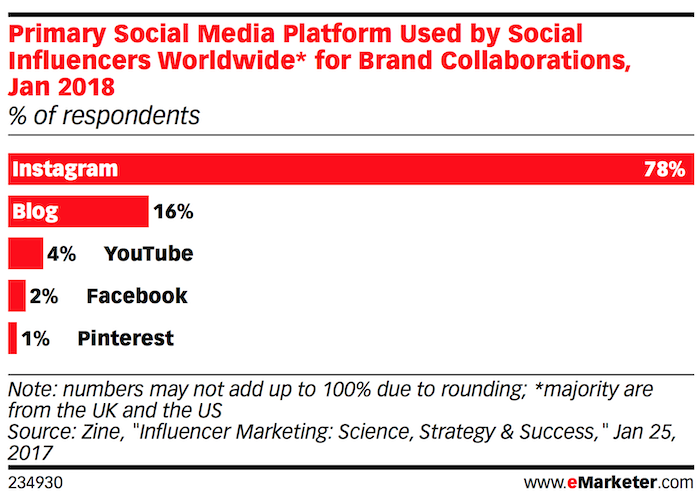 The first step to influencer marketing would be to define your niche and your target audience. Once you identify that key information, you can strategize accordingly.
You have 2 options when it comes to influencer marketing:
Micro Influencers
Macro Influencers
Micro influencers have fewer followers but tend to be more personally engaged with their audiences.
Macro influencers could be considered 50k followers+ to A-list celebrities.
Depending on your budget, you may find that more micro influencers make a difference or that less is more and Macro is your way to go.
Your brand's influencers are essentially a branch of your business. Pick people that identify well with your brand and whose audiences aline with your target demographic.
The process of planning an influencer campaign is simple. Just break it down like this:
Research Phase – find the influencers you want to work with.
Outreach and Planning Phase – Develop relationships through outreach and determine how best to move forward.
Promotion – Once they promote, track and evaluate results.
How to Find an Influencer
Once you identify the type of influencers you want to work with, there is no shortage of resources to help you find them.
If you are a brand, you might as well start with tagged photos. Go through your tagged Instagram photos to see who is already a fan. You never know if that person has an engaged following.
One of my favorite things to do is to check the engagement rate through the influencer marketing hub calculator.
I recommend 2% or higher. This will help you avoid pages with fake followers. You can also see how much generally that influencer should be charging.
Some other ways to find influencers include:
Research on

Google

Look through your social comments
Search via #hashtags that fit your niche

BuzzSumo

Influence.co
Once you find the right influencers, reach out to them via email or Direct Message.
How Much Influencer Marketing Costs
The cost of influencer marketing really depends on your budget, the platform, engagement, followers, campaign requirements and if it's a direct partnership or agency.
If you are a brand and you want a campaign to track real results, you are looking anywhere between $2k – $15k.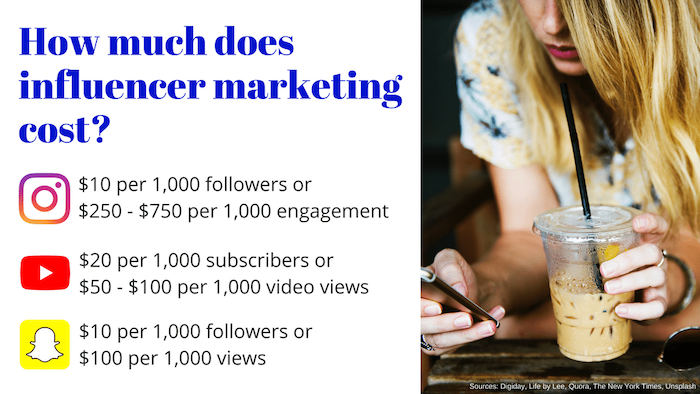 Agencies tend to charge more than working with an influencer directly.
In this day in age, pay per promotion is the most common form of incentive.
You could also try to incentive influencers through Brand Ambassador programs, free products, discounts, and affiliate commissions.
Is Influencer Marketing Effective?
Yes! According to the Digital Marketing Institute, Influencer Marketing is the fastest-Growing Customer Aquisition Method and 7.1% of Marketers believe that influencer partnerships are good for business.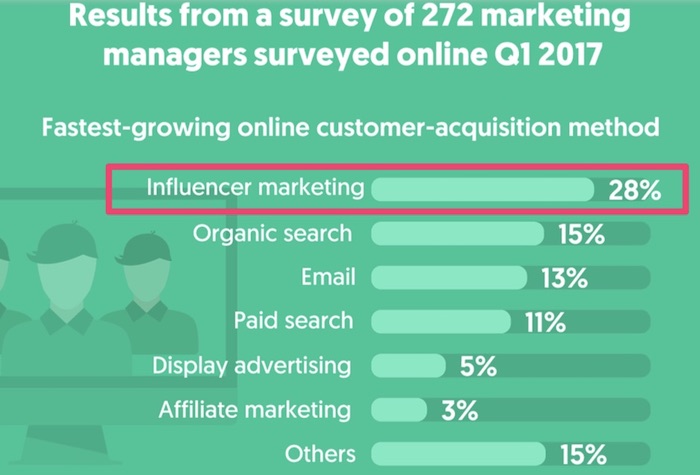 Most businesses are seeing positive results from their campaigns and on average, generate $6.50 in revenue for each $1 invested into influencer marketing.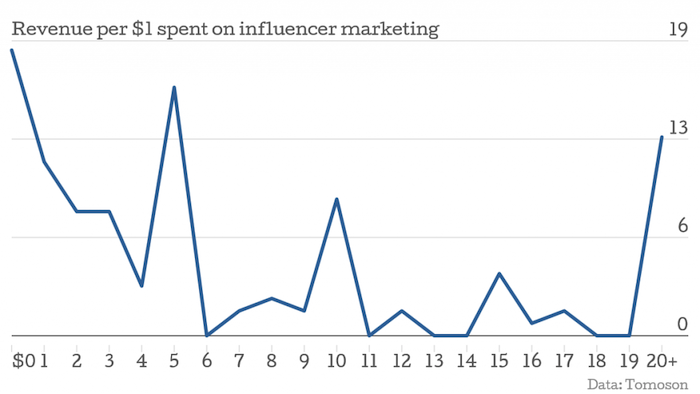 Neil Patel projections show that marketers will spend $2.38 billion dollars on influencer marketing this year alone!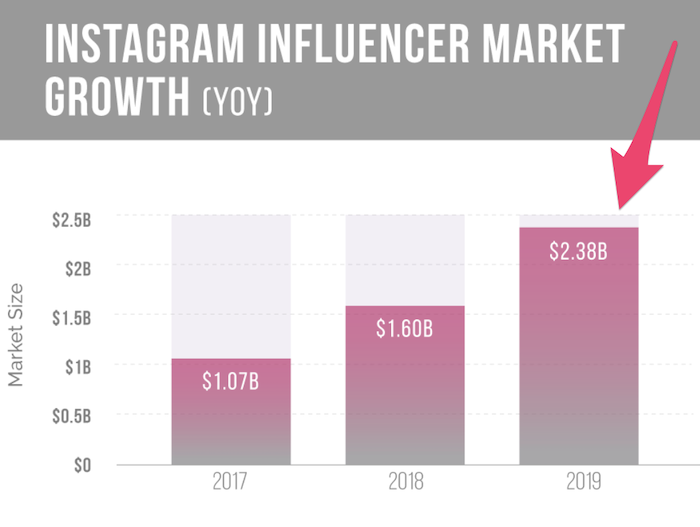 The stats are there. Just ask yourself, are you missing out on another stream of revenue?
Is Influencer Marketing More Effective Than Paid Ads?
Let's talk real talk. Could influencer marketing be the next paid ads?
We see that the power of influencer marketing is there. Could we use it to our benefit to generate more leads?
Think about how many people use ad blockers these days. Influencer Marketing provides a way around it.
We can take a look at Pros & Cons.
Pros –
Influencer promotions feel more genuine than traditional advertising
Costs less than FB Ads if you do it right
You aren't just targeting one platform, you can target multiple if influencers have large followings on multiple platforms
You can do targeted outreach as it will be focused and relevant. Influencers all have their own specific niches for which they are known. Partnering with them allows you to access a very targeted audience.
Cons –
Promotions are harder to track with limited analytics
Influencers reputation could negatively hurt your brand
Your promotions could get lost in their mix of promotions
Is it worth testing?
Influencer Marketing Trends
2019 is the year of influencer marketing. In fact, we are going to see Influencer Marketing become a permanent part of a digital marketing strategy.
With the number of people spending more time on social media and less time on email, this year strategies will shift more to target the millions of consumers on social media.
Some cool marketing trends we will see this year:
The importance of video will increase. We are already seeing IGTV, Youtube, and video stories increasingly becoming more popular. Fans want to hear from their influencers.
Long term relations will be valued more than short term ones. Both brands and influencers want to do fewer partnerships but stronger ones. After all, the more a consumer sees a product, the more likely they will want to buy.
User Generated Content will be the norm across all marketing channels. We will see more authentic and unique content in paid ads, email campaigns, sales pages, IG accounts, etc.
Disclosing Influencer Partnerships will become the norm. The FTC is cracking down on making sure the public knows what partnerships are sponsored vs genuine. You've probably already noticed the #ad and #sponsored more often now.
Research has shown that authenticity matter most to millennials. The most successful campaigns are driven by UGC.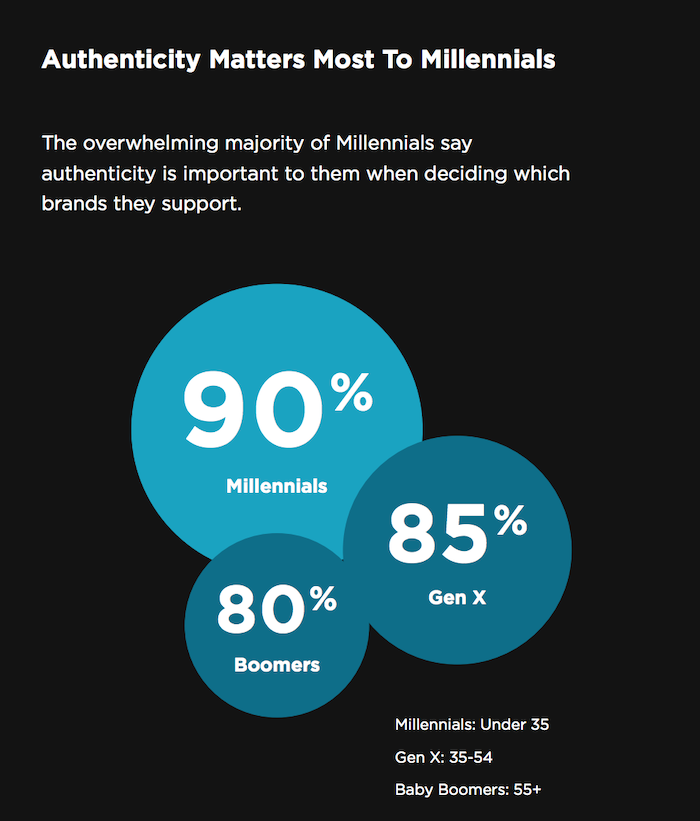 If you aren't already onboard with influencer marketing, it's probably time to hop on.
Influencer Marketing Examples
A great example of influencer marketing at it's finest is Fyre Festival.
If you haven't seen the Netflix or Hulu documentary, Fyre Festival was the world's biggest festival flop. It was a festival planned to promote the Fyre App, an app where you can book music artists.
Their promotional video featured some of the most popular top models on an island to promote the luxurious event. Little did everyone know, the festival hadn't been planned at all before the festival promo video and marketing efforts went live.
The festival was solely promoted by influencers like Bella Hadid, Kendal Jenner, Hailey Baldwin, and many more. All of the influencers were told to post an orange tile with #fyrefestival as the caption.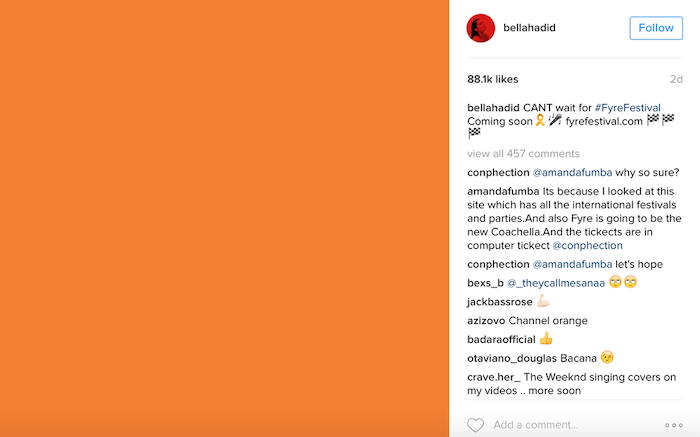 The world saw an excess of orange tiles all over Instagram.
From these orange tiles and promo video alone, customers bought thousands of dollars worth in luxurious packages with no info about the artists and festival itself!
It truly showed the power of celebrity influencer marketing.
Daniel Wellington is a great example of a brand who integrates influencer marketing into their daily marketing efforts.
Their Instagram is filled with UGC.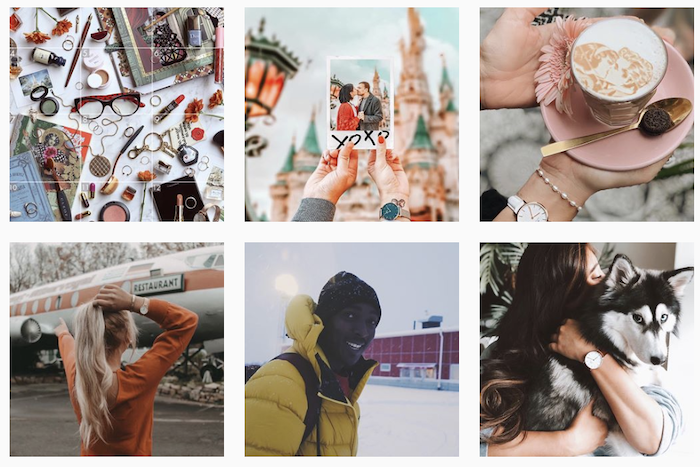 Their strategy stems from celebrity influencers to micro ones. As long as their following is engaged, they are all in on influencer promotions.
Influencer marketing is the future. As this space continues to grow, the possibilities are endless.
What do you think of influencer marketing? Get more digital marketing information by joining our newsletter.