In 2018, Instagram surpassed over 1 billion active users. This means there are 1 billion potential people you can engage, connect, and build trustworthy relationships with through Instagram ads.
With that many active users, it's no surprise that so many businesses are currently on the platform. With its laser-targeting options and variety of placements, Instagram should probably be a part of your paid media strategy.
Why Advertise on Instagram?
According to Instagram,
60% of users say they discover new products on the app.
Over 200+ million users visit at least one business profile daily.
⅓ of the most viewed stories are from businesses.
Instagram allows businesses to get creative and capture their audience's attention with colorful content and storytelling.
By adding this platform to your paid advertising strategy, you'll get more opportunities to engage your customers, build trust, and win them over.
Instagram Advertising vs Facebook Advertising
You may wonder what the difference is between advertising on Instagram and Facebook. Should you advertise on just one of them or both of them?
Take into consideration that some people are active on both platforms, and there are some people who only use one or the other. If you only advertise on one of them, you are missing out on potential customers.
You'll have a higher chance of reaching your audience to build relationships and connect with them by being present on both platforms. They'll see your brand, learn about your products or services, pain points you solve, and have a better chance of engaging with your brand.
How Much Does it Cost to Advertise on Instagram?
In 2018, Instagram saw a 120% increase in ad spend year-over-year. That's a huge increase, and it continues to grow as more advertisers flock to the platform. But, Instagram offers plenty of inventory to advertise on, which means prices aren't outrageous.
Instagram uses an auction system similar to Facebook's.
The cost of advertising on Instagram comes down to your budget, targeting, and offer. For audiences that aren't familiar with your brand yet, the cost-per-click (CPC) and cost-per-action (CPA) will likely be higher. For remarketing, the CPC and CPA will likely be cheaper.
Some industries will be more competitive than others. For example, there are lots of retail, travel, and beauty brands on the app. But don't let this stop you from adding Instagram to your paid advertising strategy.
Before we begin creating an Instagram ad, it's helpful to know what options are offered. Below, you'll find a list of the Instagram placements and formats.
Instagram Ad Formats
There are currently two placements to display ads on Instagram: the feed and stories. The formats are similar, but vary depending on your placement.
Photo Ads
This is the easiest gateway into Instagram ads. Choose a photo that promotes your objective. They can either be square, horizontal, or vertical. Choose to place them on either the feed or stories, or both.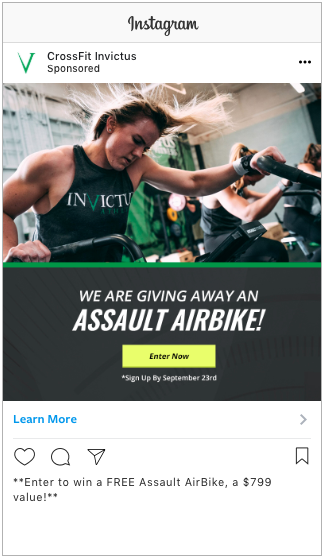 Shopping
If you're advertising a product, tag it in the photo. Users will be able to buy it and check out within the app. All you need is to add in a catalog or connect it with a Facebook Partner, such as Shopify, to use this feature. Use this option on image posts in your feed or story.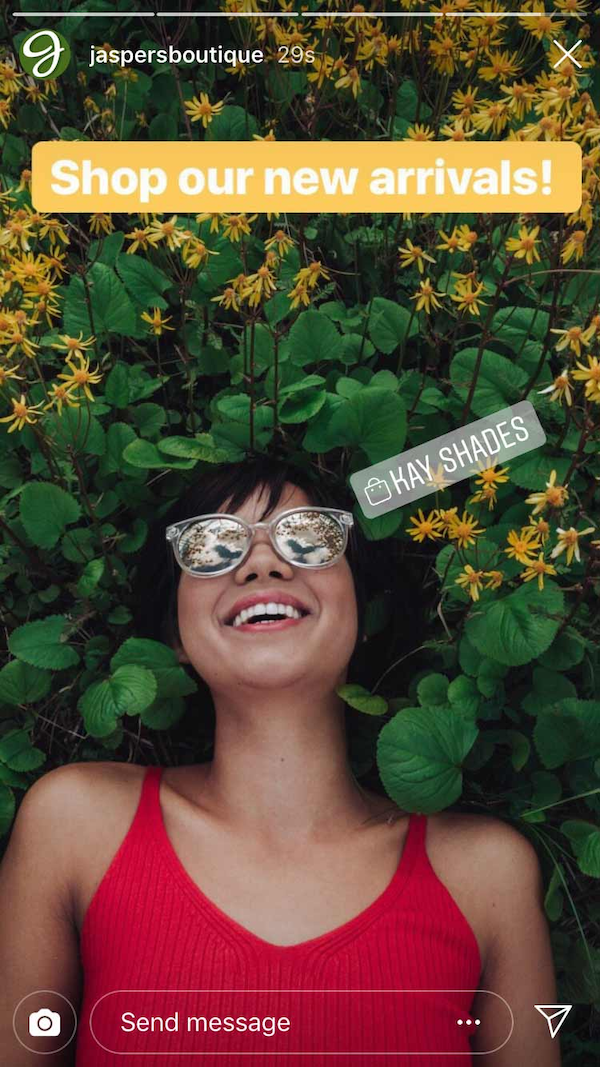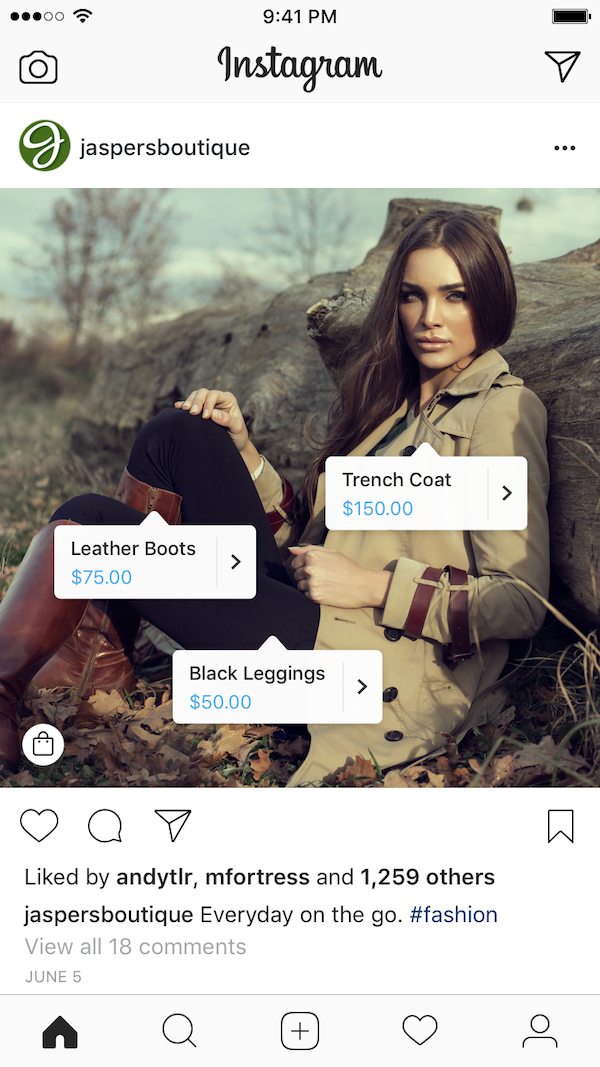 Video Ads
Use a video to provide more context, content, or tell an in-depth story. Video ads are a great way to get a user to stop their scrolling and pause to take in your content. These videos may also be square, vertical, or horizontal, and up to 120 seconds long.
Choose to promote these ads on either the feed or stories. You can also use GIFs to loop something so the user can see your message more than once.
Carousel Ads
Can't pick one photo or video? No problem.
The carousel format allows users to swipe through up to 10 different images and videos with this ad.
Stories Ads
Instagram Stories have 400 million monthly active users. That's a lot of eyes watching the screen, waiting for your ad to capture their attention.
Stories have become a popular placement. This ad is a great way to engage your audience with a full-screen, immersive experience without distractions.
You can choose to promote a photo or video up to 120 seconds long. With videos, be sure to show something that will immediately capture your audience's attention. Fingers move fast, so if you don't grab their attention within the first couple of seconds, they'll continue to swipe. Don't forget your logo and branding.
There is also an option for carousel ads within stories.
Native Stories Carousel Ads
For all cards to show, you can only add a maximum of three images and they must be full-screen creatives.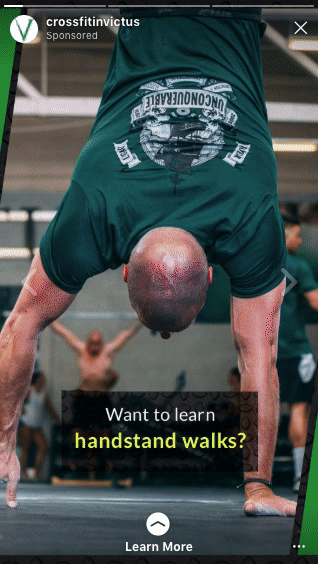 Expandable Stories Carousel Ads
If you choose to upload more than three images, only the first image will show and users will have to tap the "Keep Watching" button to see the rest. This is only available to non-full screen creatives.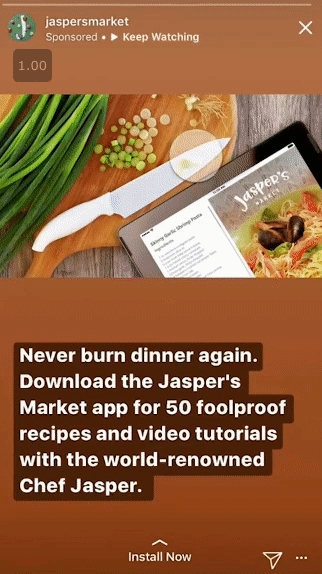 Interactive Ads
Interactive Stories Ads can feature a poll. Use this to engage your users in a question related to your brand, then direct them to a page related to the poll.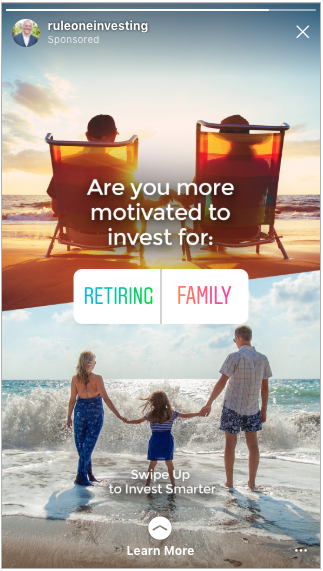 Collection Ads
If you are displaying several products within your photo or video, you can use this format to show users the items. If you have a catalog, they can also see the price, add it to their carts, and checkout.
How to Create an Instagram Ad in 5 Steps
Instagram advertisements are managed through Facebook's Ad Manager. You'll need to have a Business Manager and Ad Manager account to create any promotions.
If your business doesn't have an Instagram account, you can still advertise on the platform.
Step 1: Choose Your Objective
Instagram ads supports all the same objectives as Facebook ads. Choose your objective based on the goal of your campaign.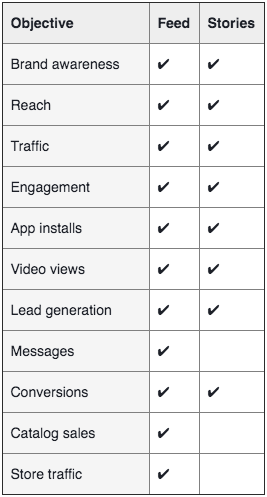 Step 2: Choose your Audience and Location
One huge perk of Instagram is the targeting options. Since it is created through Facebook's Ad Manager, you have the same targeting options you would get on a Facebook promotion. This is great for those in a niche market, or for those who already know their user personas.
Instagram is a great way to engage new audiences or reengage current consumers.
Step 3: Choose your Placement
Here, you'll want to check the box, "Edit Placements." Uncheck everything except Instagram. While you can have your ad on both the feed and story at the same time, it's better practice to separate each placement into different campaigns.
Separating out the placements will help pinpoint exactly where your traffic is coming from and will allow you to see which performs better. This is especially useful for those who use UTM parameters.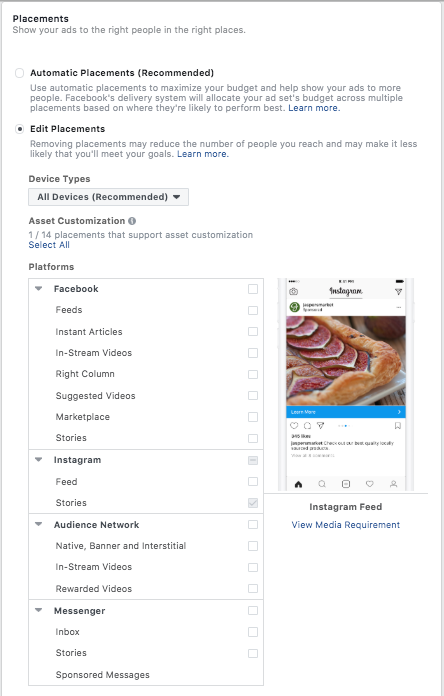 Step 4: Set your Budget
If your campaign has no end date, choose to set a Daily Budget that will determine how much to spend each day.
For campaigns with an end date, choose to set a Lifetime Budget. This will determine how much the campaign will spend between the start and end dates. Keep in mind that this option might spend the entirety of your budget before the campaign ends.
Step 5: Create Your Instagram Ad
After deciding what you want to advertise on, pick your format. This is where you'll decide whether you want a carousel or a single image/video.
Add images, headlines, texts, URLs, and select your desired call-to-action button. If your image/video takes up the full screen, you won't need to insert any ad texts or headlines.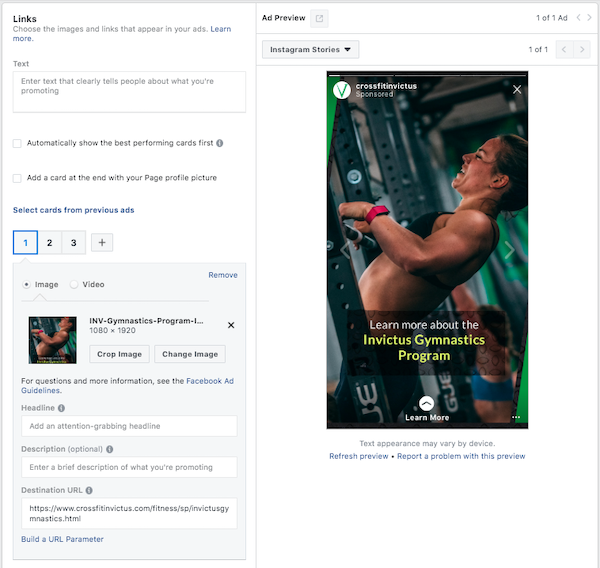 If it doesn't take up the full screen, you can add ad text to the ad and it will appear below your image/video.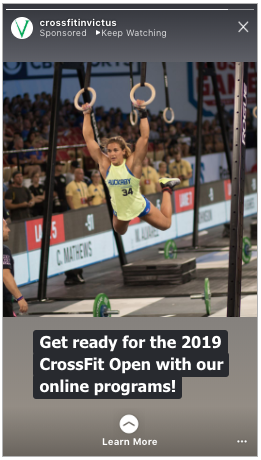 For stories where the image or video does not take up the whole screen, there is the option to change the background color.
And voilà, you're done! Launch your campaign into the world.
Best Practices for Instagram Ads
If you're getting started, here are a few tips to help you maximize your campaign success.
1. Provide Value
Keep in mind, Instagram is a platform users come to consume content and connect with loved ones. Your ads should add to the user experience of both the platform and your brand. To do this, make sure you are providing valuable content or offers.
2. Always Be Testing
Like Facebook, you should always be testing different creatives, offers, and placements. Give plenty of opportunities for your audience to see different variants to learn what works best. If you only have one offer, start off by testing your creatives (images, headlines, body text) and see what works best.
3. Get Creative!
Instagram is all about the vibrantly hued visuals, so put on your creative brainstorming hat and start making visionary content.
What ads will you promote on Instagram? Share your ideas with us here! Learn more digital marketing strategies by joining our newsletter.