Did you know? 500 million people use Instagram Stories on a daily basis (Source – 99 firms). With half a billion users consistently watching Stories, there's no denying just how powerful this tool can be for brands.
As a result, Instagram Stories for business has now become an integral part of any social media marketing strategy and your brand is no exception.
In this complete guide, we break down Instagram Story's main functionalities, strategic ways to drive sales, maximize engagement, and best practices to ensure your Stories don't go unnoticed.
What Are Instagram Stories?
Before we dive in, let's start with the basics and define 'What is an Instagram Story.'
Stories allow users to create dynamic content that disappears within 24 hours of being posted. This content can come in the form of static photos, videos, Boomerangs, or designed graphics. With features like stickers, gifs, in-app fonts, and music, Instagram stories allow for endless creativity and personalization.
This content can be found at the top of any Instagram newsfeed and the purple ring around your profile picture lets other users know you've recently added to your Story. Given their short life span, this creates a sense of urgency for users to watch this exclusive content.
However, you can also save Stories to your profile by housing them under a dedicated "Highlight." This section is located directly beneath the Instagram Bio of any profile and will save past Stories to view at any time, thus turning them into permanent content.

How to Use Instagram Stories for Business
Instagram Stories have quickly transformed into a strategic tool that brands can leverage to build awareness, drive traffic, and increase sales. The feature itself is fairly robust with countless methods to use and create.
That's why we've highlighted a few of the best Instagram story content ideas to adopt into your own brand's social strategy.
Behind-The-Scenes (BTS)
While grids are often highly polished and curated, Behind-The-Scenes (BTS) content helps humanize brands in an authentic way.
In fact, many brands utilize BTS footage to showcase their organization's company culture such as community outreach efforts and virtual tours of the office.
Announcements
Instagram Stories is also a perfect tactic to highlight new products, time-sensitive offers, or upcoming events. Let your Story serve as an extension to your other marketing efforts to help promote products and/or other relevant information that may increase interest or attendance.
Pro Tip: Did you recently share an in-feed post about a new product or event? We suggest resharing this post to your Instagram Story for added reach.
To do this, simply click on the arrow icon by the post and select "Add to your Story." The post will then appear on the Story edit mode where you can add elements such as text, stickers, and GIFs. Many brands use the 'new post' GIF to help draw users back to their profile to learn more.
Sneak Peeks
What better way to pique the interest of users than by providing exclusive content that cannot be found anywhere else. Oftentimes, brands will incorporate this technique to help build hype and anticipation surrounding a new launch or product.
User Generated Content (UGC)
User-Generated Content (UGC) is a great opportunity for brands to build strong connections with fans. By sharing an Instagram post to their story, brands can help foster a sense of community by showcasing customer experiences, reviews, and product unboxings.
How to Boost Engagement on Instagram Stories for Business
The Instagram algorithm rewards brands who are frequently posting engaging and relevant content. This means consistency is crucial for brands that are looking to build a strong audience, increase reach, and drive sales.
Not sure where to start? Here are some creative ways to elevate your Instagram Stories and take your engagement to the next level:
Instagram Stickers
Bring your Stories to life and captivate the attention of new visitors and fans alike by incorporating interactive strikers available on the Instagram app.
Poll Sticker: This is an effective way to increase user participation in your Story. This technique not only drives engagement but can also provide valuable insight into the opinions of fans.
Question Sticker: Incorporate interactive elements like the question sticker to get fans involved in the conversation. By prompting users to answer a question, users can directly communicate with brands and engage in one-on-one conversations.
Quiz Sticker: This is a clever and fun way to gamify your Story by asking fans to answer a series of questions.
Countdown Sticker: Build anticipation for new launches, celebrations, or events for fans to tune in. If a user clicks on the countdown sticker they can opt to save a reminder and/or share it with friends.
Emoji Slider: Gauge user sentiment of a product, blog post, or idea by adding an emoji to a slider sticker.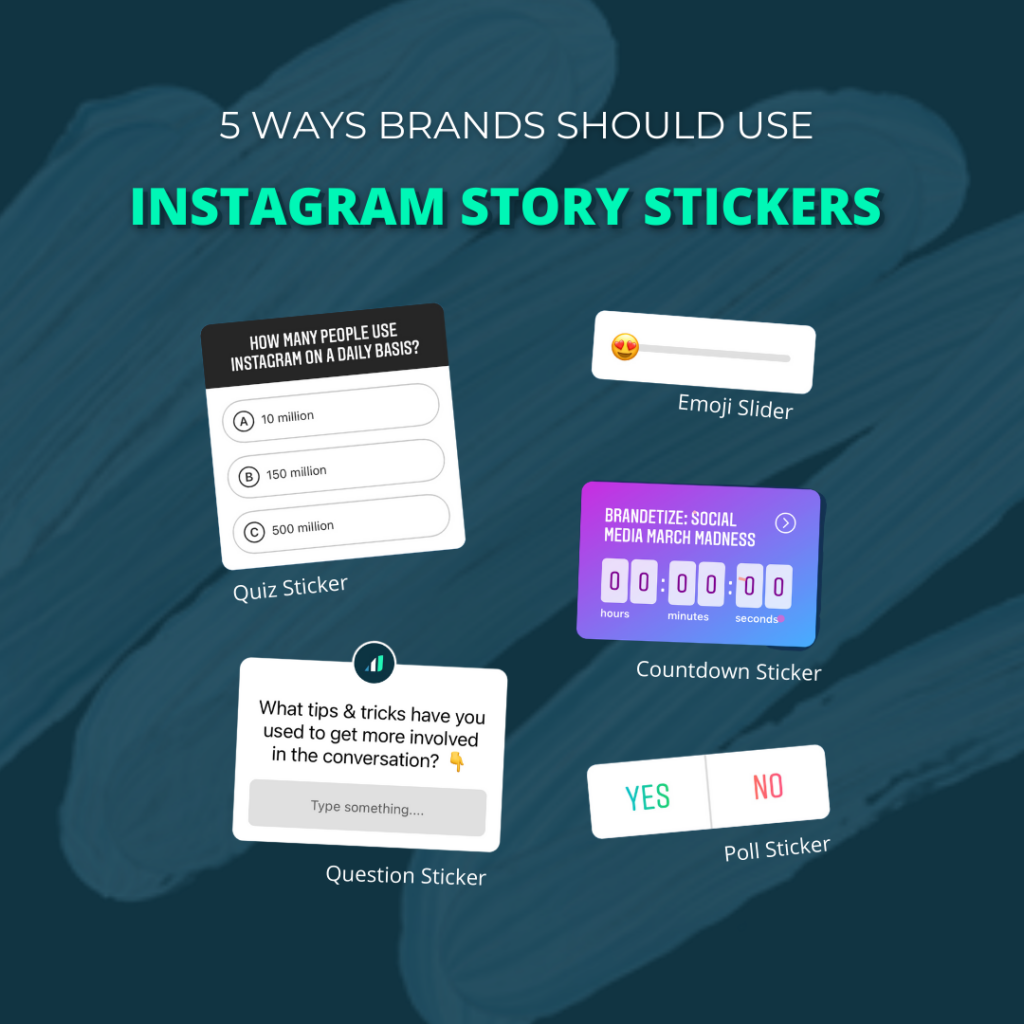 Hashtags & Geotags
Organically increase reach with the use of Hashtags and Location Tags on your Instagram Stories.
If you search a specific Hashtag or Location you will notice a dedicated story section in the top left corner. Why does this matter for brands? This discoverable feature helps brands reach a wider audience and connect with other fans who are either using those tags or are actively searching them.
Pro Tip: Stories can include up to 10 Hashtags, so take advantage of this opportunity to connect with new users. That said, it's important to mindfully select Hashtags that are relevant, niche, and related to the Story's content.
Music
Give your Story an anthem with the new Instagram music feature. To add music to your Instagram Story, click the "Music" option under the record button, search for a song in the library, select the exact timeframe you want, and record a video as the song plays in the background.
Once the Story is uploaded, users will hear the song playing as they view the Story photo or video.
Swipe Up Links
If you have over 10k followers, you've unlocked an exclusive feature on Instagram Stories — linkable Story content. This functionality is a strategic tactic that brands can leverage to organically boost sales and increase web traffic.
To help promote your link, we suggest adding eye-catching elements such as GIFs, stickers, and in-app text to encourage users to "swipe up." After a user clicks the link, they will be redirected to the site destination you included with your Story during the building stage.
Are you a brand with under 10k followers? Don't worry, there's another technique to help drive clicks. Simply add the link to your bio and include instructions in an Instagram Story that invites users to head over to your page and click the link to learn more.
Instagram Story Advertisements
Another option to help drive sales, increase awareness, or build a following is by incorporating Instagram Story ads into your social strategy. In fact, 50% of Instagram users are more interested in a brand after seeing an ad about it on Instagram.
To create an Instagram ad that appears on Instagram Stories, you must head over to Facebook's Ads Manager. Here you will be asked to determine your target audience, campaign objective, budget, and ad placement. Once those details are finalized you can begin running an Instagram Story ad.
How to Create Branded Instagram Stories for Business
Similar to in-feed content, your Instagram Stories for Business should always remain cohesive, high-quality, and on-brand.
Here are some tips on how to create thumb-stopping branded content for Instagram Stories:
Instagram Story Color Schemes
What better way to communicate your brand's personality than with color! Does your brand consistently use a color palette in other marketing assets? Then this color scheme should always be present. We suggest finding ways to incorporate this particular color palette into each Instagram Story for added cohesion and uniformity.
This will not only build brand awareness but will help users recognize your content without even looking at your logo.
Pro Tip: Here's how to change the background color of your Instagram Story.
First, upload your image or graphic to your Instagram Story.
Next, select on the drawing or text tool and click on the eyedropper icon in the bottom left.
Move the eyedropper tool over the area of the image that has the color you'd like to copy.
Once you find the color you want, begin writing or drawing. Your text or drawing will appear in this new color.
Instagram Story Tools
With the increased popularity of Instagram Stories, there are endless tools social media teams can use to take their brand's content to the next level.
Some of our favorite Instagram Story tools are:
Instagram Story Templates
Creating shareable branded Story content is a surefire way to boost engagement and build brand equity amongst users. In fact, many brands have incorporated this strategy by creating their own versions of popular interactive Story trends like: This or That, Fill in the Blank, or Bingo.
By doing this, brands have seen higher levels of engagement as this content typically generates more re-posts than your average story. Be sure to incorporate branded elements and logos in your Story design so that other users can search your profile and participate too!
Understanding Instagram Story Analytics
In order to define your Instagram Story strategy, it's important to analyze your Story's performance. These analytics can be accessed by clicking the Insights section in the top right corner of your Instagram Business Profile. Next, select the "Content" tab to review both Instagram Post and Story insights.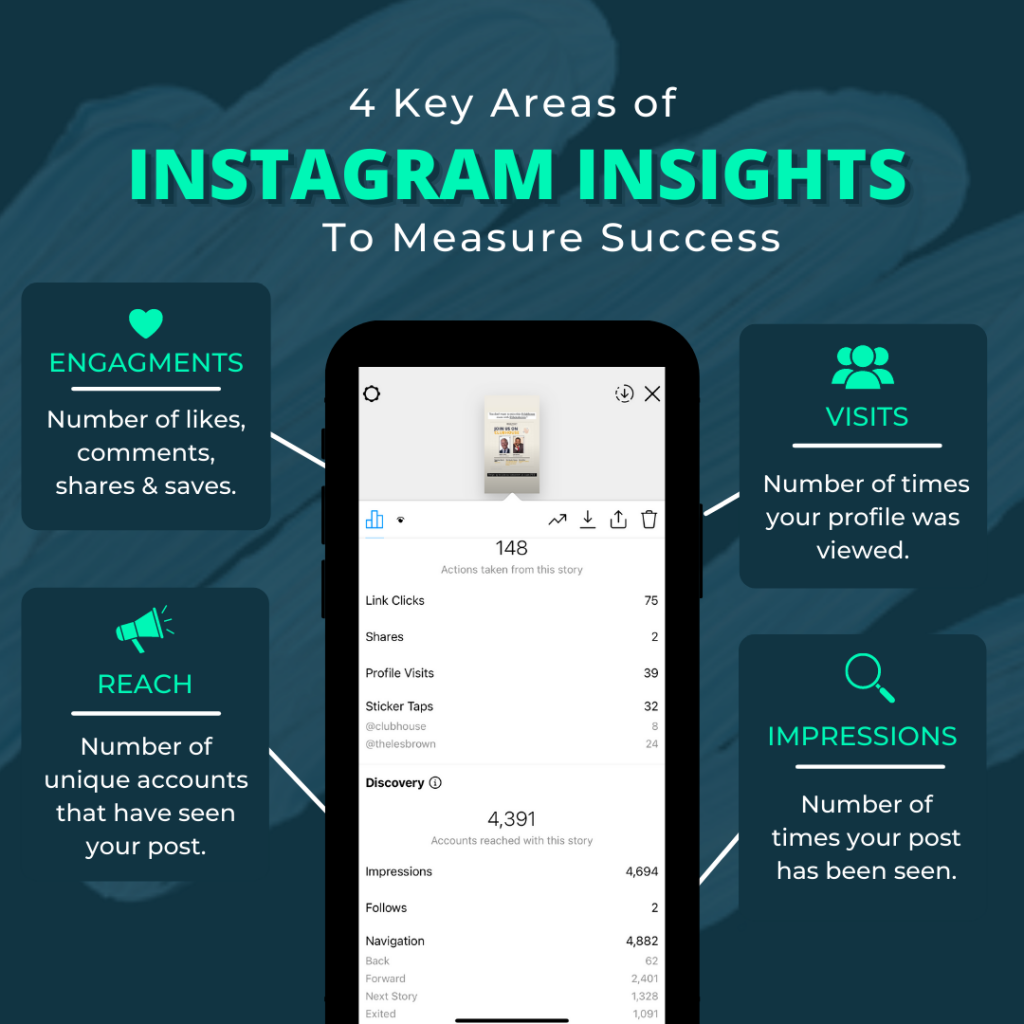 Take a deeper dive and click on the individual Story content you'd like to analyze. Here you will find a breakdown of important metrics and data such as shares, replies, profile visits, impressions, and follows.
You can also draw comparisons between different Story formats and analyze various metrics to develop a better understanding of what type of content resonates with your audience best. Let these takeaways guide your next social strategy as you begin to create new content in the future.
Conclusion
To conclude, Instagram Stories for Business should be at the forefront of any brand's social media strategy to help drive sales, maximize engagement, and increase store traffic.
In order to do so, brands should opt for authentic and engaging tactics that turn first time visitors into loyal fans such as behind-the-scenes footage, interactive elements, or other exclusive content you cannot find anywhere else.
Now onto you.
How have Instagram Stories helped drive web traffic for your brand? What techniques or tips do you use to develop an Instagram Story strategy? Please comment below!
Want to stay in the know on all things Instagram Stories? Subscribe to the Brandetize Newsletter for the latest news on social media and digital marketing best practices.