38% of users will stop interacting with a website if the layout is unattractive (Forbes). If online users feel so strongly about a website's aesthetic, what buying decisions are they making based off of logo design?
Developing consistent branding can increase revenue by 23%. Still think logo design isn't an essential part of the customer journey?

How can you make a logo that represents your business, your products, and your values?
It starts with some deep thinking about your business, the problem you're solving, the audience you will be targeting, and more.
Once the foundation for your brand is complete and you have your finalized your brand platform, you can work with a designer to craft your perfect logo by following the eight-step logo design process.
Let's go over Brandetize's logo design process and how you can use the same process to make your own.
1. Research
The first step in creating your logo has nothing to do with you—it's focused on your competition.
What is their name? How have they positioned themselves? What does their headline say? What content is on their about page?
Logo & Branding Competitive Analysis
Create a competitive analysis spreadsheet with the following columns:
Company Name
Website
Positioning
Headline
About
Clients
Services
Pricing/Offer
Culture
Careers Available
Logo
This spreadsheet is the start of the logo brainstorming process. What does your competition's logo look like and how can you differentiate yourself in your market?
2. Audit (If Applicable)
In step two, you're going to need to audit your current mark. If you're starting your logo from scratch, you can skip this step. This step is meant for companies that already have a pre-existing branding system and are looking to update it.
What parts of the branding system makes sense, and what parts don't translate well with your consumers and your demographic?
Other considerations need to be accounted for as well, such as flexibility of use (does your 3 color logo still work as just 1 color?), color palette, and legibility between very small and very large sizes.
When auditing our original logo mark, it was important to address the biggest issues that we'd like to resolve, which we found to be legibility.
For example, the transitions between very thick and very thin, as well as, the very ornate serifs in the "R" and the "A" were causing issues at smaller sizes.

Here's what our original logo mark looked like and the notes we gave during the audit.

Serif font might have difficulty translating as "modern" – Ornamental design elements in the "r" and "a" do not translate well at smaller sizes
Lack of icon means less flexible branding system
Need an icon to stand on its own and add flexibility to the branding system
Palette doesn't have enough contrast (only mid-tone colors) which can be problematic online – Need to make one brighter and the other more subdued—expand the palate with variations of the same color
3. Exploration
We have laid out the groundwork with a competitive analysis and a personal audit of what issues we wanted to address. Now, we get creative.
In step three, you're going to begin the sketching phase. During this time, it's important to sketch out any and all ideas you have, even if they aren't great. The more time you spend on this step the more successful and well thought out your final product will be.
The point of this step is to just work through any and all ideas and to not over think it which is why it's important to sketch and not work through ideas on the computer. Once you feel you are at a good place with your exploration, take your top 3 – 5 ideas and begin translating them to the computer.
Here are just a few pages from Brandetize's logo exploration process: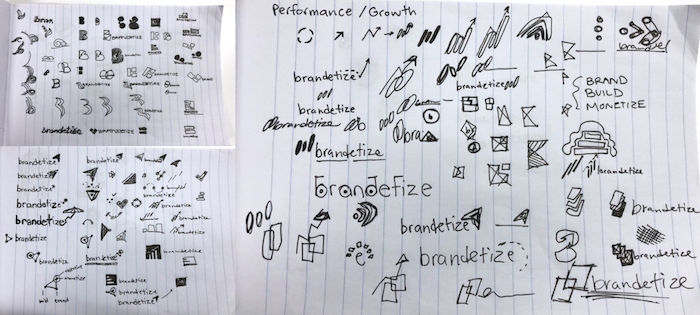 4. Translating into Computer (Wordmark Development)
Step four is the most logistical phase of the logo design process. This is the part where you focus on the dimensions and the sizing of your logo. In this step, your draft turns into the final version of your logo that will be published and duplicated.
The time to fix any underlying mistakes is now.
For example, the above logo looks great…right?
Each letter looks like it's exactly where it should be—until you do this:

Notice the two e's don't fit into the same dimensions as the b, a, and d.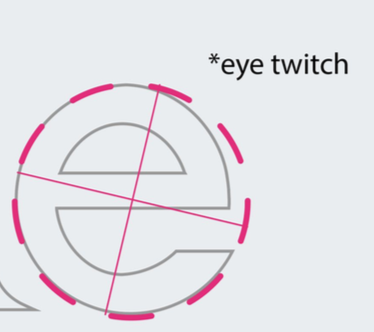 5. Translating into the Computer Continued (Icon Development)
Deciding on the best icon for a logo is when you start to get into subliminal messaging. How can you portray your company's values in your logo with an icon?
Using our favorite icons we created in the Exploration step, we created twenty-one potential logos and icons.
For example, our tagline is Build, Brand, Monetize. How could we create an icon that gave that impression?
Here's an example of the icons matched with the "Brandetize" logo: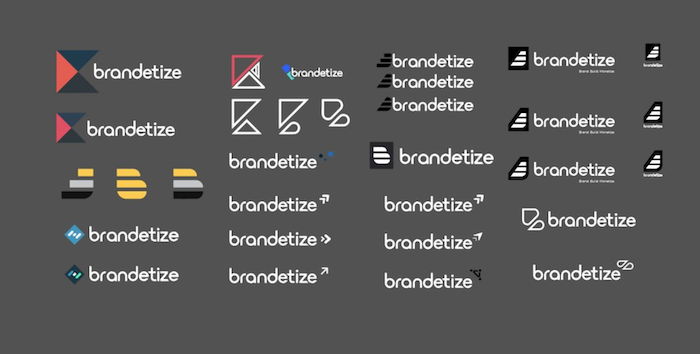 6. Mark Presentation
With your list of 21+ icons and logos to choose from, narrow it down to three. What are your three favorites on that list?
Once you have three, put them all next to each other like this: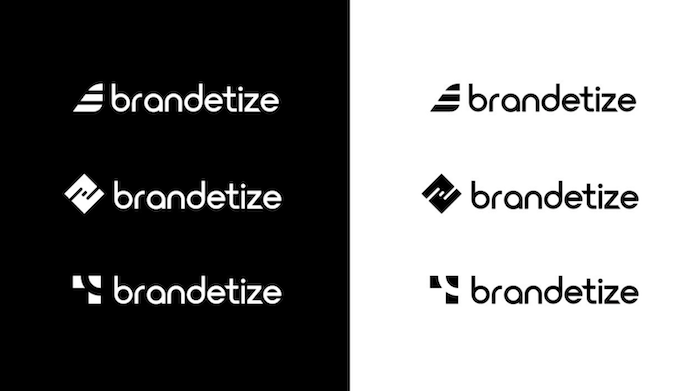 The reason we cut our icon list down to three is, usually, there's always one icon and logo design that can get eliminated pretty quickly.
This narrows the options down to two and you can see what your team and clients prefer.
Choose the icon and logo match that best represents your company and most importantly gets great feedback from your clients.
7. Mark Selection + Color Theory + Client Feedback
With the final icon and logo in hand, it's time to add your brand colors. There are three color themes to try in step seven:
A color theme that is your regular brand colors
A color theme that is wildly different than your regular branding
A color them that is a mix of both of the above
For Brandetize's logo, we created a blue color theme that was on brand with our company colors, a red, yellow, and blue theme that is wildly different, and a yellow and grey theme that was a mix of both.
They looked like this: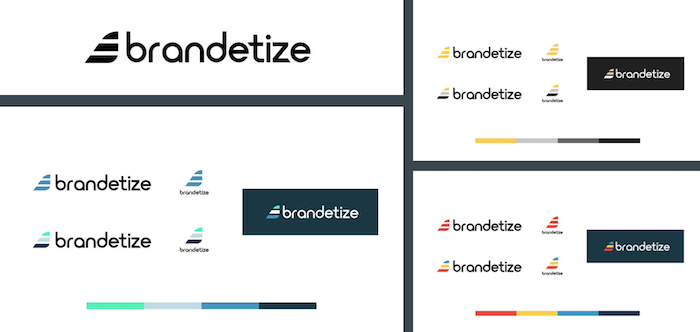 Again, we went back to our team and clients and found what color theme they preferred. In our case, everyone preferred the left color theme, the theme that matched our previous branding.
8. Refinement
The final step of logo design is refinement. Think of it as the bells and whistles of your logo. What tiny detail can you improve that makes a big design difference?
For us, this was taking our icon and making it look more like a bar graph that represented how we scale a client's business.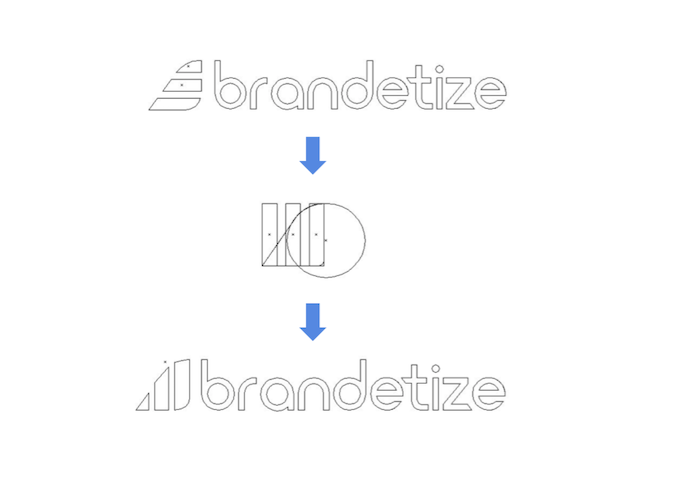 Then, we made sure the spaces between the lines in the icon and the letters of Brandetize were all the same.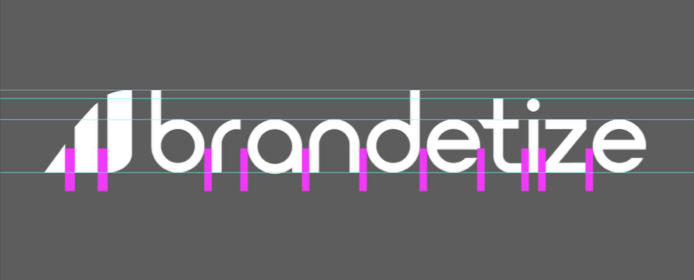 After following the eight-step logo design process, Brandetize created our final logo design. This is what it looks like: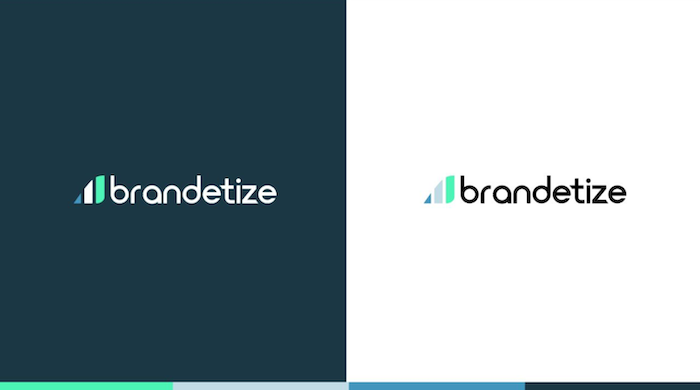 The logo and branding design is the foundation of a successful business and marketing strategy.
Are you thinking about a logo redesign for your business?