We are certain that you have heard the saying "content is king" on numerous occasions.
There is no denying that content plays a massive role in effective branding and marketing for both B2C and B2B businesses today.
However, it is also true that competition is fierce and endlessly growing, so you need to do everything in your power to hone your content marketing strategy.
One technique you can utilize to nourish your strategy through original research is with content marketing surveys. Discover why surveys can be beneficial for your business and what to include in them so you can amplify your content approach.
Why Are Marketing Surveys Useful For Content?
Before we take a look at how to put together an effective content marketing survey, it is important to establish why surveys have such a key role to play in your business's content efforts.
Surveys Offer Valuable Insights
The main benefit of sending out a survey is that they provide valuable insight and feedback. Asking your audience for their opinions on your content can offer you priceless data that you would not have been able to obtain through other data collection methods.
Some of the information that can be collected through the surveys you put out include:
Impressions made by your brand, along with perceptions and expectations
How the customers' decision-making process was or was not impacted by your content
Demographic data about your audience that may or may not have impacted purchasing decisions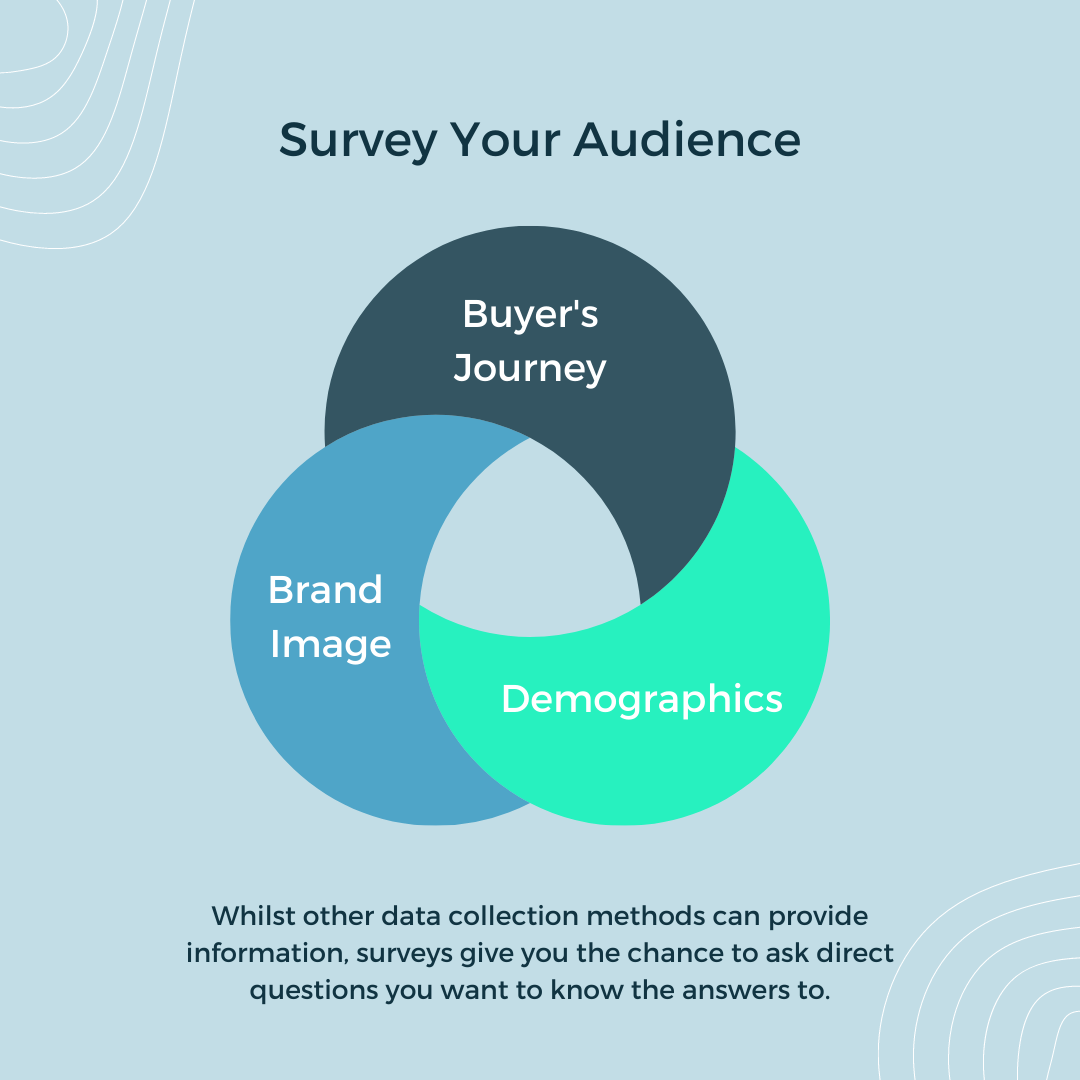 Whilst other data collection methods can provide information, surveys give you the chance to ask direct questions you want to know the answers to.
They often answer why customers responded to something in a particular way, such as why people preferred one blog post to another.
The only way businesses can move forward and make improvements is by discovering how they are currently performing. There is only so much data you can gain by looking at engagement rates, such as traffic levels, time spent on blog posts, and bounce rates.
Yes, this data can be extremely valuable. However, getting into the customers' minds and figuring out their true thoughts about your content is imperative.
Marketing surveys give you a way to find out the "why?"
Why did a blog underperform?
Why did the customer make a certain purchase after reading a piece of content?
Why did (or didn't) the reader decide to sign up for your newsletter?
Receiving the answers to these questions can help you understand your consumers' thought processes during their unique buying journey.
And, the best strategy to get to the 'why' is by engaging with your customers using content marketing surveys.
Surveys Improve Engagement
72% of marketers say content marketing increases engagement, while also increasing their number of leads. How can you guarantee that your content is boosting engagement? Again, a marketing survey.
Customer engagement is a term that describes the ongoing interactions between a customer and a business. Engagement is essential, as it ensures that you are building and strengthening relationships with your customers.
Surveys are beneficial because they show you value your customers' ideas and possible criticism.
Although consumers look at your blog content to find answers, it's important that the conversation isn't one-sided. Marketing surveys allow you to open up a discussion and find weak areas of your content that you can refine to meet your audience's needs.
Essentially, content surveys assure that you are answering the right questions. They help you acknowledge if the information you are supplying is what your customers want to know.
If your content isn't answering the right questions, then your engagement drops and can hinder your brand.
Content marketing surveys also show customers that you care. You're not just providing them with information so you can get a sale. Instead, you're building trust with them that will lead to a lasting relationship and increase brand karma.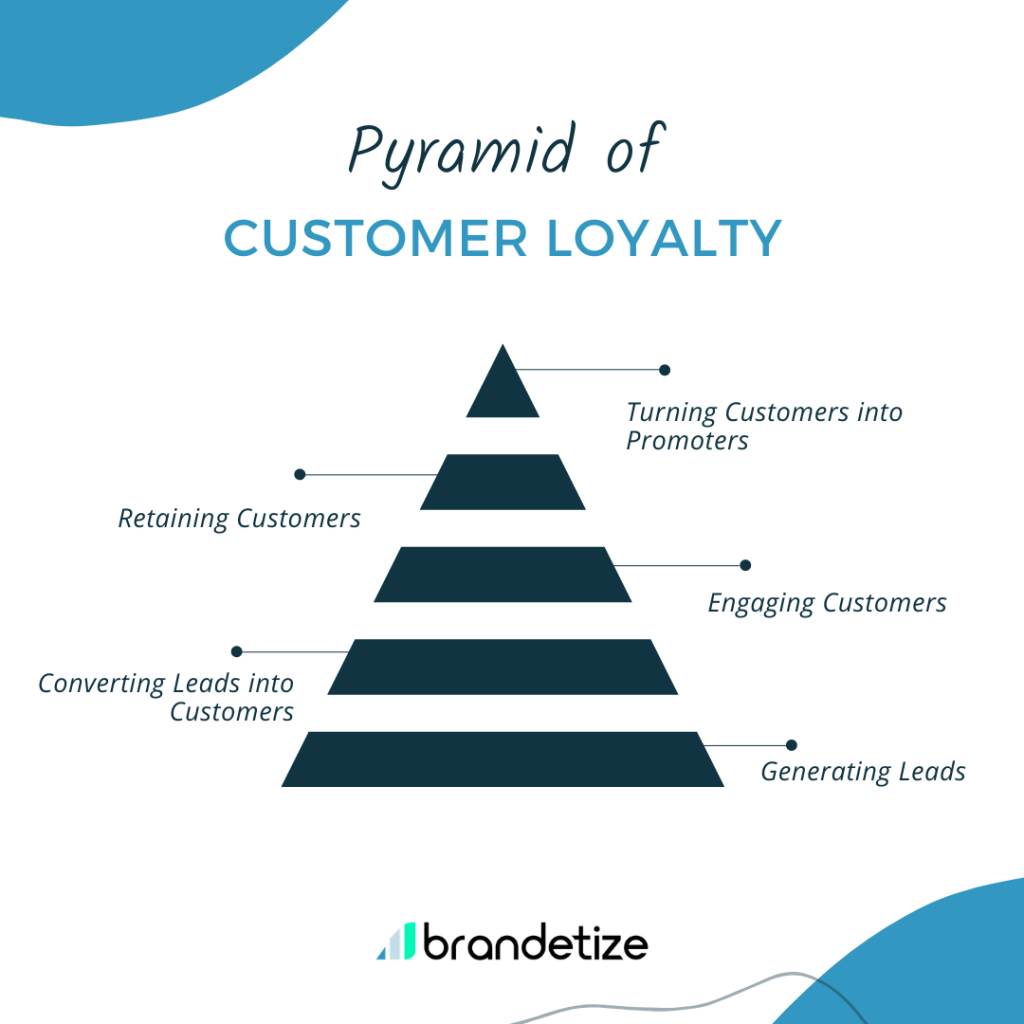 How To Create Content Marketing Surveys
Now that you know why a content marketing survey is a vital tool for any business, let's take a look at various ways you can create an effective survey.
Set Specific Goals
For a survey to be effective, you need to have a goal. Therefore, before making one, think about what broad questions or topics you are trying to get insight for.
Good common goals to keep in mind are as follows:
Content/brand reach: One important detail that a lot of businesses want to know is how broad their reach is. Are customers seeing your blog headlines and reading the post? How do they find your content? For example, do they head to your blog via your social media channels?
In addition to understanding what type of content resonates with your customers, a content marketing survey will help you perceive the visibility of your content and whether you are reaching your intended audience.
Brand reputation and if the content reflects that: Your marketing survey will also help you recognize what your audience thinks of your business based on the content you produce.
One of the goals of an effective marketing strategy is to showcase your brand and target people who are interested in what your business is all about.
A content marketing survey helps you grasp what your audience thinks about your brand and determine if it lines up with the image you are trying to project.
How well the content is performing: Another important goal is to determine whether or not your audience is engaged by your content. Do they read all of the posts? Do they find the content interesting?
Using a survey will let you narrow down what works best and what doesn't. If a piece of content has little to no engagement, you can ask your audience 'why' and determine what they might prefer instead.
Keep It Short To Reduce Friction
Surveys take time, and time isn't something people want to give up willingly. That's why it's vital to create a survey that's easy and quick as possible to fill out to obtain a high conversion rate.
Keeping forms short and to the point is the best way to enthrall your participants and ensure they complete them.
Research by Paperform concluded that adding a second page to a form resulted in the average completion rate dropping by more than 15% — from 82% to 66%.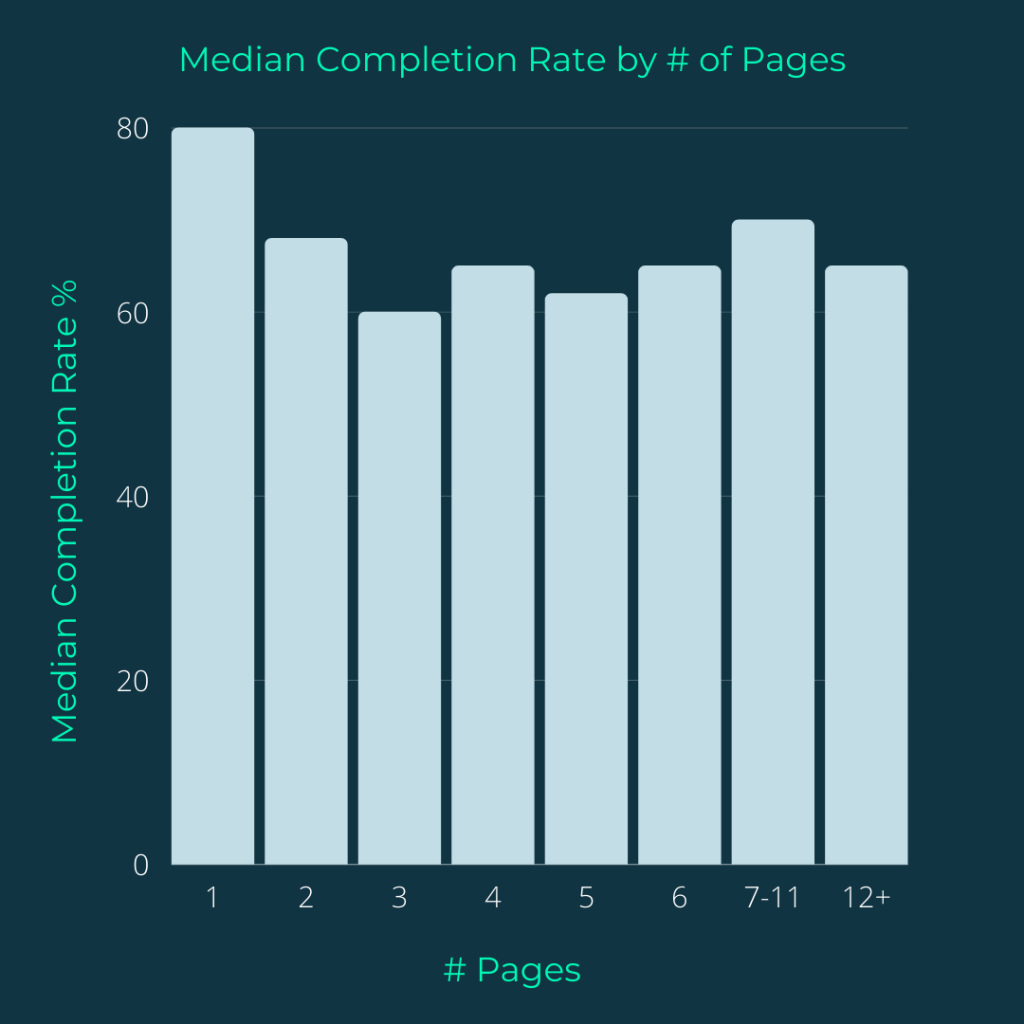 Remember to create short, simple forms and only ask essential questions that will guarantee a response.
Ask Closed-Ended Questions
Keep your questions closed versus open-ended to collect data that's easier to analyze.
Close-ended questions offer you the opportunity to receive a higher response rate because participants typically don't want to take the extra time to write a thought-out answer.

It's also ideal to set limits on your answer boxes, as this will reduce the quantity of data you need to sift through, making it easier for you to assess the responses.
Send Survey Invites At The Right Time
Timing is one aspect of sending out a survey that a lot of people tend to do wrong. If you don't send your invites out at the right time or to the right people, it is unlikely you will receive valuable feedback.
Here are some tips to ensure your surveys are sent out at the right time:
Put the survey at the bottom of the page rather than at the top. It's important to let your audience read your blog post before asking what they think about it.
Avoid survey pop-ups on your homepage. This is likely to deter people from staying on your website.
Send out surveys to people who are signed up for your email newsletter sequence or who regularly engage with your brand.
How To Incorporate Surveys In The Content Marketing Workflow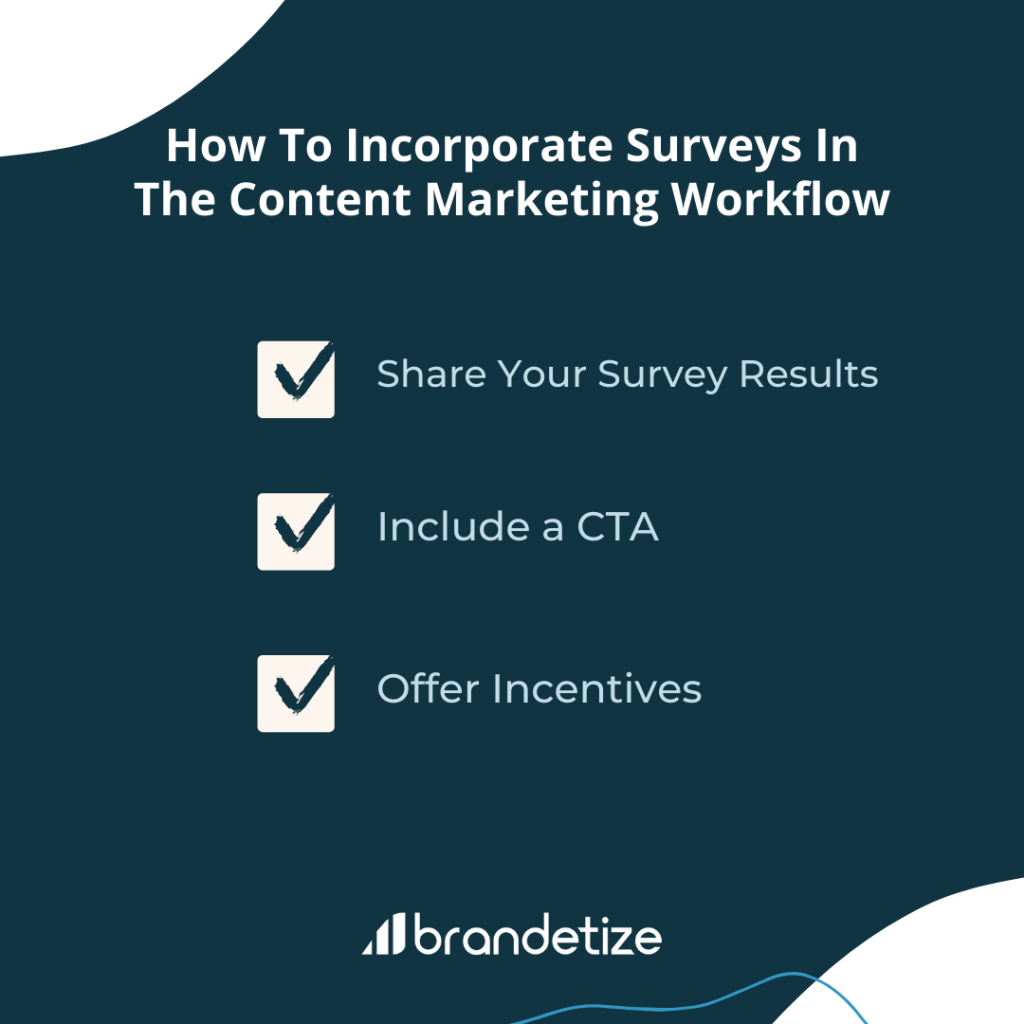 Now that you've built a great content marketing survey, you need to figure out how to strategically implement it into your content marketing process. Explore our recommendations and ideas to generate an optimal approach.
Include a CTA
The first thing that you need to do is include a clear call to action to encourage your audience to fill out the survey.
You can include a CTA at the end of a blog post, a social media post, your website, or at the end of one of your newsletter emails. Be sure there's no confusion regarding the steps that you want the reader to take next so you don't lose them in your surveying process.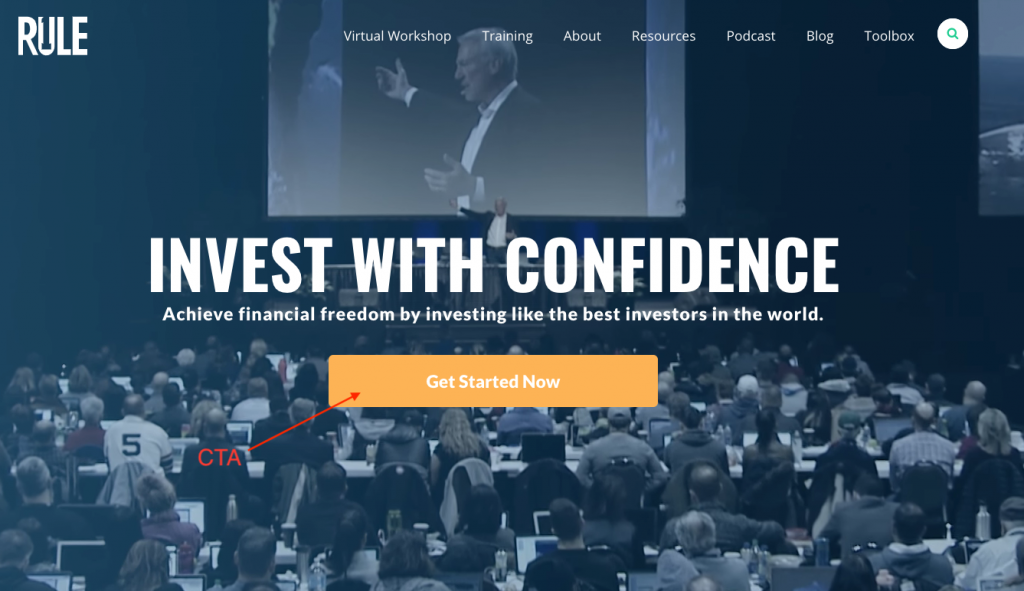 Offer Incentives
One of the most difficult steps of rolling out a content marketing survey is getting your audience to fill them out. After all, most people are time-poor today, so how are you going to persuade them to take the time to complete it?
Incentives are a perfect way to motivate your consumers to make it happen. Put yourself in their shoes. What would compel you to complete a survey for another brand?
Incentives present a great opportunity for you to offer:
A coupon code for a discount
Free shipping on next order
Being entered into a raffle
A small gift card reward
These techniques are going to drive people to fill out your marketing survey. Not only this, but it can also lead to more sales as well. After all, by offering a discount code, you may find that some people are making purchases that they initially didn't intend to.
Share Your Survey Results
The final piece is to publish the results that you acquire from the survey you sent out. Of course, you need to do this in a concise and attractive way.
Ultimately, surveys provide you with original research that you can share with the broader content marketing community.
Collect the results, assess, quantify, and write up a blog post or article about your findings. These results offer a bonus of having a new topic for a blog post, too.
It's also supportive to create infographics, graphs, presentations, or ebooks of your findings. This allows your results to be presented in an interesting, engaging manner, while also being easy to digest.
Additionally, let your audience know that the survey results have been used in one of your blog posts. It's a perfect opportunity to showcase your appreciation and loyalty, while also sharing that you listen to and value their opinion.
Incorporate a Marketing Survey in Your Content Strategy Today
As you receive your marketing survey responses, you'll be able to curate a content strategy that is educational, entertaining, and engaging to the audience you desire to reach.
Surveys will allow you to plan your content accordingly to support what your consumers are searching for, how they best interpret the content they read, and what tone they prefer.
However, remember that these marketing surveys are a small indicator of what your entire audience wants. Continue to create the content you intend to, but use these results for guidance.
Your consumers will be sure to continue a lasting relationship with your business and trust you in your industry.
Want to hear and learn more from Brandetize? Sign up for our Newsletter to receive leading marketing strategies right to your inbox.
---
About the Author: Rebecca DiCioccio is a member of the Growth team at Paperform. Outside of work, Rebecca can be found exploring the outdoors or with a book in hand. Rebecca's background in copywriting and a keen interest in SEO and digital marketing. She understands the importance of staying up to date with the latest trends in a dynamic and ever-changing industry.