For many of us, it's the norm to start off your day by turning on a podcast. Getting ready. Driving to work. Unwinding on an evening walk. 32% of Americans listen to a podcast at least once a month. Whether your genre of choice is business, true crime, or just something that makes you laugh, there's something on podcast streaming platforms for everyone.
Maybe you're no longer satisfied with just listening to podcasts — maybe you think you could do a great job creating one of your own. It's somewhat of a running joke that everyone and their brother has a podcast, especially over the COVID-19 lockdown in 2020. But it's also true that you just might have something unique and compelling to share with the world via audio.
If you've been debating, "Should I start a podcast?", this is the blog post for you. Here, we're breaking down reasons you should start a podcast as well as reasons you shouldn't so you can weigh the pros and cons. Then we explain how to start a successful podcast (even if you are a beginner) if you decide that being a podcast host is the career (or at least, the side hustle) for you. Let's get started answering your question once and for all!
Reasons You Should Start A Podcast
Trying to decide if you want to start a podcast? Here are four compelling reasons why you should.
You Have Something Unique
There are plenty of podcasts in the world — and more of them are being added to Spotify or Apple Podcasts every day. In 2021, there were over two million podcasts in the world with a combined 48 million episodes. That's a lot of podcasts!
These statistics mean one thing. If you're going to add to the noise (both literally and figuratively) and start a podcast, you need to have something worth saying.
What's your angle? What story can you tell that isn't being told already? If you want people to actually listen to your podcast, these are questions you need to answer before making the leap.
Maybe you identified a gap in a competitor's podcast you think you'd be able to address. Maybe no one else has a podcast on the specific topic you want to talk about. Maybe you want to create an opportunity for conversation between you and your listeners.
Whatever it is, if you have a unique story to tell or an offering that makes you special, this is a reason you should start a podcast.
Your Story Is Best Told in an Audio-Only Medium
Video. Photo. Social media. The written word. There are so many mediums out there that you could use to tell your story. So heavily consider why audio-only would be the best one to tell this specific story.
For example, if you told a short story on social media that seemed to be popular with your audience that you could expand on further without needing visuals, then a podcast could be a great outlet for that topic. But if, for example, you wanted to show something, rather than explain something, to help generate more excitement and traffic around your brand, then maybe a video or a blog would be a better outlet.
However, you should also think about your audience. Do they spend a lot of time in their cars? What are they a fan of? Do they regularly multitask with noise in the background? If so for them, there is a lot of importance in finding a great podcast.
90% of podcast listeners in the U.S. listen to podcasts from their homes. But people also listen to podcasts while commuting, exercising, doing housework, cooking, or walking around. Do your research to figure out how your audience is most likely to consume your podcast.
Make sure you have a clear understanding of the value and the drawbacks of an audio-only platform. At the end of the day, it should benefit you and your story.
You Can Stay Consistent
Whether you produce a podcast episode daily, weekly, biweekly, or monthly, you have to have the ability to commit. If you start publishing regular episodes, your listeners will get used to incorporating your show into their lives. But if you end up not being reliable, people will leave your podcast behind in favor of someone else's podcast — someone who does publish new episodes as promised.
Make sure you have the time to adhere to a schedule. You should be able to regularly record, produce, and market your podcast so you don't leave your audience hanging. It isn't fair to your audience to get them hooked on your show, only to disappear into thin air a few months later.
You won't be able to create an engaged community or audience unless you share regular episodes. And posting on a consistent basis will also create a backlog of episodes that new listeners can come along and binge their way through.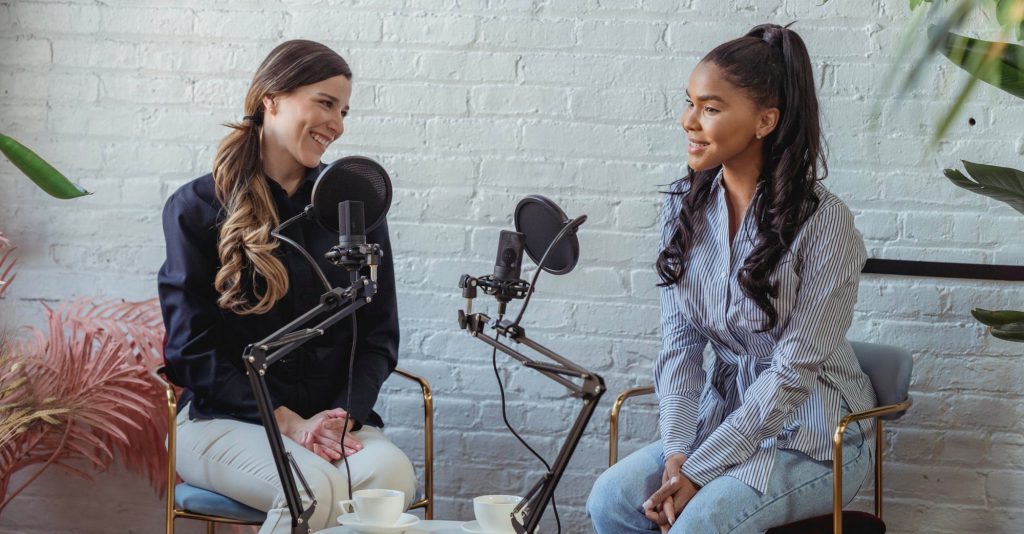 You Know Your Audience
Since you're only connecting with your audience by voice, it's important to ensure you completely understand them. This helps you provide them with content they'll actually want to listen to.
You should know things about your audience such as:
Their age
Their gender
Their occupation
What a typical day for them looks like
When and where they'll likely listen to your show
Their other interests outside of your podcast topic
If you aren't sure how to learn about your podcast audience, try sending out a simple survey where people can answer questions about their demographics. You can also share about your podcast on social media and then gain insight into your audience based on who interacts with those posts.
Reasons You Shouldn't Start A Podcast
Next up: reasons you shouldn't start a podcast. Surprised? We aren't advocating that everyone starts a podcast. Again, there's only so much figurative (and literal) airspace on podcast streaming platforms. And if you're launching this project with the wrong motivations or for the wrong reasons, that's not going to benefit anyone — your listeners or you. Here are a few reasons why you shouldn't start a podcast.
To Make Money
It's true that you can make money on a podcast. In fact, podcast ad revenue is going up: It's expected to surpass $2 million annually by 2023.
And ads aren't the only way you can make money from podcasts.
Top earners, like the Dave Ramsey Show, earn a total of millions of dollars a year. Even if smaller podcasts only make a few thousand a year, it's still a nice side hustle to bring in a little bit of extra cash.
However, the ability to generate income should not be your primary reason for starting a podcast. If it happens down the road, great! But if the money is your main intention starting out, your podcast won't be genuine or authentic. And if you're trying too hard to make money from your podcast, it's probably not going to happen regardless.
Because Everyone Else Is Doing It
Hot take: You shouldn't start a podcast because other people in your industry have one.
Podcasts are popular, sure. But just because someone else in your industry has one doesn't automatically mean that you should start one too. If you're not ready, it's not time for you to start a podcast. If you can't differentiate yourself from the competition that already has a podcast, how do you expect to stand out?
Take a step back and examine your motives for starting a podcast. If you're just doing it to keep up with the proverbial Joneses, this most likely isn't a good enough reason.
To Repurpose Content
Maybe you already have a ton of content in other mediums (great!), and you think it would be easy to publish that content in a podcast for greater exposure.
In theory, repurposing could work. But as an audio-only medium, podcasts are very different from other types of content. Your content from other mediums may or may not translate well.
Remember, taking something from a YouTube video where you're showing people something they can physically see, for instance, might not work in a podcast format.
You need to be able to create content for your audience and create content for the specific medium you plan to use. So just because you have a lot of blog posts or YouTube videos doesn't necessarily mean it will be fast or easy to make this content into a podcast instead.
How to Start A Podcast
If you've checked the boxes on Reasons to Start A Podcast and you're ready to start recording, here are a few tips to help start a podcast and get your show off the ground.
Identify Your Unique Offering
Think about what would make your podcast unique. Maybe your story is fresh and different, or you've come up with a new angle on an old topic. You need to have a hook in your episode titles — a selling point that will grab your podcast listeners and pull them in.
It's also important to consider why audio-only is best to tell your story. Remember, not every story is going to lend itself well to an audio format — so make sure that yours does. What is the story you want to tell and why is it best told with just audio? These are essential questions to answer as you start a podcast.
Identify Your Audience
As you consider your podcast listeners, you also need to think about who your audience is. What makes them special? Why will they tune into your podcast?
Think about how your podcast listeners are the same or different from the audience that follows you on other platforms. It's important to know why they would listen to your podcast and how you will reach them.
Purchase the Right Equipment
People will watch a bad video, but they won't listen to bad audio. Think about it: How many times have you sat and waited for a video to buffer, yet immediately changed the station if you heard static on the radio? This is why it's absolutely essential to make sure you have the right equipment and tools before you start recording your podcast.
The four most important things you'll need are a computer, a high-quality microphone, headphones, and editing software.
You likely already have a computer, so the next step is a USB microphone that you can plug into your computer to record with.
Headphones can help you hear any flaws in the recording, while a free editing software like GarageBand gives you the ability to make simple edits.
Over time you may want to invest in more podcast equipment to improve the audio quality such as a mixer, a pop filter to go over the microphone, a mike stand, or a shock mount.
For perfect audio quality, you'll need a quiet, soundproof place to record. You can create a primitive home studio by choosing a small area with soft surfaces all around (like a closet or a finished basement) and adding soundproof foam panels. At the very least, to make high-quality audio you'll want to eliminate other background noises such as cars, air conditioning, or a barking dog.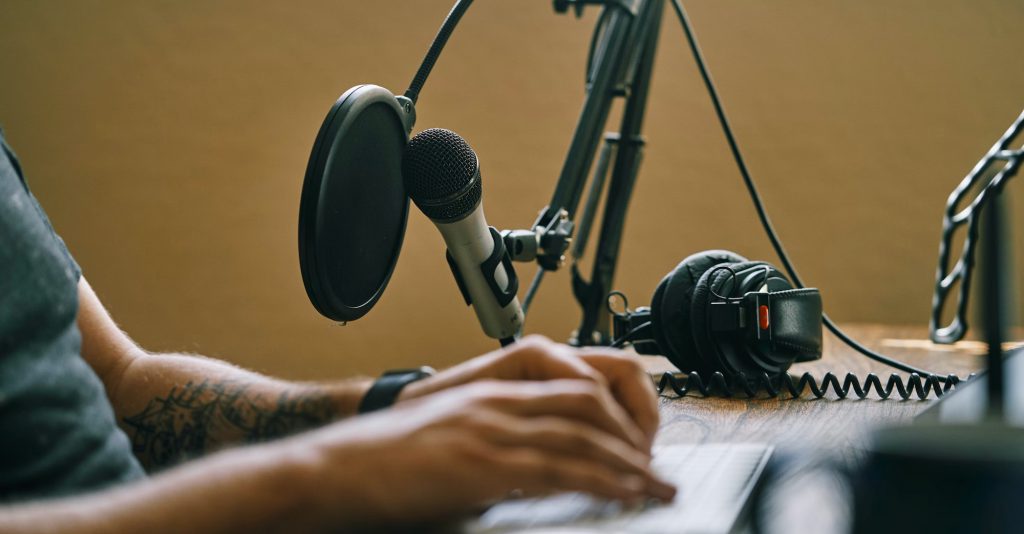 Pick Your Format
There are all sorts of podcast formats to choose from, and you'll need to define yours upfront. Do you want to have guests every week? Will you have a co-host? Are you planning to guide the podcast yourself?
Pick a format you're comfortable with and think your audience will enjoy. Then go for it! You can always test out other formats later. But for your first few episodes, try to stick to just one format. This will avoid confusion from listeners and also help you figure out what you like.
Popular podcast formats include:
Interview podcast (interview a guest)
Solo podcast (just you and a microphone)
Conversational podcast (relaxed format with a co-host)
Educational podcast (helps build authority)
Podcast theater (fictional stories told across several episodes)
Non-fiction storytelling (about real-life events)
Bite-sized content (short episodes and less work)
Panel podcast (multiple guests)
Some podcasts, such as interviews, are very common. Others are rarer (like podcast theater). It's also true that there are pros and cons to each format, with some requiring more work, planning, and effort than others. It's okay if it takes some time to discover which one is the best fit for you.
Edit the Recording
Most types of podcast formats will require light editing. Even if you're doing a solo episode where you don't need to splice any conversations together, you'll still want to add your intro, outro, and possibly ads in the middle. You can also use your editing software to add royalty-free music and cut down on any background noise in the audio files.
There are multiple options for editing software that is easy to use. These include tools like:
GarageBand
Adobe Audition
Audacity
Descript
LogicPro
Alitu
Remove any long pauses or interruptions in your podcast episode. If the episode ended up too long, you could take out unneeded sections, too. Just make sure the final podcast episode still sounds like a natural conversation.
Launch and Market
Your podcast is recorded and edited, and you're ready to release it for the world to hear. Congratulations! Use your hosting site to launch your podcast on all major streaming services.
You'll need to use a podcast hosting service to share your episodes. Podcast hosting platforms are where the file hosting and the podcast's RSS feed for your podcast will live. From there, your podcast can be distributed on streaming platforms such as Spotify or Apple Podcasts. Choose from podcast hosting platforms and more than one podcast directory such as:
Buzzsprout
Spreaker
Podbean
Captivate
Audioboom
You can market your podcast by sharing snippets or show notes on social media. Intentionally work on building a social media following among your target audience so they'll be eager to listen.
When you have an active social media account presence, it will be much easier to drum up excitement about your show and your podcast hosts. Sharing an announcement to your email newsletter and also mentions on your own website will also get the word out when you have a new episode of your own show available.
Report and Assess
The buck doesn't stop after you launch an episode. In order to make sure the time and effort you're putting into your podcast is worth it, make sure you're reporting and tracking success.
You can use podcast analytics tools to measure your success. Some podcast hosting platforms have analytics and reporting capabilities built in. Metrics you might choose to track include:
Number of listeners
Number of downloads per episode
Website and social media traffic
Social engagement and shares
Number of podcast-driven leads
You can also look at reviews you've received or think about the number of sponsors or ads you have. Reporting will help show you which podcast episodes are resonating with your audience the most. This can help you decide if it's time for a change in format.
Your Guide to Start A Podcast
You know why you should (or shouldn't) start a podcast. You know how to get your podcast off the ground. And you have all of the tools you need to sustain a successful podcast long-term. We can't wait to see you share your knowledge with the world!
Want to learn more tips and tricks to market your podcast — and your overall brand? Subscribe to the Brandetize email newsletter. Sent once a month and jam-packed with marketing advice, it's the best way to keep up with the trends and learn how to market and grow your business. Click here to subscribe!