The use of virtual personal assistants and voice activation has been firmly on the rise and shaking up how search algorithms handle SEO. Now more than ever, digital marketers must implement voice search SEO tactics within their complex SEO strategies.
How often do you ask Siri a question and she gives you a list of websites for answers?
Have you ever spoken to Alexa to find a product or service you needed?
If you have, you've been an active voice search user.
What is Voice Search?
A growing segment is speaking to an automation hub instead of typing on their devices.
When you speak to your voice-enabled assistants, it breaks down the spoken word into digital text.
Voice search and speech recognition use Web Speech API to convert sound into visual semantics.
Nearly every smartphone on the market now has a digital personal assistant of some sort, from Apple's Siri to Android's Cortana.
In-home voice-activated assistants, like Google Home and Amazon Echo, are growing to be a household essential. Echo models were three of the four top-selling items in Amazon's electronics category for 2017 Black Friday.
Bottom line: The adoption of voice-activated technology are growing at a rapid pace.
Why Is Voice Search Important To Your Brand?
To ignore voice search would be to miss out on a booming segment of digital users.
Online searching is the most common activity performed by voice-enabled technology consumers.
The number of millennials using voice-enabled devices has increased 28 percent between 2016 and 2017. By 2019, it is expected to increase another 31 percent.
Older generations are also adopting this new way of search. In 2017 with an average of 25.3 million Gen Xers and Baby Boomers used voice-enabled devices at least once a month.
Google algorithms are constantly being refined to discover precisely what users want from their search engines.
With the intelligence and capabilities of these assistants increasing, the complexities of search engine algorithm components are also on the rise.
If consumers are finding voice-enabled technology more beneficial and convenient, they will buy it. And they will use it as a primary searching technique.
How to Make Your Brand Have a Killer SEO Strategy For This New Way Of Search
The question at large here is: How do you make sure your brand is at its maximum visibility?
Voice-enabled technology attempts to identify short and relevant snippets of content to serve back to the searcher.
Here are some tips that can help you dominate voice search SEO.
1. Use Conversational Keywords or Phrases
Most people don't type the same way that they speak. When people use voice search, they sound more conversational, unlike when they type in short phrase of keywords.
When a user is typing, they could search "Coffee Shops Little Italy."
If a user is speaking to their digital personal assistant, they might ask "Where are there coffee shops in Little Italy?".
Voice-friendly keywords are increasingly advantageous to answer your key consumer queries. Try adding relevant question keyword phrases to your keyword list as a test.
Instead of using the tradition of a couple keywords like:
"Coffee Shop"
"Little Italy"
Use long tail phrases like:
"What's the best coffee shop in little Italy?"
"Where can I find coffee in Little Italy?"
Using phrases that people commonly ask can help your brand spearhead the search if these keywords are utilized cohesively.
2. Create an FAQ Page On Your Site
Create a forum for common questions on one page that focuses on long-tail conversational keyword phrases and questions.
Write these questions in a more conversational way so voice search technologies have a bigger probability of snagging answers from your site.
Anticipate the needs of your target consumer and what they would ask their automation hubs and digital assistants, so you can be the first one they hear about.
Creating a separate page for long-tail semantic questions people are asking can help your site show higher up in voice search results.
3. Identify Consumer Intent
Spoken words reflect the intent of search more than a written search on a mobile device because they usually include key question words about the search.
Textual search, on average, includes only two to three words, while voice search is more of a completed sentence.
If someone searches "vacuum cleaner" marketers are unsure if they are looking to buy one, need one repaired, or if they are simply searching for what it is.
We really don't know what they are looking for.
The type of question asked can reveal the degree of search intent.
There is a big difference between "What is a vacuum cleaner" and "What vacuum cleaner should I buy?"
To make sure your target audience hears about you first when they ask, identify your highest value question phrases and include them as keywords.
The more matches you have, the more likely you will pop up on voice search.
4. Be Mobile-Friendly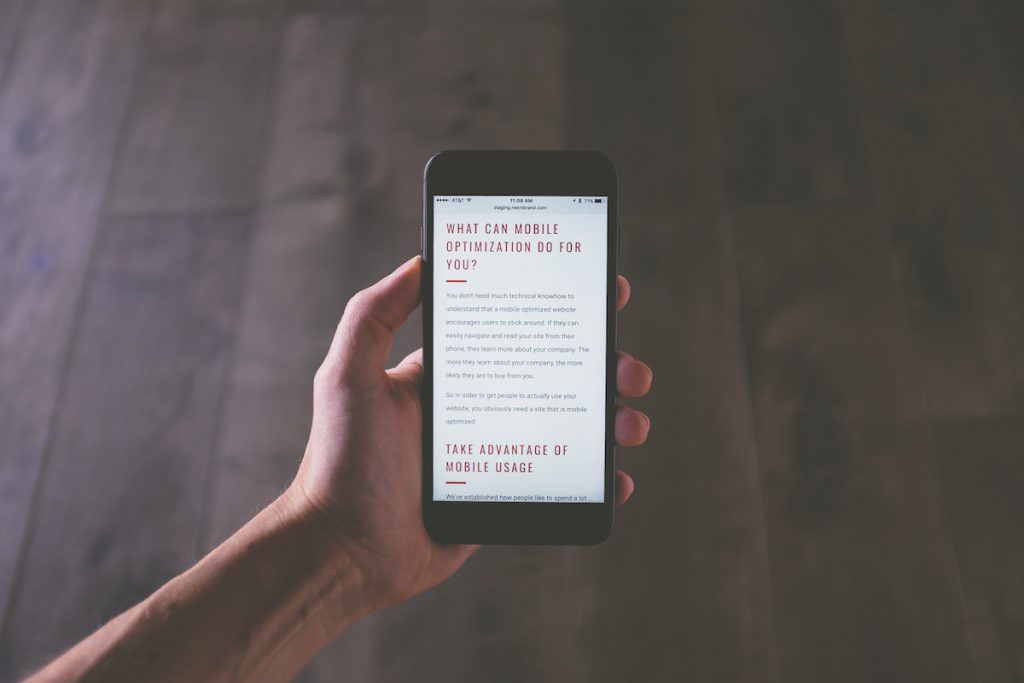 To expand your voice search traffic, it is vital that your site is smartphone friendly.
77% of Americans use a smartphone with voice-enabling technology. Without a mobile strategy, your brand is missing out on millions of searches and users.
Mobile affects every industry and is essential for your business to succeed in effective SEO strategies.
Voice searching can be a useful search tool for your consumers, and an easy way for them to find you, but is becoming more sophisticated and advanced at addressing desired consumer experiences.
If you want your brand to stand out amongst competition in voice search, your SEO targeting must be personalized and refined to your target audience.
Are you optimizing your content for voice search SEO? Let us know in the comments. For more content like this, click the button below to sign up for our marketing newsletter.