Congratulations!
Your audience saw value in your business or your offer and subscribed to your email list.
Now is the time for you to keep proving your value and show them they made the right decision, while simultaneously leading them down the sales funnel by creating the perfect welcome email.
If done correctly, you can turn active admirers of your brand and business into paying customers.
With our help, you'll learn how to craft welcome emails that not only wow them but also convert. We'll use some welcome series email examples to show you what we mean and help get your creative juices flowing.
These will help you learn how to send the right welcome messages to a new subscriber—messages that tell your brand story, build trust, and drive sales.
Let's get into it.
What is a Welcome Email Series?
Before diving straight in, let's get on the same page about what a welcome email is and how it differs from any other message.
A welcome email or series is a sequence of automated emails that new subscribers receive when they sign up for your email list. A successful welcome email series will win over new subscribers and turn them into first-time purchasers and long-term brand supporters.
It's important to have multiple welcome emails that follow a well-thought-out story, as opposed to just a single email, as you want to ensure you keep new subscribers engaged for a longer period of time to increase the opportunity for a conversion.
Why Use a Welcome Email Series?
Think of a welcome series as your chance to prove yourself to your new leads.
They were interested enough to opt-in, but now you need to give them confirmation they made the right choice.
So you really want your welcome series to be strong and purposeful. Nailing it can mean big things for your business, while missing the mark can mean losing out on potential customers.
For example, many people make the mistake of sending one initial welcome email and then never following up or only following up when they've got a new product to sell. This is a missed opportunity, as it really doesn't strengthen your brand's relationship with your leads.
That's why a series that triggers immediately after someone takes action is so important. Truth is, most people expect to hear from you after they sign up for your email list.
In fact, this is when your emails land the best — welcome emails have higher open rates and click-through rates than other types of marketing emails.
This means you have an incredible opportunity to connect with your audience when they're highly engaged and to deliver the product or service they came to you for.
But building that connection and driving home why they need your product or service is tough to do in just one email. This is why you need multiple welcome emails.
When it comes down to it, the right welcome email sequence can help you introduce your brand, share the benefits of your product or service, and make money off of welcome offers, all in a way that feels like an organic, get-to-know-you conversation.
How To Write a Welcome Email Campaign
Now that we've established what a welcome campaign is and why it's important, we arrive at the question of:
How do you write a welcome series that does everything you want it to?
Great question. Sit back, relax and soak in our top tips.
Capture Their Attention
The key to a great first welcome email is to hook your new subscribers right off the bat. There are a lot of ways you can do this.
For example, you can offer them a discount code for their first purchase or send them a piece of your best content in that initial welcome message.
Here are a few of our favorite attention-grabbing methods and how to execute them exquisitely.
Things like sparking curiosity, sharing some of your best tips or blog posts, and sending subscribers to your social channels for more great content, all wrapped up in an excited-to-have-you tone, work well here.
Provide Value
You probably get a lot of emails. So, ask yourself, what makes you want to keep reading?
Does it make you laugh? Or teach you something new? Does it inspire you? Or make your life easier?
Why should your audience read your emails? If you're writing a welcome series from this state of mind, you'll stay focused on providing valuable content, which is key if you want new subscribers to stay subscribers.
Consider how you can guide them through how to use your product or service in your welcome emails so that they have the best possible experience.
Nail the Subject Line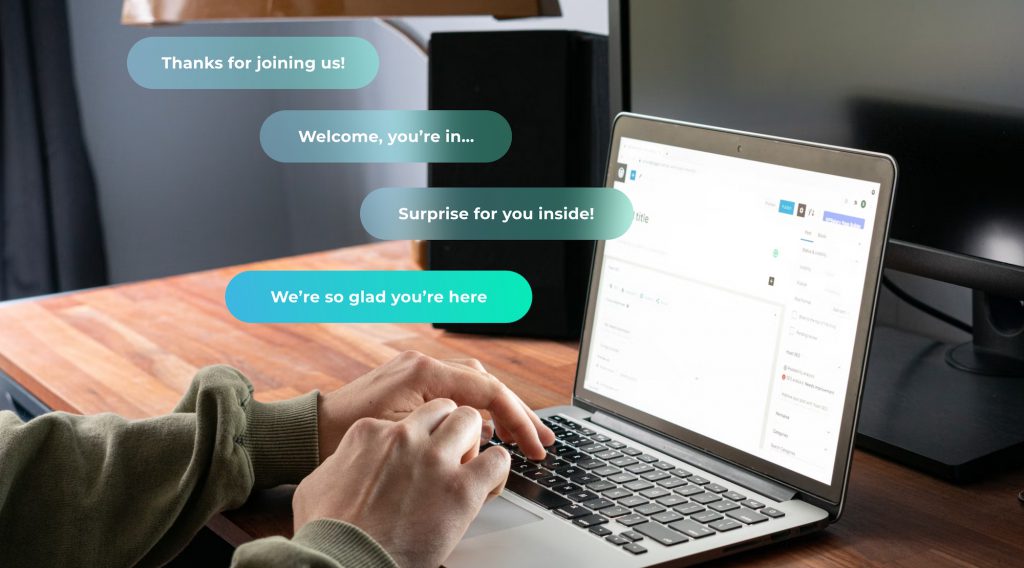 Now, in order to capture your audience's attention and provide value, you need to get them to open your email first.
This is where the subject line comes in. Don't overlook this critical piece of any email strategy.
When it comes to writing subject lines that your subscribers will click on, follow these best practices, which include keeping it short and making sure it's relevant to the content inside. Subject lines, albeit short, can feel daunting to write, but once you start sending emails, you'll quickly learn which ones land and which don't.
Stay True To Your Brand
When it comes to providing valuable content and striking the right tone with your subject lines, knowing your brand and your audience are key. You want your email list subjects to know who's talking to them before they even open your email.
And once they open it, the words, colors, imagery, and even font should speak to your brand. The more consistent you are, the more your potential customers will understand and resonate with your business. This will help you establish a reputation and build a loyal following.
So, while we share some great welcome email examples below, remember to make your welcome series your own.
Confirm the Opt-in
Before you launch your welcome series, you may decide to send an email confirming the subscription. This step is optional. However, it could help improve email deliverability and enhance the accuracy of your analytics down the line.
How? When a subscriber confirms a subscription, they're confirming that they want to hear from you, and they will likely be more engaged in the future.
Whether you send a confirmation email or not, always include information at the bottom of your email about how your subscribers can change their preferences or unsubscribe.
Welcome Series Email Examples
Now that we've broken down all of the different elements of a successful welcome series, it's time to see some examples.
The examples below will walk you through a sequence that includes four welcome emails, but know that anywhere from 3-5 welcome emails might be right for your brand.
There are many reasons for this. As we mentioned, sending a welcome series rather than a single email gives you a greater opportunity to build trust and make sales. But there's also the chance that one of your emails will end up in spam, or you'll catch your subscribers at a busy time, and they just don't read it.
With multiple welcome emails, you boost your chances of successfully converting your new leads.
Below, we'll share welcome email examples from real businesses and why they're great, as well as over-arching concepts to inspire your own unique inaugural email(s).
The Initial Welcome Email
There are a lot of great ways you can launch your welcome series. Here are a few examples of what works:
Introduce Yourself or Your Brand Story
This can be a great way to connect with your new subscribers who may not know what you or your business are all about. Plus, it will allow you to naturally weave in your why and your hero products or services.
Ritual does this really well in their welcome email. The supplement company shares content about their founder, their "why," their promise to their customers, and plugs a few great places to start with their products.
Explain Your Mission
Similar to telling your brand story, explaining your mission allows you to connect with new subscribers who may resonate with it. People love to support businesses that have a mission, and this is your stage time to share it.
Canva shares its mission in the very first lines of its welcome email, and they do so in an extremely succinct and relatable way.
Follow suit in your own welcome email by condensing your mission into a few sentences and tying it back into why someone likely subscribed to your list. In the case of Canva, subscribers want to create cool designs more easily.
Offer a Welcome Gift
Sometimes, all it takes to turn a subscriber into a customer is a discount code or a free gift with purchase. If your goal isn't to sell something quite yet, you might offer them a taste of your quality products or services with a freebie or an exclusive piece of content.
See how GoDaddy does this with their welcome message?
The site, which helps service domain names and websites, offers email subscribers 30% off their first purchase. Those who subscribe to their site likely already have an idea or a business they need a domain or a website for. GoDaddy knows this and includes timely information on the next steps they can take to bring their business to the next level. And a discount is just the nudge they need to make it official.
For dog food company, The Farmer's Dog, offering 50% off a subscriber's first purchase means the customer gets a chance to try out the product before they fully commit. For caring dog owners, this can make all the difference. Plus, the email also explains the company's mission, in brief, and how it works.
Tell Them What They Can Expect
If you have an email marketing strategy, you know exactly what you'll be sending your new subscribers, so tell them! This can be a great way to build trust and retain subscribers later on. How often will they hear from you? What will they get out of being a part of your community? How will they benefit?
Here's an example from Trello that does this really well.
They welcome the new subscriber and give them plenty of opportunities to jump into content and start using their platform. But they also tell new subscribers exactly how often they'll hear from them and how to adjust their preferences. This crucial paragraph could mean the difference between someone engaging with future emails or unsubscribing.
Say Thank You
You can choose to run with one or many of the above ideas, but whatever you do, don't forget to show your appreciation! When someone invites you into their inbox, it's a big deal. Acknowledge how glad you are that they're there, say thanks, and welcome them to the community. It will help you start the relationship on the right foot.
See how Supergoop starts its welcome series with an exciting welcome and a personal note? The brand also put its founder's face front and center, which can help establish a connection and build trust.
Here's another example from Blinkist. The brand embraces a friendly tone, provides direction on what new subscribers will get out of Blinkist, and offers a clear way out if they choose to unsubscribe.
Whichever route you take for your first welcome email, be sure to include images. Images will help tell the visual story of your brand and break up large chunks of text for a more digestible read — even if it's just a graphic like this one.
The Informative Email
We like to call email two of the welcome series "the informative email." This email speaks to your analytical subscribers who want to know every last detail about your product or service and how to use it or why they should purchase it.
So, tell them!
Here are a few ways to do so. If you'd like, you can squeeze all of these elements into one value-packed email.
The How-To Email
What do your subscribers need to do next to get the most out of your product or service? List out the steps to help them get started.
Here's an example from Resy, which walks new subscribers through exactly how they can make a reservation:
Address Concerns
Share customer testimonials, list out the benefits, or answer frequently asked questions — these are all great ways to inform your new subscribers of your offerings and why they need them.
Use this screen time to tell them what makes your brand or product unique and address any concerns or questions a new subscriber may have.
Here's an example from Cometeer coffee that uses reviews from popular press outlets that speak to the quality of their product. Plus, it reiterates the welcome offer.
Direct New Subscribers to Helpful Content
Another great way to give your audience more information about you and your business is to direct them to your social media channels or to a pillar piece of content you have created, i.e., a Youtube video or blog post.
YNAB (You Need a Budget) honed in on one particular category they know everyone has to consider: groceries. They shared a customer testimonial, a pillar piece of "how-to" content, and supporting posts. Plus, they included a natural plug for their subscription service at the end.
Another thing YNAB does well? Talking to their subscribers in a conversational way — signing off with a face and a name can help the communication feel more authentic.
The Tripwire
The third email is an opportunity to sell your new subscribers if they haven't purchased from you already.
"The tripwire" is a low-cost product or service or a free trial of your product or service. You can think of it as an introduction to your brand. If someone spends a little bit of money on this product or service and loves it, they are more likely to purchase more from you in the future.
Take this email example from Italic, which carries a wide range of luxury goods. This email, however, only focuses on one of their lower-cost products—towels. It compares their towels to a competitor's, explains what makes their towels unique, and shares customer testimonials.
The third email will also help you see who's still engaged (and how well your first two welcome emails are working) and who may need a little more coaxing. Here's another example from Avocode:
Avocode offered its subscribers a 30-day free trial to help them "fall in love" with its service. It also included testimonials to help them realize the benefits before signing up.
Emails like this one may be a good fit for your business if you're selling a subscription or digital software.
The Hard Sell
The fourth and final email of your welcome series is your opportunity to close the deal. Here are a few examples of tactics that can help you do so:
Last chance
If your welcome offer has an expiration date or a free trial period is coming to a close, notify your subscribers who haven't yet taken action to do so before it's too late.
Squarespace does this expertly by connecting with its potential customers on a common goal (and a common fear):
The company shows subscribers how they can keep using its service and even offers the option of more time if they need it to achieve their dreams.
Missing out
Remind them of why they need your product or service and why they'll miss out if they wait.
It could be a sale, a special product or giveaway, or even their cart they haven't purchased yet — whatever it is, remind your subscribers that if they don't act soon, they're going to miss out on the benefits your product provides.
Pretend you forgot something
If you didn't include a welcome offer or discount code in your initial email, now can be a great time to throw one in and act like you forgot to do so by using words like "I almost forgot" or "P.S. we're offering 10% off for a limited time."
This tactic can work particularly well for people who have clicked through on previous welcome emails or added products to their cart.
Take this example from Winc, for instance:
The brand enticed its subscriber with $20 off their first order after they added wine to their cart. They also used call-to-action buttons with encouraging and on-brand phrases like "let's do this" and "I'm ready for wine."
Here's another great example from Ritual, who offers 20% off to new subscribers who haven't made a purchase and relates to them with a friendly, "We get it—warming up to something new takes time."
What both Winc and Ritual also do really well in these welcome emails is stay true to their brand. The bright colors they use in their buttons, the tone they strike, and the products they showcase all clearly show the subscriber who they're communicating with.
Include a call to action
Whichever way you close your welcome series, make sure you add a call to action. You need to tell your audience what you want them to do and where they should go to do so in order to drive the sale home.
Don't Stop Your Email Marketing There
Once your welcome automation is complete, you've hopefully made some sales and secured some long-standing customers.
That's great! But that's not where email marketing ends.
Organize Your Email List
After the welcome emails, it's critical to continue the relationship and build on it with future emails. At this point, you can likely place a new subscriber into one of a few categories or lists, i.e. a warm lead, a purchaser, or unengaged.
Hopefully, you learn something about your new subscribers throughout your welcome series, i.e. the products their interested in, their location, or their interests. Categorizing your audience by these segments can help you send more relevant emails in the future.
Continue the Conversation
Once you've done this, you can use other email sequences to keep leads warm and continue the conversation. For instance, subscribers who purchased your tripwire product can now be a part of email automation that seeks to upsell them.
Say, if a customer purchased a pair of running shorts, you can now target them with an email promoting running shoes.
Now is also when you start delivering on the type of content you told your audience they would receive when they signed up for your list. Follow through on your promises to continue to build trust.
There are many ways to continue connecting with your new audience via email, but they work best if you start with a firm foundation: the welcome series.
Seek Support from Experts
You can use the above tips to help you start the relationship off strong. But if you need help, all you have to do is ask.
At Brandetize, we create entire email sequences for our clients that engage and convert. You can request a free digital marketing audit from our experts to help take your email strategy to the next level.