About
Nonnie's Nectar
A premium hemp-extract CBD company based out of the U.S.A focused on using the finest natural ingredients to create the highest quality full-spectrum hemp derived phytoCannaBinoiD rich products. Nonnie's Nectar was fully dedicated to helping individuals who want to find healthy alternative treatments for pain.
The goal
Increase organic traffic to the website with the intent to generate more sales and buildup a stream of repeat buyers.
The solution
Aiming to create relevant, valuable, and optimized content with their customer in mind to convert organic traffic into email subscribers, leads, and sales. This was implemented with UI/UX optimizations to their homepage and product pages where they encourage users to take action to purchase. After the sale, we also implemented a post purchase sequence, which keeps the audience warmed up to become repeat buyers in the future.
Services:
Marketing Strategy
Branding
UI/UX
Product Photography
SEO/CRO
Content Marketing
Social Media
Paid Ads
Email
The solution
Addressing the sale strategically from three areas by cutting through holiday sale clutter with a unique offer that would be successful regardless of circumstances caused by COVID, keeping the audience engaged with a positive user experience, and utilizing conversion rate optimization and user experience to make the purchase process as seamless and efficient as possible.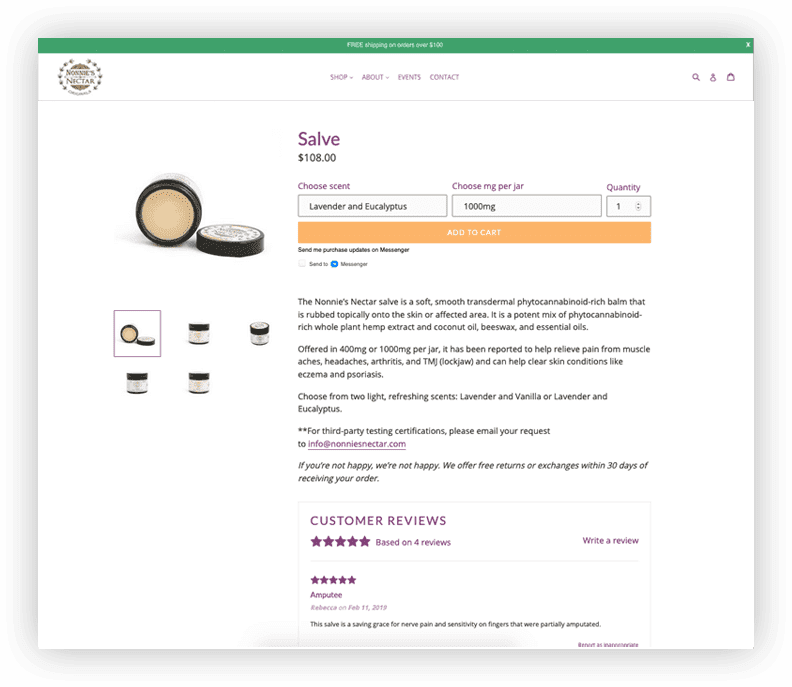 An optimized experience with
drastic results.
Our team conducted user interface and experience changes that increased add to cart purchases by 40.1%, resulting in returning customers to the product site increasing by 37%.
Overall conversion to the product pages grew by 85%, while revenue YoY saw a 200% increase.
Before: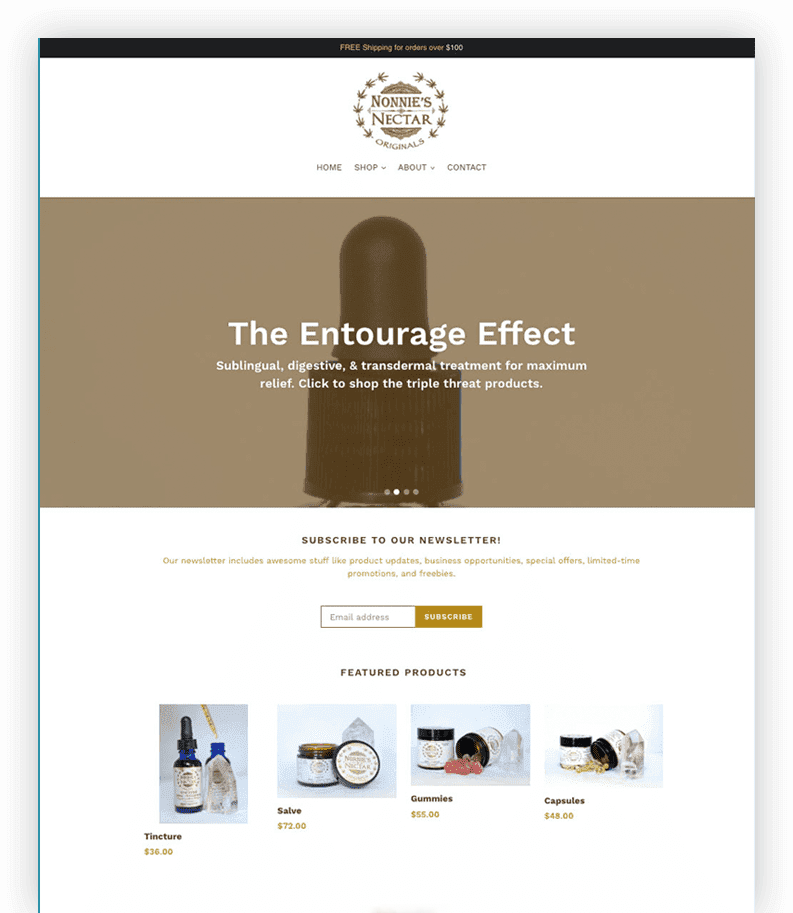 After: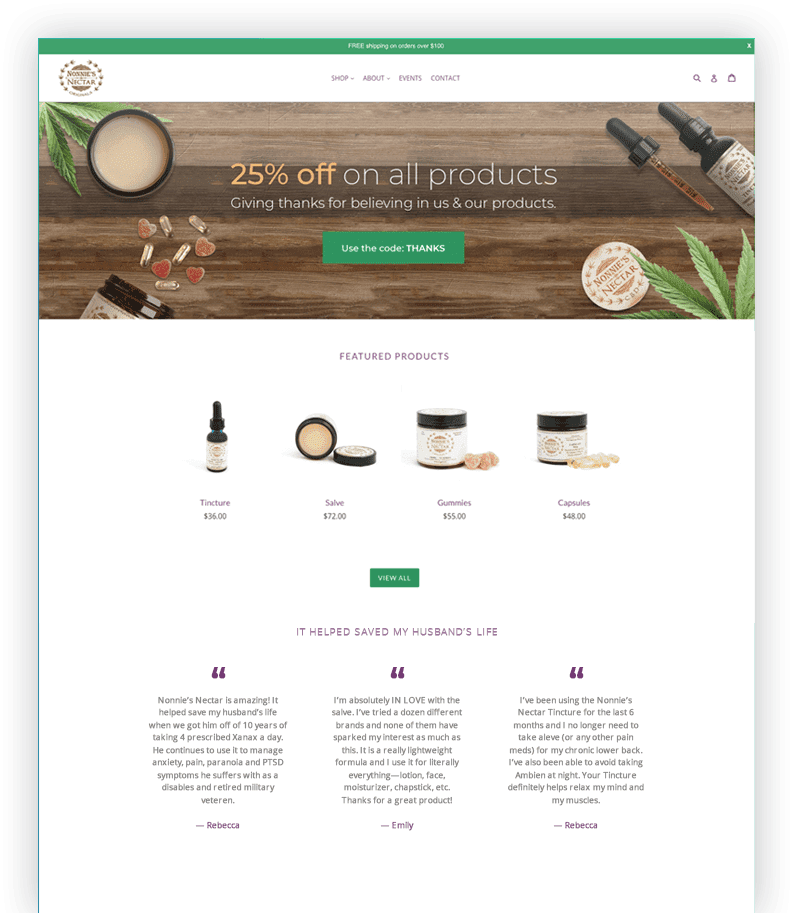 Engagement growth

across paid and social.

Paid ad results in two months alone resulted in over $20,000 in sales with carefully built seasonal campaigns created for Nonnie's Nectar products. We increased their average sales substantially over the course of November and December during Thanksgiving, Black Friday, and Cyber Monday.

Organic engagement and following through social media increased after rebranding their social platform and developing their content creation strategy.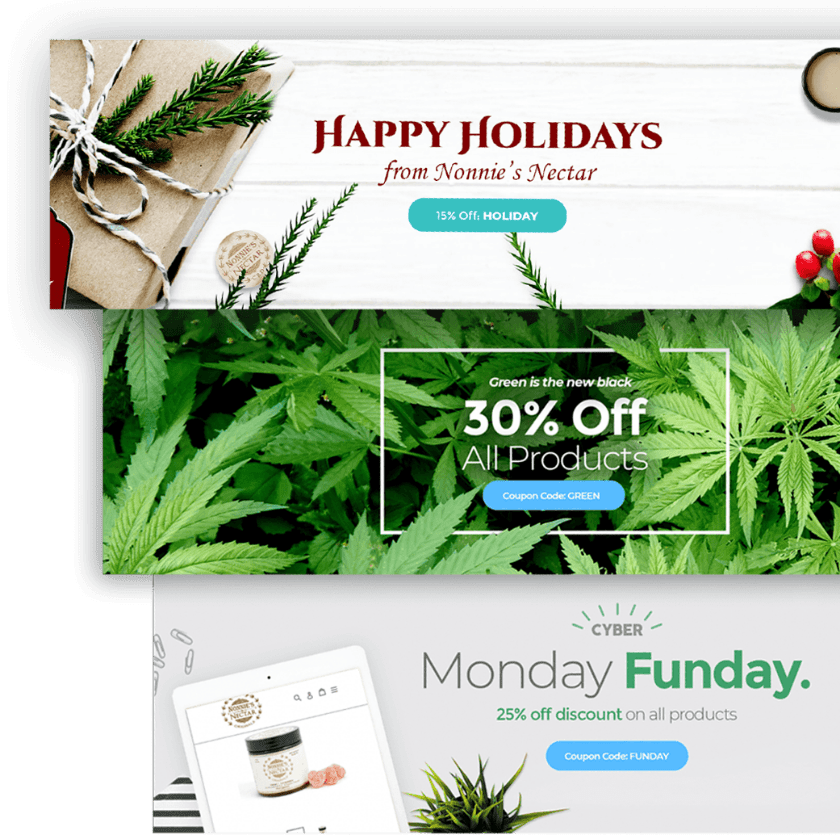 The power of consistent
product photography.
Our team established a consistent shopping experience by overhauling all the product photography utilizing our in-house studio.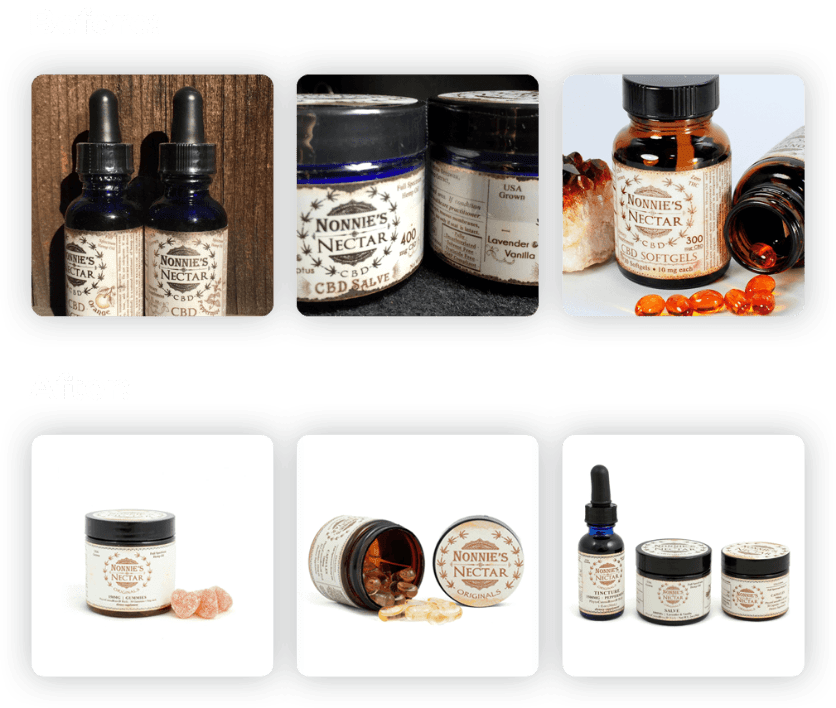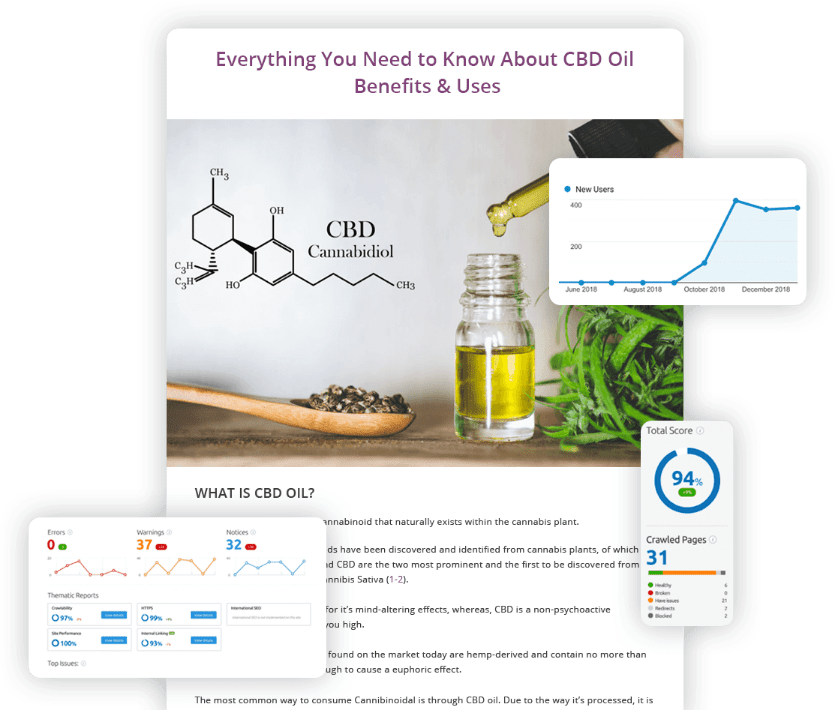 Keyword strategies that
increase monthly traffic.
We conducted an SEO audit with keyword mapping recommendations that used the information to create blog headlines for 3 skyscraper blog posts and one content page that raised the average monthly traffic visitors by 300+.
Implementation of this strategy brought an increase in monthly traffic to their site by 94%
Results
The results were dramatic. The website was updated for branding and best practices, which included new product photography that increased add to cart rates by 58% within 30 days.
Organic tactics like search engine optimization, social posting on Instagram, and the creation of an email automation system allowed us to achieve positive results toward the bottom line through increased sales and overall order views.
Marketing results led to Nonnies Nectar reaching a successful acquisition.
$20k
In sales for first ever holiday campaigns
85%
Increase in store conversions
20%
Increase in traffic to site
$1k
In 7 days in revenue for subscriptions
9%
Increase in order value